Feb 28 2014 7:02PM GMT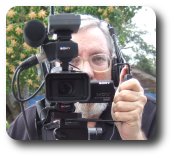 Profile: Robin "Roblimo" Miller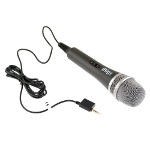 I'm writing this on my new 'pocket reporter,' which consists of my Samsung Victory (Android) phone, a tiny add-on directional mic, earbuds, a flexible tripod that doubles as a handle when doing hand-held work, and an external keyboard that isn't as big as even a small laptop keyboard, but is way better than the on-screen keyboards on most cell phones or tablets. And the mic you see pictured to the left of this paragraph is one of my big "cell phone video" secrets, because it gives me far better audio than I get with my cell phone's internal mic. And one other thing to notice: the iRig mics I'm using have output ports so you can plug in your headset or earbuds and monitor audio recording quality in real time.

I have longed for something like this for many years — a tiny little thing I could carry around trade show floors, use to edit my video and type accompanying text, then upload everything from wherever I happen to be. So, Yay! I have it. And the total cost is under $200, which is far less than the cheapest camcorder I own.

And pocket-sized? I have big pockets, and if I unclip the tripod from the phone, I can easily fit my whole 'pocket recorder' in a single pants pocket. Except for the keyboard, which is "pocket-sized" only if I wear military-style pants with big cargo pockets. And that's the kind of pants I often wear. Or, I suppose, I can carry some sort of little notebook sleeve or something along those lines.
If I'm willing to forego the pocket-sized thing — although not by a lot — I can use one of my 7″ tablets instead of my phone. This makes video editing easier. And before you ask if I'm really editing video with Android, let me assure you that I am, although for now I'm sticking to simple cuts and fades, and using intro and end sequences I made in advance on my big video editing PC at home. Video on Android is going to be the subject of a separate article, because it deserves one of its own.

Tiny keyboards are another big deal for the lightly-laden, highly mobile reporter. I have one that looks lovely but has a design deficiency that make it impossible for me to use, and another one that, while tiny, is good enough that… well…. that I used it to write this article after a little practice to get my fingers used to a keyboard 40% smaller than the big one attached to my desktop PC.
The 'Bad keyboard' has its keys right next to each other, so if your finger strikes one just a little bit off-center, or your fingers are big enough that they often hit two keys at once (as my fingers are), you will make mistake after mistake. If you have small fingers, this might not be a problem for you — and this Supernight (brand name) keyboard also functions as a top cover and desk stand for an Asus Memopad or early Google Nexus 7″ tablet, which is very cool
The 'Good keyboard' has its keys separated by about 1/4″, which means my big (but not huge) fingers have no trouble with it. It's from a company named Fintie. I may try other keyboards, including at least one that has a built-in touchpad, but the little Fintie keyboard will do for now.
And setting the phone or tablet at a good angle when you're typing? Use the little flexible tabletop tripod! It's perfect for holding the screen at a good angle while you type, no matter what keyboard you choose. And the Case Star "Octopus" tripod I use costs costs less than $10, and even a high-end Gorillapod is less than $20.
Overall, I'm moving happily toward carrying a cell phone and a few accessories as my main tools for interviewing (and creating and uploading stories) on the fly. I'm not totally there yet, but I'm doing pretty well — especially considering how little time and money I've used for my 'pocket recorder' experiments so far.

And then there's the little mic you may have noticed in the selfie pic I took above of me using my smart phone. Did you notice it? Another iRig product. It's not a *great* mic, but it's better and more directional than the one in your phone, and like its handheld big brother it has a plug-in for your headphones or earbuds so you can monitor your recording.
One more bit of important instruction: When you're making a still picture or video with your cell phone or tablet, please turn it on its side in "landscape" mode so that your pics and videos are wider than they are tall instead of the little narrow pics way too many amateurs get when they use their cell phone as a camera. But the basics of taking still pis and videos with your sub-$200 phone or tablet video camera rig are worth two or three more articles, at least. Be patient. They're coming. 🙂