Mar 9 2014 11:34PM GMT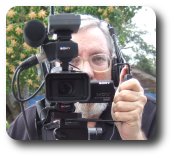 Profile: Robin "Roblimo" Miller
Tra la la, tra la lee… the sky is blue and I'm skipping down the sidewalk, happy as can be. Except I'm not skipping anywhere, but sitting in front of my computer and loving the way it looks and acts with the
LXDE
desktop. Not Gnome, not KDE, not the newer default Ubuntu desktop environment, which I liked so little that I never found out its name. So I'm not falling in love with Linux as much as with a window manager or desktop environment — and one that can run "…on many Linux distributions including Debian, Fedora, OpenSUSE and Ubuntu. It is the standard for Knoppix and lubuntu. LXDE also runs on OpenSolaris and BSD. LXDE provides a fast desktop experience; connecting easily with applications in the cloud."
So LXDE is, or at least can be, everywhere except, perhaps, on Windows and Mac. Well, Fie on them! This is such a fast, beautiful and non-intrusive desktop that I want to hug it every night before I go to bed.
When I say non-intrusive, I mean there is background wallpaper, on my PC currently the default background presented by LXDE, with a tiny little panel across the bottom of the screen.
That's right. A tiny little panel across the bottom of the screen, and a little LXDE logo at the left end of the panel that you click to find all your programs and systems tools, neatly organized in categories the way a Linux desktop is supposed to organize programs and system tools.
Let's look at my desktop in real life: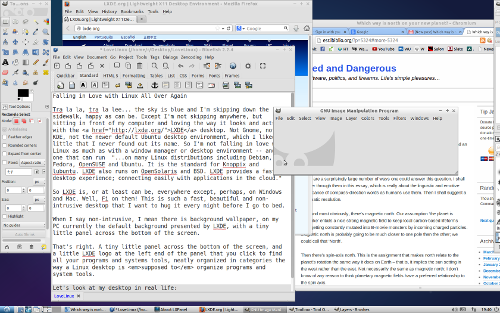 See that? I typed the previous sentence, then took a screenshot. Did you notice that I had the screen pretty well covered? I had the Bluefish text/code editor window in which I wrote this blog post, the LXDE website open in a browser window, the Gimp, which I used to process images for this story (and to take the screen shot) and Eric S. Raymond's blog, Armed and Dangerous, in yet another layered browser window so I had something not-work to read in between writing tasks because, as you know, all work and no play makes Robin a dull boy — and we can't have that, can we?
I don't expect you — or anyone, really, to share my taste in computer desktop appearance. I lean toward industrial grey. My computers are work machines, not toys. I want them to sit quietly where I put them, speak when spoken to, and to do what I tell them and not suddenly reboot because the Big Electron in Redmond told them to without checking first to see if I was doing something important.
I have said before that, whenever possible, I use programs that work in Linux, Android, and Windows, so operating systems are getting less important to me every day. When you think about it, you spend little of your computing time working with your operating system. You "use" Facebook or video editing software or possibly a CAD program. If the CAD program that best serves your need only runs on WoogieOS, you install WoogieOS on one of your computers so you can use it. Presumably, if you are part of a team, coworkers who use the same CAD program you do also run WoogieOS.
But here I am, talking up Linux as fervently as a Fanboi in 1997 who was convinced that next year (or maybe the year after) would be the year of the Linux desktop.
I use Linux for almost everything except video editing, because I have a strong preference for Sony Vegas as my editing software, and it only runs in Windows.I prefer Linux for virtually everything else I do with my computer.
And even saying "I like Linux" is too broad. The desktop environment is is the face of Linux to ordinary users (like me), so when I say, "I like Linux, I'm really saying that (apart from favorable licensing and technological excellence), I like LXDE — and I especially like it in comparison to Windows 8 and 8.1, both of which I thoroughly detest.