Apr 7 2014 5:56PM GMT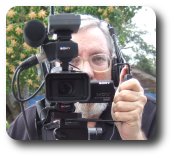 Profile: Robin "Roblimo" Miller

Our current cable, Internet and phone bill combo package from Brighthouse costs $150 a month. This is way too much for an older couple (us) living on Social Security and part-time freelance writing and video production. We need to, as they say, 'cut the cord,' and get along without cable TV. No problem. We can do that. But what about Internet? We *need* Internet service to make money — and besides, most of our non-cable TV entertainment (think Netflix) comes to us via the Internet. That means complete cord severance isn't in the cards for us. 🙁

So, Brighthouse, let's just get rid of cable TV, but keep the Internet connection. $75 a month? That seems kind of high. And that's for 60 Mbps down and a mere 5 Mbps up, speeds a South Korean would laugh at.
We have one other local alternative: Verizon FIOS. We had a horrible experience with them some years ago, the kind that resulted in a complaint to the FCC. I have no idea if Verizon even wants me as a customer again. (If not, we'll use my wife's name.)
One thing is for sure: we won't trust Verizon with our phone service again, because that's where the trouble was last time.
Verizon FIOS Internet service is only about $50 per month in our part of the world — for a two year contract, 50 Mbps down and 25 Mbps up, and $60 per month with no contract.


Wow! For someone like me who does lots of video conferencing and video uploading, that 25Mbps upload speed is enough to overcome a lot of past nastiness by Verizon. Again I say, Wow!
And phone service. We currently use VOIP from Brighthouse. I'm thinking, since my wife and I both have cell phones and our "landline" is now somewhat of an anachronism, we'll go with Voipo or one of the other bottom-price VOIP providers because service outages won't kill us as long as people can leave messages we can return later with whatever phone we choose. Voipo is $15/month, month to month, which is $10/month less than Vonage. That works for me.

Now let's talk about TV. We're 33 miles away from the Tampa metro antenna farms (in Ruskin, FL) so we need a decent directional, amplified antenna like this one. And we need a 30′ mast to set it on. We have about 12′ of pipe up to our mobile home's roof already, and can add 20′ (less than $20 worth of galvanized fence tubing) and be as high as we need to be. This job is a little beyond me, considering my poor health and physical condition, but I have a neighbor who can help. So that's our TV signal, probably better than what we've gotten from the cable company from what I see at the homes of neighbors who use OTA (Over the Air) antennas.
One last thing: Recording and time-shifting TV. With the Glubawful amount of commercials they run these days, it's almost impossible to watch TV in real time. So I want to be able to record, pause, and save at least two channels while watching a third real time.



I have an old computer or two we can use to run MythTV or Windows Media Center, plus I'd need to buy this, this or even this unit, which costs $200 but would eliminate the need for a separate computer. All it takes is an external hard drive, and I have a couple of those around.
So: Have you added up the equipment costs? $300, at most. And I'll save at least $75 per month, which means my payback time is four months.
Worth it? You bet! The only other thing I might need or want to complete my cord-cutting is a Chromecast, and I already have one.
So it looks like it's bye-bye Brighthouse within a month or two. I called them and asked if they could give me a better deal than I have now, or at least compete with Verizon on Internet-only service. They said no. So it goes, Brighthouse. Too bad we can't afford to stay with you, but we can't.