Aug 26 2013 9:22PM GMT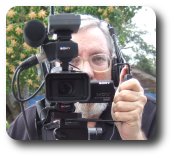 Profile: Robin "Roblimo" Miller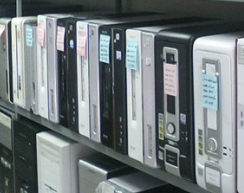 I am still suffering from a hardware problem that prevents me from installing Linux and OpenShot on a fresh computer, and I won't have money to buy much of anything until Wednesday. So let's talk about buying a used computer vs. buying a new one, a choice that is facing me this week. Over the years I've bought both used and new computers, and mostly used cars. But buying a used computer is often not as good a deal as buying a used car, especially if we shop carefully for our new computer and know exactly what we're looking for, and why.
The big problem with buying a used computer is Moore's Law, which states — roughly — that computer power doubles every 18 months. That may be an overstatement in the 2010s. Even so, today's $500 computer is more powerful and has more useful features than a $500 computer sold in 2010.

People who bought computers in 2010 and are selling them used in 2013 may think they're giving you a great deal if they ask $300 for a computer they bought new for $500 — but computers have dropped enough in price, and have gotten enough more powerful since 2010, that the new-for-$500-in-2010 computer is probably now worth only $200, and maybe as little as $100.
One way to find the value of a used computer is to use a site like WORTHMonkey.com. In this case, we're looking at their valuation for an Acer Aspire One subnotebook. I own one of these, and paid $279 for it new in 2012. If I want to sell it, and I believe WORTHMonkey, I should ask no more than $139 for it if I want a fast sale, and be prepared to accept as little as $120. This was true on August 26, 2013, anyway. Another day, month or year the value would obviously be different.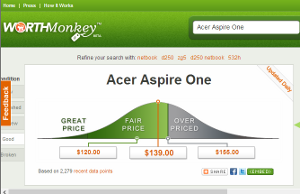 Note that WORTHMonkey shows Amazon's new price for that Acer along with some selected used priced. I like this feature.
Use "used computers blue book" as Google search terms, and you'll have plenty of sites from which to choose. You can also use a do-it-yourself method: Record asking prices for a bunch of whatever it is you want to buy or sell, and divide by the number of listing. Use eBay listings that have already sold, and you'll see actual sale prices rather than asking prices. That's even better.
Still, a lot of used computer sellers want more for their gear than it's worth — especially if you compare it to "refurbished" equipment from major retailers.
I personally tend to buy refurbished equipment mostly from Tiger Direct because they have a couple of physical stores within a reasonable distance of my home in Bradenton, Florida. You may have a different discount retailer close to you. Or perhaps you buy from Newegg.com, which often has some pretty good deals, both new and refurbished or from another online reseller.
(This is the speaker system I have attached to my TV. I paid Newegg $41.98, with free shipping. I see the same speakers are now $45, still with free shipping. Super-duper home theater? Not. But this set-up is all my wife and I need in our small living room, and friends often compliment our great TV sound.)
And now, on to Craigslist. Here's the local (to me) computers section. There are some bargains here for both home and commercial use, but there are also a lot of overpriced items. If you want one of the overpriced items, will the seller come down to a rational price? Or will he or she remember how much they paid for that computer back in 1998, and expect you to be happy to pay only half the "new" price for it?
My first IBM-compatible, a new "white box" unit, cost close to $4000 including a computer desk and off-brand dot matrix printer. That was a long time ago. My most recent desktop PC, which I bought last summer, cost something like $400 — not including a monitor, printer or desk, all of which I already had. And the $400 one was way more powerful than the AT clone I got back in the 1980s. Paying $2000, used, for that original computer today would be crazy. Really, paying anything at all for it would be silly. $2000 will now buy you one heck of a lot of computer, plus a pair of 24″ flat-screen monitors and some pretty good speakers.
Another thing: If you don't know the difference between (this is an example) DDR 2 and DDR 3 RAM, you should not be looking at used computers without help from a savvy friend. Come to think of it, even if you're confining yourself to refurbed or new computers (or peripherals), you should ask for help if you're not sure what you should be buying.
But helpful friend or no, it is safest to buy new, with a good warrenty, next-safest to buy refurbed from a reliable dealer, with a good warranty, and least safe to buy used from a private party.
My personal rule of thumb is that I won't pay more than 75% of new price for a refurbed unit or more than 50% for a used one less than three years old — and I mean 75% or 50% of what an equivalent new unit goes for today, not what it sold for when dinosaurs roamed the Earth.
In fact, I consider any computer over about four years old to have no value at all, no matter how much it cost new — unless it is some sort of specialized server, not a general-purpose desktop or laptop.
Happy shopping!