May 28 2014 10:20PM GMT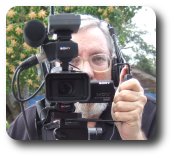 Profile: Robin "Roblimo" Miller
Tags: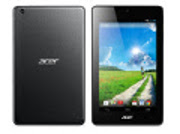 Are you buying a tablet or a fashion accessory? A server or office decor? A phone or a piece of bling shaped like a phone? A productive laptop or something to impress your friends and amaze your enemies? These are all questions you need to ask yourself before you buy any piece of IT gear for your home or office.

This column was generated by an email from Acer touting their
Iconia One 7 tablet
First of all, it's "Coming soon," so you can't buy it today for any reason. But that's the least of the reasons I found this sales pitch puzzling.
Here's a piece of copy from that web page:
The Iconia One 7 is ready to travel the world. Its clean design was made to see and be seen. Its light, narrow case is easy to hold all day long. Its beautiful textured finish makes it easy to grab and go. It's always ready to capture and share your adventures.
That's nice. But what kind of resolution does the screen have? I'd really like to know, but Acer isn't telling us.
Another piece of copy:
Capture and share the memorable moments in life. Smile at the front camera as you take a selfie or share some laughs with a friend in a video chat. When you spot something amazing on one of your adventures, snap a photo with the rear camera and share it on a social network.
That's nice. I can take a selfie! And share some laughs! But at what resolution? And can I record full HD video? Not a word.
This tablet is being sold based on its cuteness. I'm surprised that it's not going to be available in pink, fuschia, and turqoise. But maybe it will be once it makes the leap from "Coming soon" to buy right now.
Now let's talk about servers. Yes, we've all laughed about "das blinkenlights," but I have seen skilled, grown-up IT managers spellbound by a rack full of 1U and 2U servers, each one with dozens of fancy LEDs and sometimes even a little LCD screen. And shiny black faceplates. Want! Want! Want!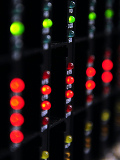 In old-fashioned circles, the shiny faceplates and blue LEDs might be called "eyewash." They look good, but add no more to the servers' performance than chrome wheels on a car. But there's no denying that a snazzy-looking product sells better than one with a dispirited-looking grey chassis and no indicator lights, especially when the sale requires approval from someone like a CEO or other executive who may not have the slightest idea why the server with SSDs is worth more and will do more work than one with a hard drive. All that executive knows is that server "B" looks more powerful than server "A." So if you're a hardware vendor, you want to make your hardware look snazzy. Yes, your technical people (and your customers' technical people) will sneer at the eyewash, but even they know that it's nicer to spend your days in a server room full of good-looking hardware than in one with rack after rack of dull-looking equipment.
But, really, looks should be the least of your concerns when buying anything from a smart phone to a million-dollar switch. So, too, you aren't buying a laptop as a way to impress others, are you? Will a $1200 laptop do anything a $500 one won't? A desk covered with three 30″ monitors may be a way to tell people you're important, but do you really need three monitors?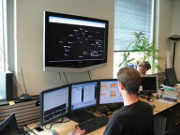 Back in the days of CRTs, a company I worked for bought a bunch of 25″ Sony monitors, which were top of the line at the time. And then the company watched their sales guys grab them off, until the CTO noticed this — and redistributed the big monitors to the programmers, designers, and writers who needed big screens to do their jobs, while monitor size really didn't matter for the sales guys except as ego food.
Today, when your salespeople may be watching Salesforce.com, checking email, looking at an internal company spreadsheet, and keeping up with several social media campaigns at the same time, you can make a case for a really big monitor — or even two monitors — on a salesperson's desk. And two really big monitors, sometimes three, have become normal on creative people's desks. (I'm including programmers with other creatives.)
Sometimes you can get extra productivity by spending more on hardware. When that's the case, go ahead and spend.
But first, make sure you *really are* choosing top-flight gear for practical reasons. If you're doing it to get lots of fancy-looking lights in your server room or a "prestige" handheld device, save your money. Or at least spend it on something that's sure to improve your life or your bottom line. Or both.