Nov 21 2014 10:15PM GMT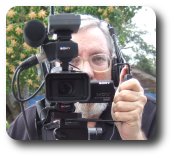 Profile: Robin "Roblimo" Miller
Tags:
About 10 years ago my wife decided to go shopping on Black Friday. She came home from the local mall frazzled and upset. The crowds were huge, she said, with lots of pushing and shoving. And super deals? She didn't see many of them. They had all been snapped up by wormy early birds. And more recently, they're getting snapped up by shoppers who brave the stores on Thanksgiving Day or wait in line all night. So Black Friday isn't all it's cracked up to be for a lot of consumers. For commercial buyers it's different. From now until Christmas is a good time to buy business or enterprise IT gear.

We are being deluged with ads for HDTVs, laptops, smart phones, and other consumer electronics that have the words "Black Friday" in them. A lot of those ads tout "Early Black Friday" savings or Friday's online counterpart, "Cyber Monday." A high percentage of these ads promise that you won't need to go to the mall or big box stores on "Horrible Friday," as many shoppers (including my wife) now call "Black Friday."
So it's good that the merchants have listened. There's also the new picture of a happy family Thanksgiving: After a gut-busting meal, the menfolk watch football — and the women head for the mall. After cleaning the kitchen, of course, even though the men could easily do it during commercials and half time.
Most of the Black Friday (and early Friday and cyber Monday) savings are ephemera. A few "door buster" items go cheap, while the rest of the store is full of items selling for their usual marked-down (effectively retail) prices. Between now and Christmas is make or break time for major retailers. The real deals come in January. Sure, you'll see ads for after-Christmas sales starting December 26, but stores are almost as crowded the week after Christmas as they are the day after Thanksgiving. Best to wait a bit.
Meanwhile, Staples is advertising BUSINESS BLACK FRIDAY WEEK DEALS, and even Monoprice is getting into the Early Black Friday thing.
You've never heard of Monoprice? It's time you did. They're cheaper than NewEgg on a lot of items, especially cables and other insignificant but necessary staples you need to keep a server room or commercial network going. And NewEgg, not to be left out, is also pushing early Black Friday deals.
Meanwhile, back at the ranch, CDW isn't pushing Black Friday, but is offering a fair number of specials. Dell (for business) is offering Black Friday Desktop Deals. HP is doing like CDW: No Black Friday deals, but (as always) plenty of deals on commercial-grade hardware and services.
Now a secret (that shouldn't be a secret to you if you buy commercial/enterprise hardware, software, and services): This is the end of the calendar year, and that's when big companies and smaller channel vendors alike are under pressure to "make their numbers" and are therefore likely to cut you a deal in order to pump up their volume.
And since a shocking number (at least to me) of IT vendors shut down between Christmas and New Year's Day, you basically have until Christmas to make your best commercial deals. So shake out your P.O.-writing hand, get your phone-dialing muscles loosened up, and get in touch with your rep(s) sometime in the next few weeks. You will almost certainly save money if you do.