Nov 28 2014 11:40PM GMT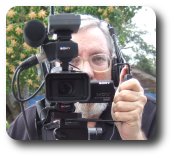 Profile: Robin "Roblimo" Miller
Tags:
Yesterday was Thanksgiving, and as I sat at our supper table I thought about how many I.T. advances we've enjoyed in the last few decades, and how we should be thankful for them. So that's what I'm doing today, on Black Friday, instead of shopping.

First — and this shows my age and possibly yours — do you remember 300 Baud modems? I do. And 1200 Baud. And the magic of ISDN, which today would be considered laughably slow for most Americans?
I now have Verizon FIOS, which is not only quick on the download side but also for uploading. Since I produce videos, upload speed is important to me, which is why I moved from the local cable semi-monopoly to Verizon, a company I dislike even more than I dislike the cable company.
Second, cell phones. I got my first one because I was tired of driving a cab and wanted to start my own car service company (something like a one-car Uber without all the Uber problems) and I needed a way to communicate with customers. The phone cost nearly $1000, and using it cost $1 per minute. Plus tax. You'd better believe I kept all my cell phone calls short!
Now I have a cell phone with effectively unlimited use for a single low monthly fee, and that phone is also a computer, a library, a music and video player, and a navigational device.
Here's what I recently wrote about my latest smartphone: Which Did I pick: iPhone 6+ or HTC Desire 816?
Some might say I should feel bad because my phone's screen is only 1280X720 pixels. Except… wait a minute. At 5.5″ diagonal measurement, that's a pretty big screen for a pocket phone, and that's more resolution than half the shows we watch on our 42″ diagonal living room HDTV. Why would I want or need a phone with more screen resolution than that?
Bragging rights?
Whatever. I buy electronic devices to use them, not to boast about them.
Thinking of which, if you're starting an online company these days, you no longer need to go out and buy or lease a stack of servers. Instead, you open an account with a cloud provider. Easier. Cheaper. Faster. No worry whether everything will keep working under a sudden traffic spike. Nope. You just contract everything out and let someone else worry about it.
Sure, you have your own people monitor things and work on ways to add new features to your online offerings, but most of the heavy lifting and worst worries are now on somebody else's shoulders.
And if you suddenly need to increase capacity? Nothing to it! With most cloud providers, it happens automatically. Another worry has become a thing of the past!
Thinking of cell phones, and almost all other portable electronics, battery life has gotten amazing. A friend was whining the other day because his laptop was running its battery down in a mere eight hours of constant use. Boo hoo hoo. I remember when laptop computer batteries lasted two hours. On a good day, with no clouds in the sky.
Things have gotten better and better, in almost every way, for almost all computer users — including people whose only computers are embedded devices they never think about.
All this is why, instead of shopping on Black Friday I've spent the day thinking about all the ways computing has gotten better, faster, and easier in the last 30 years or so.
Yes, I am thankful for all the ways computing has gotten better both on the user end and on the commercial side of things. And I hope you are, too.