Nov 27 2012 7:56AM GMT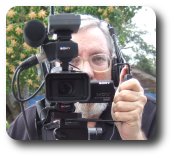 Profile: Robin "Roblimo" Miller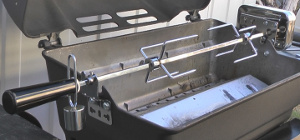 This is a Cheap Computing blog entry that has nothing to do with computers, except that everything said here applies to buying computers, software, and computer parts as much as it does to BBQ grills. And the Internet figures heavily in the shopping process, as does a bit of cleverness and the realization that big companies don't always give you the best deals.

My wife and I love rotisserie chicken. We recently got a small Propane BBQ grill that came pre-drilled for the addition of a rotisserie unit. In keeping with the Cheap Computing philosophy, it was only $99 from Lowes.com, including shipping to the nearest Lowes store, plus free assembly. For two people, especially considering our tiny patio area, this is all the gas grill we need (and it uses lots less gas than a bigger one). It shares space with our much-loved Weber CharQ Jetsons-style charcoal grill in the backyard yard area one friend has dubbed our "BBQ Heaven." It also shares one of my favorite CharQ features: It's cast aluminum, so it will never rust. I seriously dislike rusty BBQ grills…
So I got my cool new Fiesta grill, tried it out, and loved it. With the grill tested and accepted, next we needed a rotisserie attachment. The few that Lowe's sold all would have taken drilling and fiddling, even though most of them were "universal," and even after drilling and fiddling the spits would have been way too long for a small, two-burner gas grill.
Next stop, Amazon. They had, among others, exactly the type of rotisserie I wanted, including a battery-powered motor so I wouldn't have to string a 110 VAC line to my grilling spot. (I have plenty of rechargeable batteries, so battery cost is negligible.) Just one problem: A 37″ spit is way too long for a grill that is only 22″ wide.
Third stop, Google. I saw that the rotisserie I liked at Amazon came from a company called OneGrill — which had the same rotisserie kit I liked at Amazon for less money, on special. Still a 37″ spit, though. Darn.
But this is when we come to the magic of dealing with small business. I emailed OneGrill to ask if they could substitute a 28″ spit for the 37″ one in the discounted package. Before long I had a response from Joe at OneGrill: Yes.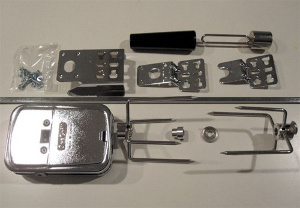 So I got exactly what I wanted at a great price because I took a few moments to find the actual small specialty business that supplies Amazon instead of slavishly buying from the behemoth.
Sometimes small businesses can't match GiganticMart prices. Then again, sometimes they can. And on some items, especially niche or specialty products, they can often give you a better selection, a better price, and a level of customization and service the biggies can't match.
The main point of this blog post, obviously, is that you need to shop around a little instead of just going to the merchant that has the biggest ads. Another point is that when it comes to items like BBQ rotisseries, and many computer accessories, Wal~Mart-type stores have neither the lowest prices nor enough selection to be worth a single moment of your shopping time.
But also note that it was Lowe's, a national chain, that had the exact gas grill I wanted, and had it at a better price than anyone else (including Wal-Mart). You can't be rigid about buying only from this or that size business if you want to find the best deals. You need to get on your (hopefully cheap) computer and shop!
About prices shown in Cheap Computing: They are valid at the time a particular article is written and/or posted, but are subject to change, and items we mention may be discontinued by retailers or manufacturers at any time without notice.