Apr 21 2013 8:52PM GMT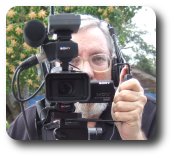 Profile: Robin "Roblimo" Miller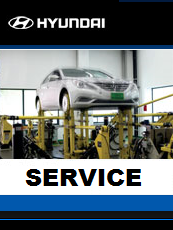 Our local Hyundai dealership was running a service sale: Oil and filter change, plus lube, inspection and tire rotation, for $20, along with a free diagnosis if your "Check Engine Light" was on. Since my wife's Hyundai was due for an oil change and its "Check Engine Light" was on, she took it to the dealer instead of calling "Jesse the performance tune mobile mechanic," who does most of our car repair work these days. But before my wife went to the dealer, I warned her: "No matter what additional parts or services they try to sell you, don't buy. I'll handle them or call Jesse — and save a bunch of money." And it was a good thing I gave my wife that warning, because here's the list of things the dealer shop people said our 2003 Hyundai Elantra needed: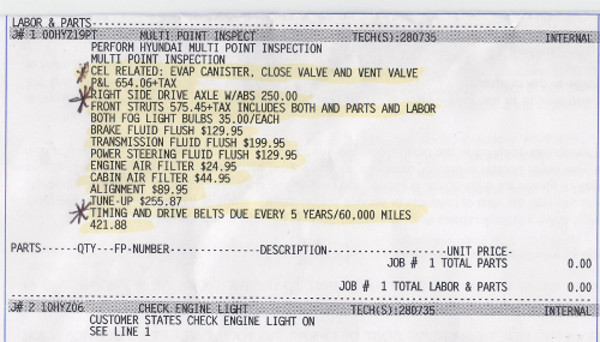 The total came to over $2900. Amazing. Might as well trade the old Hyundai in on a new one, eh?
Except that I fixed cars for a living in my younger days, my father owned a machine shop and did most of our family repairs, including car stuff, and even though I am now too sick and decrepit to crawl under cars a whole lot, I know guys like Jesse who don't charge anything near what a dealer does for labor.
And parts prices. Let's start there. A cabin air filter for $44.95? I can get one for $10 or less. Engine air filter for $24.95? Again, less than $10.
Now let's go to the top of the dealer's sales list and look at the "CEI related" items. $654.06 plus tax.
I have access to something magic called "the Internet." Did you know there are discussion websites for Hyundai owners, where they swap repair advice? There are similar sites for Jeep Cherokees, too, which is a good thing because I own one of those as well as the Hyundai. And whatever make of car you have, there's probably a discussion board for it where you can learn what other people have done to remedy the "Check Engine Light" on with a "Fuel System Problem" code, and the "gas tank almost impossible to fill" problem that often seems to accompany it in Hyundais.
Ah ha! We are not the first ones to run into these symptoms. Many others say they can be fixed by replacing the fuel evaporation canister and blowing out the lines to it with compressed air, and that replacing the associated valves is almost never necessary but is no big deal if they're clogged so badly that cleaning them with a little solvent doesn't clear them right up.
The manufacturer's suggested retail price, which is what the dealer charges, for a Hyundai original equipment evaporative canister, is 160.98.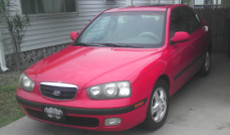 You've heard of eBay, right? Me too. And did you know that many car parts dealers and junkyards use eBay as a sales channel? I found a parts guy who had that exact same canister for (hold your breath) $17.96, brand-new. With free shipping. Chances are slim that we really need either of the two valves the dealer recommends, but even if we get them they're more like $20 each at local parts stores than $100+, which is what the dealer charges for each of them. And labor on that job? Sure, the canister is under the car and takes some jacking and crawling to get to, but once you've jacked the car and put jackstands under it (for safety; you NEVER get under a car held up only by a jack) it's a two-bolt job. And two little hose clamps. The valves are just as easy to replace. Call it 15 to 30 minutes of labor.
So basically, I shopped the dealer's $654 job down to well under $100, even if I pay Jesse to do it instead of doing it myself.
The rest of the items on the dealer repair list are also way out of line on price. Tuneup? They want $255.87 — on a 4-cylinder car. In real life the parts are $30 – $40, and it's a top-of-the-car job I can easily do in 15 minutes. And that dealer likes to sell services like brake fluid, power steering and transmission fluid flushes way more often than they are needed, as this article from AOL points out: Fluid Flush Fallacy: Just a 'Nightline' Away From Scandal.
Amazing, isn't it? And even more amazing, some people actually pay those prices, just as some people pay the blue-shirted Weak Squad people for heavily overpriced PC repairs.
There is an entire automotive underground in this country that fixes cars for a lot less money than a dealership or a fancy, heavily-advertised repair shop charges. The most visible members of this underground are chain parts stores such as AutoZone and Advance Auto Parts. I mention these two because they're close to my home. There are many others, and a lot of them will recommend a local mechanic for you if you don't know one. If nothing else, they'll sell you parts for half or a quarter of their cost at the car dealer. Quality? Just as good, for the most part, and sometimes better.
Finding a Decent Mechanic
Plenty of low-overhead and mobile mechanics (who come to you with a service truck) advertise on Craiglist. Many more rely purely on referrals and repeat customers to keep their schedules full. How do you find this last bunch? Look for people who have good-looking older cars and ask them who they use. There is no way anyone is going to maintain a 1996 Jeep Cherokee (my car) as a daily driver at dealership repair prices. Rather, that car is maintained by me, Jesse, and sometimes Rebel, a morose biker and near-genius mechanic with a long beard who splits shop space with an appliance repair person I know in a low-rent backstreet industrial park.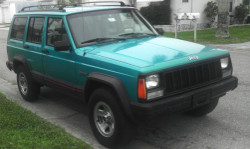 I'm paying these guys something like 1/3 of what a dealership charges for labor, and they're happy to get it, because it's more than they'd get working at the dealership. And by working for themselves they get a level of freedom the local Hyundai dealership would never give them.
Referrals are also the best way to find a technician or network engineer to take care of your home or business computers. Do you belong to a Chamber of Commerce or other business group? Ask fellow members for advice. Failing that, ask businesses you patronize who they use. There are lots of competent IT techs who don't want to work for someone else and keep their prices low to stay busy, and a little energy spent finding them will reward you ten-fold — if not more.
It all comes down to the Cheap Computing mindset, which is identical to the Cheap Car Repair mindset. Both will save you tons of money, and give you better-running cars and computers than spending top dollar for the most expensive service companies around, especially if you learn to do a little of the lighter maintenance and repair work yourself.