Apr 9 2015 6:01PM GMT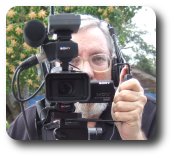 Profile: Robin "Roblimo" Miller
Tags:
Vacations are wonderful. I'm typing this in a deluxe one-bedroom suite at the Westgate Vacation Villas in Kissimmee, Florida. It may seem silly to vacation in central Florida when we live near the beach in Bradenton, FL year-round, but we have relatives in Baltimore who have a time-share in Kissimmee (the heart of the Disney vortex), so this is an annual family get-together for us. You may now ask, "Why does Robin need an Internet connection in a vacation villa?" I reply: To maintain this blog, for one thing. To keep up with my Slashdot video obligation, for another. And a third reason for keeping up with my work during a so-called vacation is to give me an excuse to escape now and then from the 11 (yes, 11!) assorted descendants ranging in age from two to 40(ish) whose company we are enjoying this week. And I will tell you: Despite the veneer of luxury that hangs over this fairly decent resort, the internet connection caused more trouble than our two-year old grands when we made them wait half an hour after eating before we'd let them get in the pool.

Our internet fiasco started at check-in. We waited in line for an hour, not because there were a million parties in front of us but because it seemed to take forever to check someone in. And I had to specifically ask for the 'amenity card' that gives us access to mini-golf, an insanely high number of swimming pools and outdoor hot tubs, and a bunch of other 'included with your resort fee' amenities including internet access. In fact, "Wireless Internet" was the first item on the list of amenities. That is, until I tried to use it.
If you've used many hotel wireless connections, you know that most of them require your reservation number or something like that to log in the first time. In this case, it seems that maybe we *weren't* going to get wireless internet without paying $10 per day or $25 for three days. And this was after spending 45 minutes enduring one of the slowest and most manual check-in procedures I've seen in this century. And finding the building and room where we were staying in this huge complex, rounding up a luggage cart, finding parking for the car, and so on.
I suffer from literacy, so I could see that yes, we were supposed to get internet access at no extra charge. I called their tech support number and got a recording that told me to call the front desk. I dialed 0 on the room phone, and it rang and rang. After 15 minutes of ringing I called the number on all their literature from my cell phone while keeping the house phone 'endless ring' going, and waited over 1/2 hour without an answer on either one. In semi-desperation I called the tech support number again and punched buttons until I got a human — who gave me an access code that let us log on, and wasn't good for just one device at a time (as we'd been warned by the overworked check-in person) but for up to five.
We were (finally) on the Internet!
At least, we were for a while. Then not. Then we were. Then not for an hour or so (that I spent in our room's lovely Jacuzzi), and when I called tech support again I got a "Sorry, it's down and we're working on it" response. I was not the first one to have problems with internet and other services at this place. Plenty of others have had problems, too, and posted their problems on Yelp, which I should have checked before making our reservation.
I've gone through this at high-end Marriotts and other hotels in New York, Portland, and San Francisco, so I sighed and got ready to find a coffee shop nearby that could get me online, and found a 24 hour Denny's right around the corner with fine wireless access (and decent apple pie). You expected hotels to have trouble getting a stable internet connection back in, say, 1999, but now? In 2015? There's no excuse for it.
When the relatives who have the time-share here heard about our internet woes, they gave us another code number to try — and it worked, even while the 'guest' internet did not.
Lessons we can learn from this experience:
Never assume a hotel net connection will work as advertised. Be ready to hit the internet-connected coffee shop or restaurant around the corner — especially if you need a lot of bandwidth, for instance because you are going to upload videos.
Don't give up when you can't get through to the first person on the list of folks who are supposed to help you. Try others. And keep trying.
Don't get upset. It won't do you any good, and the low-pay flunkies who bear the brunt of your anger don't deserve it.
If at all possible, especially if you're going to a vacation-type place, set things up so you don't need to get on the internet while you're away from your office.
The last item is where I made my mistake. I could have written a Cheap Computing blog entry last week and scheduled it to run this week, and I could have done the same with my Slashdot videos. If I had done that, I wouldn't be sitting in front of a tiny, slow laptop on the end of a poor internet connection. I'd be in the outdoor whirlpool, which is where I am going one short paragraph from now.
And while I'm in the whirlpool, I'll be thinking about how much time I would have saved by working a little more in my home office last week instead of trying to work here and now. And money, too. If time is money, I sure have wasted a lot of it trying to work in a time and place where I should be playing instead, mistake I hope I never make again — and that I hope you will never make, either, after reading this Cheap Computing blog post.