Feb 28 2013 11:38PM GMT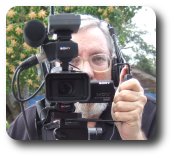 Profile: Robin "Roblimo" Miller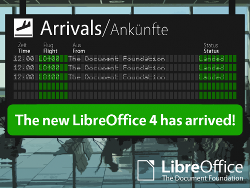 It's LibreOffice 4! It's newly released! Cleans stubborn Microsoft stains from your shirt collars and your PC! Also pretty good for writing documents, setting up spreadsheets, making slide shows, and rudimentary database tasks. And it's free, a price that cannot be beat. So what are you waiting for? Download LibreOffice 4 today. Except you say you don't have Windows 8? Don't worry. LibreOffice runs on other operating systems, too.

This is my favorite office suite, hands down. I've used LibreOffice, its predecessor OpenOffice.org, and their ancestor StarOffice for many years. I've written three books and many articles with this software, and made dozens of slide presentations with it. I use its spreadsheet feature to track my prescriptions and vital signs (I have diabetes and cardiac problems) and to track my hours and pay as a freelance writer.
I have used LibreOffice and OpenOffice.org On computers running Linux, Mac, and many kinds of Windows. And before long it may be available for Android, too; LibreOffice developers are working on it even as we speak.
"Real professionals" all use Microsoft Office, right? What does that make me? Chopped liver? I've been a professional writer for close to 30 years, and I have never owned a copy of Microsoft Office. Some people might say that's because I'm too cheap to spring for an expensive Microsoft program when there's a free alternative available?
And you know what? That's true!
Did you notice that this blog is called Cheap Computing? Not Big-Money Computing? Yes, I am a fanatical money-saver. And proud of it. But I'm not a cheapskate. I just like to allocate money my way, not someone else's. Every dollar I don't spend with Microsoft is a dollar I have for eating out, buying gifts for my lovely wife or for other fun things. Or that I can put aside "just in case."
So please, let's try to spend as little money on software as we can.
What we can do with LibreOffice
There's a graphic at the bottom of this blog post that shows LibreOffice features. Note that email is not among them. For email, you may choose GMail from Google, which is what I use (great spam filters!) or what many Linux users have done for many years: use Thunderbird, the Mozilla Foundation's email companion to the Firefox browser.
I'll confess: even though I've been using GMail for over a year now, I will soon go back to Thunderbird — and use it to access GMail.
Email is really the main "lack" in LibreOffice, but there are obviously other free, open source programs that are at least as good as Outlook. Same with any other feature you see in Microsoft Office; there is almost certainly a better-cheaper-faster open source alternative — assuming there isn't one in LibreOffice, which there probably is.
Joking Aside, LibreOffice 4 is a Stunning Advance
Earlier versions of this software were not fast to open, and had other built-in slowdows here and there. The best way to overcome the frustration over the slowness was to remind yourself that you had not paid hundred of dollars for this program, sort of like reminding yourself that you bought your Hyundai because it was cheap and relliable, not because it was a speed demon.
But LibreOffice 4 is nice and responsive. Start up Writer, the part of it I use most often, and BANG! There it is. Ditto Impress, the slide creation utility I use when I'm going to do a speech and need slides. Same with Draw. And Calc, the spreadsheet module. Very nice!
In fact "Very Nice" is an accurate description of LibreOffice in general. It's absolutely worth trying, even if you tried earlier LibreOffice versions — or OpenOffice.org or StarOffice — and didn't like them.
You especially owe it to yourself to try LibreOffice if you get a new computer; according to Wikipedia's Microsoft Office page, "Beginning with Office 2013, an individual license is assigned permanently to the computer on which the software was installed. Licenses can no longer be un-assigned and re-assigned to a different computer owned by the same user. This is a departure from previous versions."
Well, well, well. It sounds like Microsoft no longer wants our office suite software business, doesn't it? Not, at least, if we have individual software licenses instead of a corporate site license.
LibreOffice? No licensing problems! No Sekrit Codes to type in to get it to work! Put it on all the computers you like, for $0.00 per computer, and enjoy using the same office software on your Windows, Mac, and Linux computers — a pleasure you cannot have if you use Microsoft Office, because there is no Microsoft Office for Linux.