Nov 7 2013 2:39AM GMT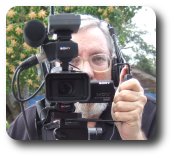 Profile: Robin "Roblimo" Miller

I had an HTC phone that was pretty good, except for short battery life. Solution? An 'extended life' oversized battery for it, along with a humped battery cover. Life was good — until that phone broke and I got a SAMSUNG GALAXY VICTORY™ 4G LTE as a warranty replacement. The Samsung was a better phone in almost every way. The only problem was that my extended life batteries for the HTC phone were suddenly useless. But I will not have this problem again because I have found something better than 'extended life' batteries that only fit one phone make and model.

That 'something better' is an 'External Battery Backup' that will recharge any cell phone, tablet or similar device that uses a 5V battery. It cost $29.99, which is far more than a single-model extended-life battery. But it works with all of my pocket-sized computing devices, not just one.
Best of all, this 5600mAh battery will not only recharge any one of my (or my wife's) pocket electronics devices multiple times, if we get new devices it will almost certainly work with them, too.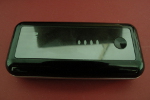 One thing to keep in mind is that we don't spend a lot of time worrying about our cell phones running out of juice. The biggest battery-flattening activity we use any of them for is GPS-based navigation, and when we're doing that we plug them into our car chargers — unless we're walking or on our bikes, in which case we can take the little Anker external battery with us in a pocket or pack if we expect to be out for more than 8 hours at a time, which is highly unlikely.
In fact, the reason we are most likely to need to recharge multiple pocket devices multiple times is the aftermath of a hurricane, and if that happens we have an inverter that lets us use our cars to charge our office back-up power system. But a little extra power never hurts, right?
If we want to attach the external battery to one of our phones, we can use rubber bands. Our household, like most American homes, has a number of them in drawers here and there.
Now if we could only get laptop computer makers to agree on standardized power packs, the way cell phone and tablet makers have. Then we could have a single power pack for our three laptops, too.
Oh, well. I remember when standard wall warts for cell phones and tablets seemed like a far-off fantasy, so maybe — just maybe — that state of grace will come upon our laptops within a lifetime or two, too.