Apr 1 2015 1:27AM GMT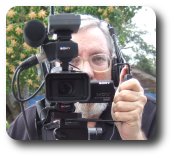 Profile: Robin "Roblimo" Miller
Tags:
There isn't a lot of programming out there yet for TVs that have screens 4,000 pixels wide instead of the HDTV standard of 1920 pixels. And ultra HD TVs have been $1000 or more until recently. But I just spotted a 49″ ('class') UHDTV for $419. That's tempting!

Specifically this is a Changhong 49″ Class 4K Ultra HD LED TV – UD49YC5500UA. Well-known IT vendor Newegg has it on their eBay subsite. Shipping is free — from Tennessee, not from someplace in China where it might take a month to get to you.
Changhong is a large and reputable Chinese company, but not a big factor in the US – yet. And, thank Glub, their description of the 49″ Ultra-HDTV doesn't have a lot of the usual Chinese-to-English-on-a-low-budget glitches. Check these two paragraphs of copy for a sample:
"The Ultra High Definition TV Screens physical resolution is 3840 x 2160 (4K x 2K). With Changhong's chip decoding the UHD 4K x 2K program source, clarity is over four times that of FHD. The picture quality is more vibrant, more abundant, and displays precise details."
"Enhanced Motion Rate technology lets you watch high action sporting events and video games with virtually no motion blur. Now your TV can keep up with all your fast moving entertainment."
Okay, maybe there's a *little* Chinese-style word usage in there, but it sure does make that TV sound tasty. And the price! The lowest-cost 4K TV Best Buy has as I type this is a 43″ Vizio for $599.
Of course, Vizio is a known brand. I have owned a Vizio 42″ HDTV for the last five years and I like it fine. In fact, I like it enough that even for $419, I'm not going to buy an Ultra-High Definition TV this month or, likely, this year.
But they're getting more tempting all the time. And even if I *was* going to buy a new TV this year, I'd probably wait until all the tax refund checks are spent and more of them go on sale.
Meanwhile, cell phone battery prices are dropping, too
I have an HTC Desire 816 that I've boasted on before despite a defect that more and more cell phones — including Apple's most pricey models — share: Batteries you can't replace.
The theory is, they last long enough that you no longer need to carry around a spare battery, and they may no longer be the phone part that gives up the ghost while the thing is otherwise in fine shape.
I'm going to give that statement a big, "Yeah, right!" My wife's discount cell phone is now killing its battery in hours, not days. It's a good thing I bought her a spare one (on sale) a while back. She put in the new one and she's good to go for another year or more.
But what about my HTC phone? What will I do when its battery inevitably dies?
Actually, I'm sure that by then there will be aftermarket batteries available, along with YouTube videos that will show you how to install them.
Meanwhile, there are external batteries. Here's a 3600mAH Aukey for $12.99, including 2-day shipping for Amazon Prime customers. The phone's battery is 2600 mAH, so the external battery should at least double battery life. And it's a thin enough battery that a little clever rubber band or Velcro strap action will keep it with the phone in your hand, in your pocket or on the mount you use in your car or on your bike.
I also see a KMASHI 10,000mAH battery/charger for $11.90 including Prime shipping, and an Anker® 2nd Gen Astro E3 Ultra Compact 10000mAh Portable Charger for $21.99 — which is higher than the others, but Anker has done "righter than right" by me on customer service more than once, so I may spring the extra ten bucks to buy their product.
But remember, when you look at these bargains and the others you find through email newsletters or other means, that if you buy something you don't need just because it's cheap, you are wasting money you could spend on something else — as I am not buying a $419 Ultra-High Definition TV right now, but will use about the same amount of money to buy a battery, catalytic converter, and tune-up parts for my 1996 Jeep Cherokee. It's a good car, but like anything else, if you want it to last a long time you need to maintain it properly.