Jan 6 2015 4:42PM GMT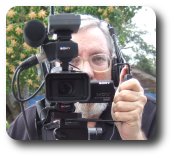 Profile: Robin "Roblimo" Miller
Tags:
Once upon a time there was a little computer you could carry around with you in a briefcase or in a smaller, specialized piece of luggage. You could open this little computer up so that its keyboard sat on your lap and its screen faced you, although it was usually more comfortable to use if it was on a desk or table. In any case, it was small, expensive, and underpowered. It was something you used because you didn't have access to your 'real' computer. But this has changed. Laptops, even Chromebooks, are becoming primary computers for a growing number of people, especially those who use their computers for business.

I have a friend who is a sysadmin/devops guy for a software house in New York. He lives in Florida and works from his home office. But he also works almost anywhere he can get a decent wireless connection, including my front porch. And failing that, he uses his T-Mobile (Android) phone as his hookup. He does everything through a VPN on a Chromebook. And it works very very, well.
My friend is a dedicated Linux user, so he says he'll load Ubuntu or another popular Linux distro on his Chromebook when he gets around to it. Hurry? None. Chrome OS is basically a Linux variant, and letting Google worry about updates and the rest of the OS (and software) maintenance regimen is extremely attractive. So the Chromebook stays a Chromebook.
You can Google for "chromebooks 2015" and get nearly 4 milion hits, including some talking about $150 Chromebooks coming in early 2015 — which is now. And yes, those cheapie Chromebooks are showing up at CES.
Here's a PCWorld article about why Chromebooks are back in full force after some of the tech press had written them off. Article title: Make way for Chromebooks! Four reasons they're ready to rock in 2015.
(Cue eerie piano music)
Meanwhile, back at the Microsoft ranch, another PCWorld article is titled, Hands-on with HP's Stream 11, the $200 Windows laptop that wants to kill Chromebooks.
Ah ha! So those who want a super-cheap laptop and want it to have a full-blown copy of Windows aboard will get their wish. And $300? That will buy you any one of a number of passable Windows laptops. Add some RAM, plug in a big monitor (at home; not when you're on the road) and you might even have an okay video edit station for a heck of a lot less money — and in a heck of lot less space — than four or five years ago.
Here's the article that made my jaw drop, and that is about the computing change I believe is going to help the laptop — Chromebook or not — totally take over home and small business computing. Article title, CES 2015: Seagate introduces new personal cloud storage with small-business potential.
There you go! Your own private cloud server, apparently for as little as $169.
Wow.
Suddenly, with VPN for security and privacy, your office can be wherever you are — with your Chromebook or other portable computer.
Of course, you can still buy an Alienware 17.3″ laptop for $1690 (as I write this) to impress your friends and frag your enemies. Or you can buy a MacBook Pro, which will totally keep you in the Komputer Kool Kids Klub and will match your iThingie hand-held device. Sure, that MacBook costs a bunch more than a Chromebook or a rational-priced Windows notebook, but it has a Retina display!
And then there are the people like me. I already have an Acer notebook with an 11.6″ screen. It dual-boots Windows 7 (I upgraded from Windows 8) and Ubuntu. Fast enough for video editing? Only with a lot of patience, which I have now at age 62, but didn't have until recently. But SSDs are getting cheap, and I don't need a big one since I have a fair collection of external hard drives. Getting rid of the data I/O bottleneck will speed my laptop up enough to make it useful for video editing. (I know people who've done this, so I know it will work.)
So laptops are taking over as "the" business computers. And we can now all have our own private clouds — which I'll admit I personally prefer to commercial cloud services (although I still like and will use Google Drive for archived material).
Think about it. I couldn't have written this piece in years past. Even a year ago it would have been a stretch.
But today? Computing is not only more accessible, but more portable than ever. And getting more so every day.