---
June 17, 2019 5:18 PM
Channel
,
cybersecurity
,
MSP
,
Partner programs
,
VARs
Titus, a data classification software vendor based in Ottawa, today launched a new partner program and moved to a 100% channel model to fuel the company's growth. Integration with other security products is an important part of the Titus strategy. The company's products use machine learning...
June 14, 2019 9:08 PM
Channel
,
Cloud Computing
,
Cloud monitoring
,
MSP
,
Multi-cloud
Sensu Inc. is finding an audience for its multi-cloud monitoring tool among managed service providers, which are integrating the product with their ticketing, configuration management database and event logging systems. The Portland, Ore., company's offering lets organizations monitor public...
---
June 6, 2019 4:41 PM
Channel
,
Cloud Computing
,
Cloud migration
Managed public cloud services have seen a surge of investment among partners, with businesses fueled through organic growth or acquisition. Companies selling such services provide a range of offerings including account configuration, security consulting,
---
May 31, 2019 2:41 PM
Artifical Intelligence
,
Channel
,
IT Consulting
,
Software development
,
Startup
Early-stage companies are finding IT consulting firms can serve as a customer base and a sales conduit for their offerings. A few of the startups selected for MIT Sloan CIO Symposium's Innovation Showcase, held May 22 in Cambridge, Mass., are cultivating partnerships with well-established...
---
May 20, 2019 5:22 PM
Channel
,
CIO/CTO
,
Google Cloud Platform
,
hiring
,
IT Consulting
When SADA Systems hired Miles Ward as CTO, his gear arrived at the Los Angeles-based cloud technology consultancy before he did. Ward, formerly director and global lead for solutions at Google Cloud, officially joined SADA Systems on May 20. But the equipment he ordered to build an Anthos...
---
---
May 3, 2019 10:21 PM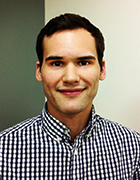 Profile: Spencer Smith
Channel
,
Channel partners
,
Dell
,
VMware
Dell Technologies partners have what they need to facilitate customers' digital transformation journeys, according to VMware CEO Pat Gelsinger. At the Dell Technologies...
---
April 30, 2019 9:34 PM
Automation
,
Channel
,
ISVs
,
robotic process auotmation
,
systems integrators
Automation Anywhere in March 2018 launched its online Bot Store in the robotic process automation market. Now, the RPA vendor, based in San Jose, Calif., is encouraging ISVs and systems integrators to develop a new generation of bots that deliver significantly more value for customers. The Bot...
---
April 23, 2019 4:02 PM
Channel
,
CMDB
,
ITSM
,
LogicMonitor
,
MSP
,
SaaS applications
,
ServiceNow
Managed service providers pursue a range of approaches when they deploy MSP software to automate their core functions. Many companies follow a multi-vendor path, purchasing what they consider best-in-class systems for
---
April 11, 2019 3:02 PM
Business model
,
Channel
,
MSP
An ancient agricultural method and the modern MSP business model wouldn't appear to have much in common. Yet there are some interesting parallels between "three sisters" farming, which originated thousands of years ago, and how a number of
---