---
August 24, 2011 1:40 PM
Hewlett-Packard will, in fact, offer full refunds to  VARs for any TouchPad tablets they have in inventory. it will also "price protect" customers who bought the TouchPad at full price. But it's not advertising that fact. Continued »
August 23, 2011 7:20 PM

Profile: PatOuellette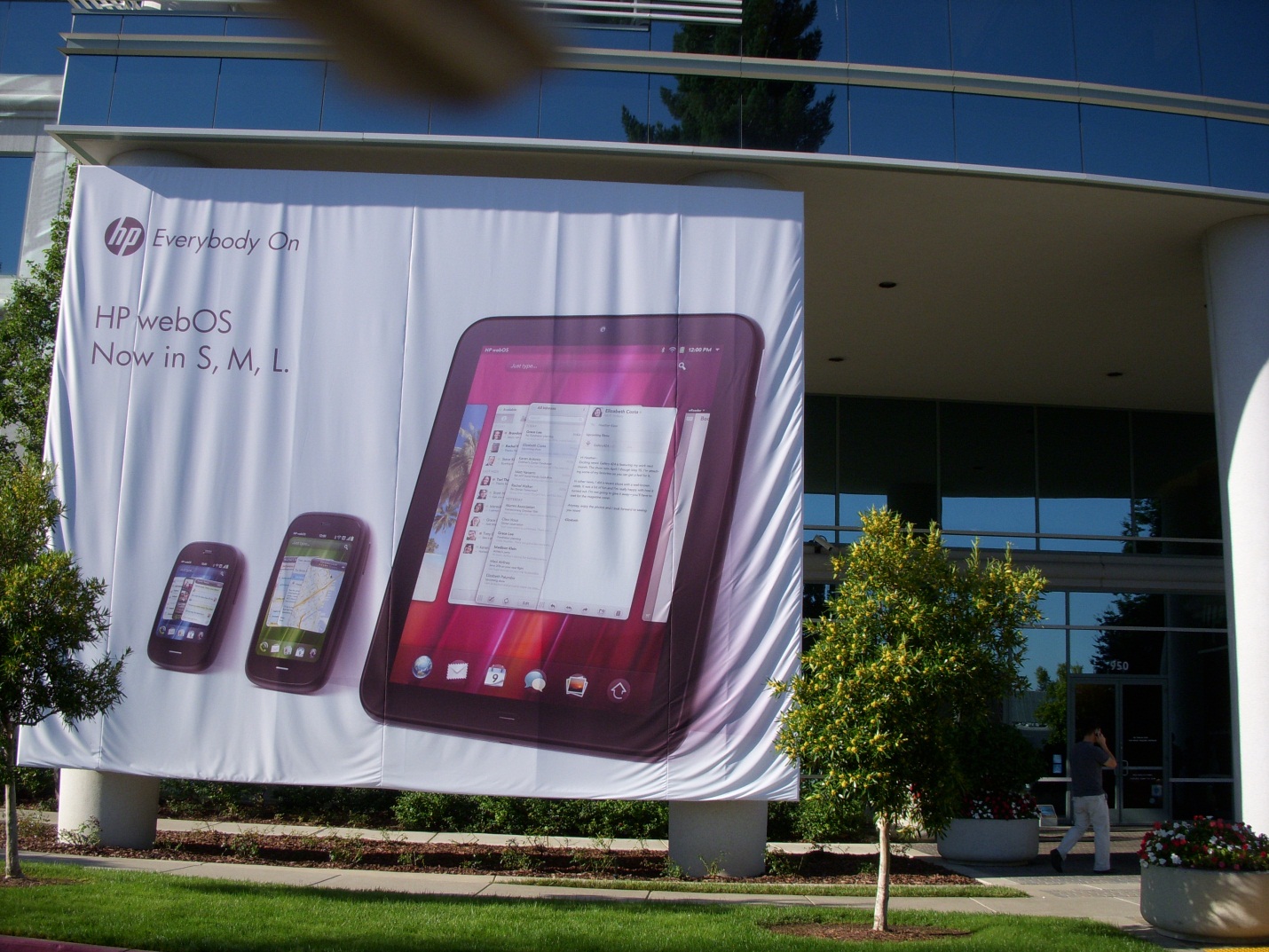 This just in from a SearchITChannel.com spy. Yes, that's a gigantic TouchPad banner hanging off HP headquarters as of Tuesday morning. Kind of eerie, ain't it?
Last week, most stores were well-stocked with HP TouchPads. But now that HP nuked its tablet business, TouchPads are selling like hot cakes at $99 each. Our eye witness saw 35 to 40 people (no badges so not HP employees) lined up at HP before 9 a.m. for the hot-selling-but-dead product.
VARs said HP's cost for the high-end TouchPad, which listed for $499, was $380. VARs could make 4% of list, or $20 from each sale> Small problem: Precious few sold at $499. But now VARs say customers are begging them for the $99 deals. Not likely, said one. "I expect to ship them back to Ingram [Micro] for a full refund."
Is interest in the HP's moribund TouchPad the ultimate irony, or is it a great – if unprofitable – guerilla marketing campaign from HP?
Let us know what you think about the story; email Pat Ouellette, Associate Editor, at pouellette@techtarget.com , or follow us on twitter.
---
August 22, 2011 4:28 PM
Hewlett-Packard PR would really, really like to talk to reporters about its VMworld news next week. But I'm guessing there aren't many takers given recent HP bombshells.
Last week, CEO Leo  Apotheker told the world that HP was killing the new, heavily-hyped TouchPads, might sell off/spin off its huge PC division, and was exploring options for WebOS.
Oh, and it would buy little-known Autonomy for $10.3 billion.
One HP partner reached on Friday needed to be talked off the ledge.
---
---
---
---
August 8, 2011 5:32 PM
Anyone who reads my posts here with any kind of regularity knows that I am kind of a numbers geek, which is to say that I love the nuances of all the statistics that are published by the usual suspects on the market research side of life. It doesn't mean I believe all of them, but I feel most of them bear exposure. (Or, bare exposure, if you prefer.) Continued »
---
August 4, 2011 3:07 PM
PORTSMOUTH, N.H. — Unsurprisingly, cloud was top of mind at this week's GreenPages Solutions Summit 2011.
About a hundred or so GreenPages customers–IT professionals from organizations ranging from area hospitals to Liberty Mutual Insurance and Stratus Computer — came to hear GreenPages' cloud pitch, specifically the VAR's planned "data bus" that would help them move data from on-premises data centers to hybrid and/or public clouds. But that was the official news. Here's the real scuttlebutt. Continued »
---
August 3, 2011 9:31 PM
Pete Koliopoulos, who shepherded The VCE Co. through some early rough waters around its channel game plan, left the company and joined Arrow as VP of marketing for Arrow ECS, according to his LinkedIn bio.
---
---