---
September 13, 2011 12:32 PM
The crossover to more flexible Wi-Fi technologies will accelerate during the next three years, according to some new data out from ABI Research.
The firm reports that the 802.11ac format will emerge as the dominant protocol by 2014, with a sharp increase in shipments during the 2013 crossover year. The primary format within the platform will be chipsets that combine the 802.11n and 802.11ac formats, according to ABI Research.
Notes Philip Solis, the research director for mobile networks at the firm:
"With the exception of a small and dwindling number of 802.11g chipsets, everything has already shifted to 802.11, and it has happend faster than most people expected. This is a clear indication of what will happen with 802.11ac."
The more flexible the chipset in terms of its ability to accommodate multiple bands, the more likely it is to be adopted.
The research dovetails with another report out this week from IDC that predicts that by 2015, more people will access the internet via mobile, wireless devices than via wireline connections. I just want to note that wired broadband connections sit behind the wireless access points that we use. So, technically speaking, the statement is true but there is a wire behind it all. Somewhere.
The IDC report, called the Worldwide New Media Market Model, predicts that the total number of internet users will grow to 2.7 billion in 2015 from 2 billion in 2015. The compound annual growth rate of mobile internet users will be approximately 16.6 percent during that time period.
If that doesn't get IT solution providers thinking about the sorts of managed services they offer for their clients, nothing will. The fact is that the personal computer's influence as the central point for access is continuing to decline, probably at a rate faster than most VARs or systems integrators have expected.
Check out more IT channel news on SearchITChannel.com and follow us on Twitter! Here's how to follow Heather Clancy directly.
September 12, 2011 2:38 PM

Raise your hand if you've heard this before: Vendors want VARs to focus on specialization.
Whether it's IBM seeking specialized partners or Autodesk honing in on partner specialties, this isn't a new trend. But Access Markets International (AMI) recently  surveyed 650 SMB VARs, and it would appear that vendor desire for specialized competencies will be a factor in the cloud computing services market.
Based on the types of solutions partners offer, growth areas, margins and skill sets, AMI came up with five high-value competencies (HVCs) that VARs can be judged on: Business analytics (BA), unified communication and collaboration, business process management, mobility and infrastructure alignment. These competencies are then rated. So  for a partner  to get a BA competency, they have to offer a substantial amount of on-premises and cloud BA solutions (about 25-30% total, according to AMI).
AMI queried each respondent for 35 minutes on their experience with the competencies and maintains that because these competencies provide higher growth and margins, they will help partners have cloud success.
Of the 650 respondents, 45-50% had at least one competency and 15-20% had two or more. Avinash Arun, director of channels at AMI, said that these numbers are a continuation of a changing landscape and a sign of the all-in-one partner's demise.
"Once partners have isolated competencies, offering cloud services becomes easier," Arun said. "One-third of respondents with at least one competency offer some form of Software as a Service (SaaS) whereas only one-tenth of partners without competencies provide SaaS."
Arun said that 15-20% of SMB VARs are presently getting revenue from the cloud, but over 25% with one of these competencies are getting cloud revenue.
Competencies have always been important to vendors, not customers, and some SMB VARs have said that their work in the field should take precedent over competencies. But as cloud services become more prominent, VARs who didn't value specific competencies before may need to need to adjust on the fly.
Let us know what you think about the story; email Pat Ouellette, Associate Editor, at pouellette@techtarget.com , or follow us on twitter.
---
September 7, 2011 5:26 PM
Mick Gallagher has resold Oracle and NetSuite software and services for quite some time. Now, he's fully into the cloud with App360.
This service, built atop NetSuite infrastructure, plus an up-front service call, will help companies get a handle on what they're really spending for all of their information technology and better allocate resources accordingly. Continued »
---
August 31, 2011 8:08 PM
The deeper that IBM Software gets into analytics, the deeper it gets into territory that hackers and other nefarious cyber-criminals are likely to target. Little wonder, then, that the giant IT services and software company today snapped up a British security technology firm, i2, to aid in its protection of businesses, healthcare organizations and governments using its technology.
Two of i2's touted credentials: it is used by 12 of the top 20 retail banks in the world and eight of the 10 biggest companies. The technology is also used at the national security level in 60 different countries, according to its web site.
In a statement announcing the acquisition, IBM executive Craig Hayman, who is general manager of IBM Industry Solutions, said:
"IBM's goal is to better equip public safety officials and businesses with the information and tools they need to ensure safer cities. The combined capabilities of IBM and i2 will help customers uncover patterns and trends that will allow them to more effectively protect the privacy and safety of citizens, businesses and governments."
The terms of the deal weren't disclosed, but the transaction is expected to close in the second quarter provided all the usual regulatory hurdles are surmounted. i2 has its base in Cambridge, England. Its 350 employees are located there, as well as in McLean Va.; Tucson, Ariz.; Canberra, Australia; and Ottawa.
Check out more IT channel news on SearchITChannel.com and follow us on Twitter! Here's how to follow Heather Clancy directly.
---
August 31, 2011 2:54 PM
How can this wacky Hewlett-Packard saga get even nuttier? LOTS of ways. Here are a few things to ponder going forward.
1: Track Jon Rubinstein.  The former Apple hardware whiz , aka The Podfather,  went to the beach for awhile before getting snapped up by Palm. Now that HP's TouchPad is dead (or IS it?) he might be looking for other things to do and it would be extremely tantalizing if he ended up back at Cupertino's Infinite Loop for Apple now that Steve Jobs has left the building. Of course, there were some hard feelings when Rubinstein took a hike, so it remains to be seen if Tim Cook would deign to let him back in. Continued »
---
---
August 25, 2011 8:48 PM
What self-respecting IT services provider ISN'T trying to position itself as an expert in cloud computing? After all, pretty much everyone has their own definition of what it means. What's that old saying? There is margin in mystery? Continued »
---
August 25, 2011 12:24 PM
Here's the thing about Steve Jobs. All that stuff about the charisma, the "reality distortion field," all the crap that PC-oriented journalists caught up in the Microsoft-Intel duopoly derided as fan-boy BS, it was very real.  Check out this video from MacWorld Boston (remember that???) in 1997, especially the piped-in appearance by Bill Gates about 30 minutes in. (An amazing amount of hissing for an industry event. And let's not get into the boobirds.)
Stunning. To plagiarize myself, what has always struck me about Apple compared to Microsoft is that Apple, at least under Jobs, always left its customers jazzed but wanting more. Microsoft, on the other hand (and this coming from a long-time Windows user) seems to leave its users exhausted and wanting less.
That's a big fundamental difference.
Let us know what you think about this post; email Barbara Darrow, Senior News Director at bdarrow@techtarget.com,
---
August 24, 2011 1:40 PM
Hewlett-Packard will, in fact, offer full refunds to  VARs for any TouchPad tablets they have in inventory. it will also "price protect" customers who bought the TouchPad at full price. But it's not advertising that fact. Continued »
---
August 23, 2011 7:20 PM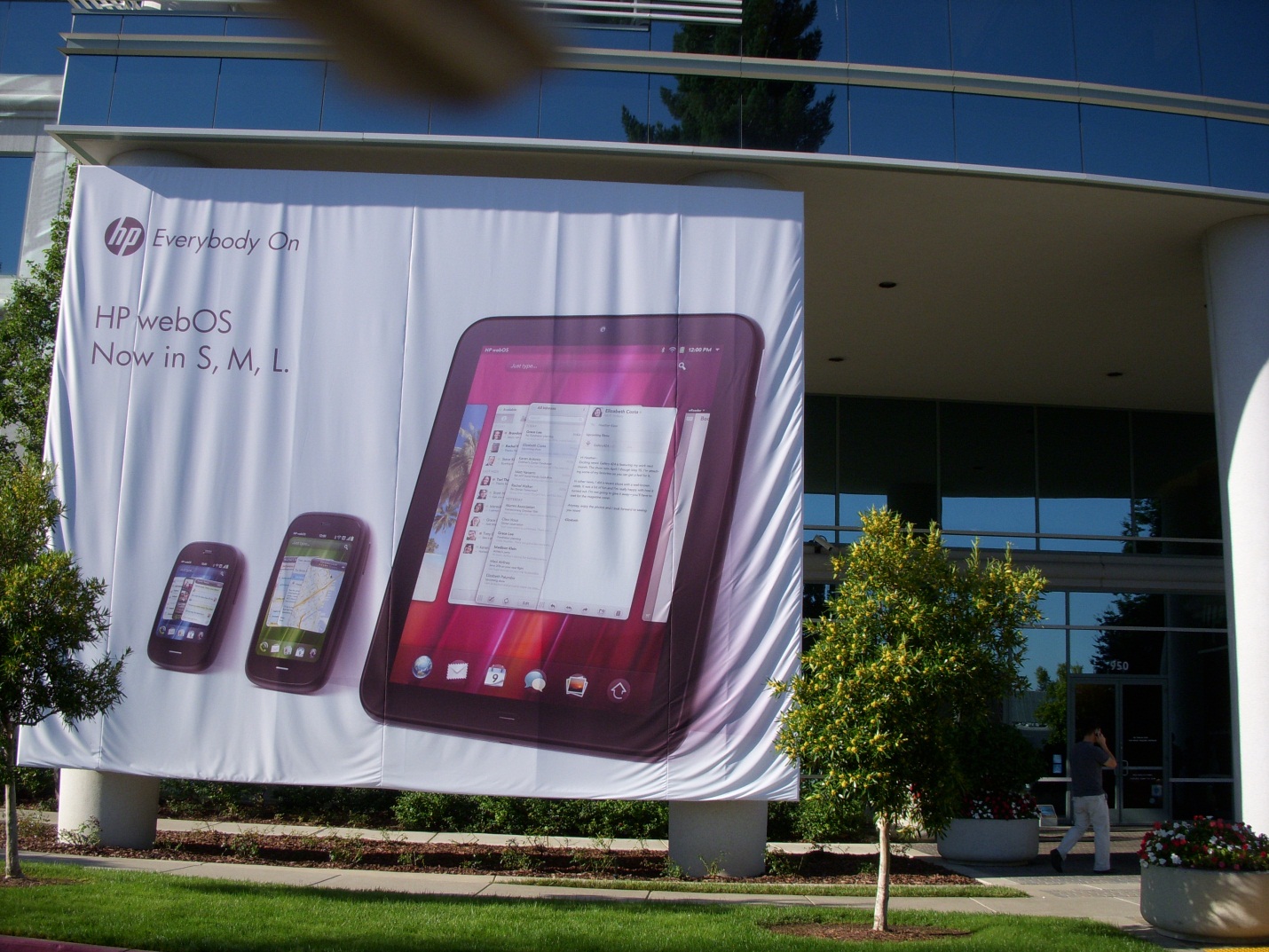 This just in from a SearchITChannel.com spy. Yes, that's a gigantic TouchPad banner hanging off HP headquarters as of Tuesday morning. Kind of eerie, ain't it?
Last week, most stores were well-stocked with HP TouchPads. But now that HP nuked its tablet business, TouchPads are selling like hot cakes at $99 each. Our eye witness saw 35 to 40 people (no badges so not HP employees) lined up at HP before 9 a.m. for the hot-selling-but-dead product.
VARs said HP's cost for the high-end TouchPad, which listed for $499, was $380. VARs could make 4% of list, or $20 from each sale> Small problem: Precious few sold at $499. But now VARs say customers are begging them for the $99 deals. Not likely, said one. "I expect to ship them back to Ingram [Micro] for a full refund."
Is interest in the HP's moribund TouchPad the ultimate irony, or is it a great – if unprofitable – guerilla marketing campaign from HP?
Let us know what you think about the story; email Pat Ouellette, Associate Editor, at pouellette@techtarget.com , or follow us on twitter.
---