---
July 16, 2012 4:53 AM
How refreshing: Gartner is actually raising its projections for 2012 IT spending slightly to $3.6 trillion. That's up 3%, compared with the 2.5% increase that the market research firm made during the first quarter of 2012.
One big bright spot is enterprise cloud services, which Gartner thinks will grow to $109 billion in 2012 compared with $91 billion in 2011. The top cloud priority for enterprises falls into the category of business process as a service applications, according to Gartner.
Technology solution providers will also be interested to hear that global spending should reach $864 billion in 2012, up a projected 2.3%.
Here are the forecasts for some specific categories:
Computer Hardware – $420 billion, up 3.4%
Enterprise Software – $281 billion, up 4.3%
Telecommunications Equipment – $377 billion, up 10.8%
Look for more channel news coverage on SearchITChannel.com and follow us on Twitter! Follow Heather Clancy directly.
July 11, 2012 7:22 PM
Microsoft has changed the Office 365 channel program to make the online productivity suite more of an opportunity — and less of a competitor — for partners.
Under Office 365 Open, partners will be able to bill their customers directly for Office 365, bundling additional services in with the software in a single invoice. And with the Office 365 Advisors Program update, margins have increased to 23% in the first year of Office 365 sales for partners who sell 2,500 seats. Partners who sell more than 500 seats get 22%, and 150 seats garners a 20% margin. The 12% margin is staying the same for smaller sales, but the renewal fee is decreasing from 6% to 4%.
Microsoft CEO Steve Ballmer joined Microsoft Office division president Kurt DelBene during the announcement at the Worldwide Partner Conference (WPC) and said that Office 365 is "exploding in momentum," but the company is not releasing any sales numbers at this time.  The Office 365 Open and Advisors Program updates  are designed to help spur momentum in the channel, Ballmer said.
At the WPC on Wednesday, in what would best be described as a cheerleading session, Microsoft COO Kevin Turner pushed Office 365 to partners.
"Winning with Office 365 is the single most important thing we need to do within the enterprise," Turner said.
He also fired some shots at Google.
"Google is pitching our customers, but fortunately they don't win much," he said. "When they pitch Google Apps at $50, you need to help customers look below the surface and understand there's a whole lot of cost associated with making their solution work."
This decrease in renewal fees may be a pain point for partners, who in passing have said that low recurring revenue is part of what made Office 365 a non-starter for their practices. If you're a Microsoft partner, what do you think of these changes to Office 365? Do you have a hard time selling it against Google Apps? Leave your comments below or send me a note at lrosin@techtarget.com.
---
July 9, 2012 9:07 AM
Here's a question: Are you reading this article sitting in your office at a tethered computer with a browser or are you scanning it with your tablet computer or smartphone?
Given the nature of the IT services business, more of you are reading this on a mobile platform than one year ago. And more of you are reading this on some mobile gadget that probably doesn't have a traditional keyboard.
That's why it's very easy to buy into the prediction this week from NPD DisplaySearch that calls for annual shipments of tablet computers to outstrip those of notebooks computers by 2016. It's another harbinger of the impact that the "bring your own device" movement will have on IT solutions, and another reminder that solution providers that rely on hardware margins will need to make some adjustments in their business model during the coming format shift.
NPD DisplaySearch projects that tablet computer sales will reach 416 million units that year, roughly more than triple the number expected for 2012 (121 million units). During that same four-year timeframe, annual shipments of notebook computers should grow from 208 million units in 2012 to 393 million units by the end of 2016, according to the NPD DisplaySearch forecast, "Quarterly Mobile PC Shipment and Forecast Report.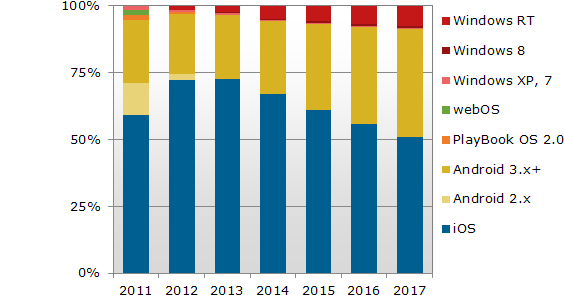 (Source: NPD DisplaySearch, Quarterly Mobile PC Shipment and Forecast Report)
The majority of growth for tablets is coming from mature markets, including the United States.
"While the lines between tablet and notebook PCs are blurring, we expect mature markets to be the primary regions for tablet PC adoption," said Richard Shim, senior analyst for NPD DisplaySearch. "New entrants are tending to launch their initial products in mature markets. Services and infrastructure needed to compelling new usage models are often better established in mature markets."
The challenge for IT solution providers is that many tablet computers, like smartphones before them, are being brought into companies by individuals rather than the IT department. That's the bad news. The good news is that businesses are struggling with how to manage these devices. That has created all sorts of assessment, policy development and managed service opportunities related to security, patch management and collaboration/workflow policies.
While much of that work today surrounds tablets that use the Apple iOS or Google Android operating system, it is likely that Microsoft's new Windows Surface tablet will have an impact within companies seeking to more closely integrate tablet solutions with legacy applications and infrastructure.
The first model, which will be made entirely made by Microsoft (yes, even the hardware) will be 9 millimeters thick, weigh about 1.5 pounds and run on low-power ARM chips. It is expected to hit the market around October.
Look for more channel news coverage on SearchITChannel.com and follow us on Twitter! Follow Heather Clancy directly.
---
July 6, 2012 3:19 PM
Microsoft recently announced their upcoming Windows 8 tablets, called "Surface." So what does this mean for Microsoft resellers?
The first thing to understand is that Microsoft has developed these tablets entirely in house and plans to bring them to market as Microsoft hardware. These aren't reference platforms that will be built and distributed by the usual OEMs. Therefore, it is likely that they will reach customers through the same channels as the Microsoft Mouse and LifeCam products, and with a lot of options for where to buy, customers will need a good reason to spend their dollar with you. Continued »
---
June 28, 2012 3:19 AM
There's an interesting but not-so-surprising survey out from IT services giant Dimension Data this week suggesting that many companies are overlooking the need to upgrade their corporate networks in their rush to accommodate mobile devices.
The research, which examined the habits of 300 organizations, found that while many companies are upgrading the wireless technologies at the edge of the network, fewer of them are looking downstream to ensure that the backbone of their networks can support all that extra traffic.
Dimension Data's report, the 2012 Network Barometer, found that one-third of the wireless access points installed in 2011 were 802.11n-capable. That has implications for speed, traffic and network prioritization.
In addition, the solution provider found that about two-thirds of the devices that it assessed during its study had at least one known security vulnerability. Generally speaking, these vulnerabilities were new (that is, they indicated that the companies weren't keeping their network operating systems up-to-date.
Dimension Data's overall suggestion is that companies need to spend more time examining the switches and routing equipment supporting an influx of smartphones, tablets and other mobile devices.
"Without adequate planning, organizations can expect traffic jams and performance bottlenecks," said Raoul Tecala, Dimension Data's business development director for network integration, commenting on the findings. "It's like building a number of new on-ramps onto a motorway, and not adding new lanes to carry the additional traffic."
The takeaway for other technology solution providers is that they need to more carefully assess the network infrastructure supporting their customers' mobile solutions rollouts — with an eye to accommodating the extra traffic and ensuring that security breaches aren't introduced for the sake of productivity.
Look for more channel news coverage on SearchITChannel.com and follow us on Twitter! Follow Heather Clancy directly.
---
June 22, 2012 3:16 AM
Social media. Social CRM. Social business software. Whew, seems like every software category is adding the social adjective in an effort to inspire new revenue or new interest. Rumors that Microsoft is about to pay $1 billion to buy Yammer, which makes software for creating private social networks, certainly shine a brighter spotlight on this whole discussion.
Part of the hype around social-this-and-that might just be the usual pre-chasm hype fuled by high-tech marketers. But could technology solution providers build new practices by developing skills, services or consulting storylines tied to social software recommendations?
It is pretty clear to me that the principles of social media and social collaboration will have a profound impact on customer service and on preferred methods of collaboration.
Consider new data released this week by IDC about so-called enterprise social software. The research firm reports that adoption of software from IBM and Jive Software, in particular, accelerated significantly between 2010 and 2011. In fact, both of them reporting more than 70 percent growth year-over-year. Yammer was the fastest growing vendor in the lot, growing its sales by more than 132 percent, according to IDC.
Said IDC analyst Michael Fauscette, group vice president of Software Business Solutions:
"Companies are turning to social software in increasing numbers as they look for ways to increase collaboration, improve both business and individual worker productivity, and efficiently manage a growing deluge of content and information. Compartmentalized and specific collaboration is still required by many organizations and traditional collaborative applications providing closed loop and B2B communications will retain their existence in organizations alongside more open social solutions."
At the very least, technology solution providers should dedicate someone on their team to exploring scenarios in which the existing solutions for collaboration or workflow processes and customer services could be extended or usurped by some of these new social software approaches.
The momentum behind social networking and social media is very real, and people like you and me have become very used to using these tools for collaboration and communication in their personal lives. Increasingly, that interest is going to spill over into the business world and it is important for solution providers to be prepared for the potential impact.
Look for more channel news coverage on SearchITChannel.com and follow us on Twitter! Follow Heather Clancy directly.
---
June 14, 2012 1:09 PM
If you enjoyed near-double-digit revenue gains for your software solutions business in 2011, take note: growth for many traditional applications will taper off this year, according to a new forecast from IDC.
During 2011, the average sales growth for software in the Americas was 8.7 percent, according to the research firm. For 2012, IDC is projecting overall software market growth of 7.3 percent for the Americas. Apparently, the economic turmoil in Europe is dragging the rest of the world down.
Microsoft was the No. 1 software vendor worldwide, following by IBM. Several vendors enjoyed double-digital growth rates of more than 20 percent last year: VMware, Salesforce.com and Cadence Design Systems.
Look for more channel news coverage on SearchITChannel.com and follow us on Twitter! Follow Heather Clancy directly.
---
June 8, 2012 4:55 PM
Holy smokes! Just when you thought you MIGHT be able to convince some of your customers to migrate their operating system over to Windows 7, there's a new survey out that suggests small-business owners are eager for the still-to-be-release Windows 8.
The reason? Windows 8 ability to help workers get a better grip on managing their information and accounts across multiple devices such as on a desktop or notebook as well as a tablet or smartphone.
The data, part of the Staples Small Business Index, suggests that about 70 percent of the small-business owners who have heard about Windows 8 (it doesn't say how many of them DO know about it, BTW), already have upgrade plans. Of those with upgrade aspirations, approximately 28 percent focused on the operating system's promised interoperability with tablet computing devices.
As you might expect, Staples has a position on this, which is something that solution providers should be prepared to address or combat.
Earlier this month, Staples started selling a Worry-Free PC Promise that will make it more attractive and easy for small-business owners to update to Windows 8 when it hits general availability. Staples is attaching this service to certain Windows 7 systems: for $14.99, buyers of those PCs will get an update to Windows 8 Pro.
The Staples data reflects the sentiments of approximately 500 small-business owners or executives from companies with no more than 20 employees.
If your company is still trying to get customers updated to Windows 7, the Windows 8 release cycle will definitely be top-of-mind for those clients. So, offering them a way to make the switch to new systems now, without it costing a bundle for them to get over to Windows 8 when it emerges, is a smart strategy.
There's no official word yet on Windows 8 will ship, but pundits are suggesting that an October 2012 timeframe is likely.
Look for more coverage soon of cloud backup options on SearchITChannel.com and follow us on Twitter! Here's how to follow Heather Clancy directly.
---
June 1, 2012 4:08 PM
More enterprises are willing to consider cloud backup services as an option for the backup portion of their overall disaster recovery needs, according to independent research conducted on behalf of cloud backup recovery software vendors, Asigra.
Specifically, the data from TechValidate shows that 66 percent of enterprise IT departments are considering cloud backup as they mull plans to update their current backup systems over the next 18 months, Asigra reports. Expanding volumes of data is one of the most common motivators prompting enterprises to reconsider their overall strategy vis a vis backup, the data shows.
According to the TechValidate data, the three most common top priorities of IT professionals who are considering new backup solutions are:
Recovery time
Secure data protection
Affordability and reliability
VARs and MSPs can help potential customers evaluate existing and potential backup options with these factors in mind. "Companies need to do an internal assessment and determine what their recovery time objectives are for their data — what data needs to be restored immediately and what data can be restored later without causing too much disruption," said Eran Farajun, Asigra's executive vice president, in a statement. "They also need to determine what the cost is for recovering both young and old data."
Benefits of cloud backup include risk mitigation (especially if a company doesn't have ANYTHING else) and the ability to spread costs out over time (minimal capital investments).
Look for more coverage soon of cloud backup options on SearchITChannel.com and follow us on Twitter! Here's how to follow Heather Clancy directly.
---
May 25, 2012 3:27 PM
Earnings reports from technology bellwethers Hewlett-Packard and Dell this week weren't exactly confidence boosters. Both companies signalled lackluster IT spending as the cause for quarterly revenue declines, underscoring the need for technology solution providers to continue diversify their own revenue mixes — and vendor relationships — into software and services as quickly as possible.
Here are the numbers for quick reference.
HP recorded net revenue of $30.7 billion for the second fiscal quarter ended April 30, 2012, down 3 percent. Income was also off. Mind you, quarterly revenue of almost $31 billion is nothing to sneeze at, and these results were actually better than the company's projections. And, astonishing, the company's PC business managed to come in flat (with $9.5 billion in revenue). So, if you are OK with the status quo, you probably don't mind.
Dell's revenue for its first fiscal quarter was $14.4 billion, off 4 percent from the year-earlier period. The good news is that it realized increases for its services, server and networking businesses. The bad news for solution providers is that Dell continues to push its services agenda, which may or may not include them.
For me, there was another troubling question raised by this week's earnings reports: How quickly can these companies make innovation pay off in their product lines as the technology market shifts?
These results make me wonder how well poised either company is to make it through the technology market overhaul that is being driven by mobile technology, the rise of purpose-built enterprise software applications such as Salesforce.com and the drive for analytics technologies that are easy for the line-of-business person to use — not a rocket scientist.
Exhibit A:  Yet again, HP is relying on a massive restructuring to hopefully get its financial house in order. (How many times have we seen this script in the last decade?) This time, it plans to cut about 27,000 jobs over the next two years. Mind you, it plans to plow the roughly $3 billion to $3.5 billion in estimated savings back into research and development for cloud computing and "big data" analytics technologies.
But I find myself wondering whether HP can innovate quickly enough to keep up with the flood of nimble startups focused on the same exact thing.
Sure, maybe it can buy its way into these markets, but HP's history of integrating those technologies (WebOS anyone?) hasn't exactly been stellar. What's more, revenue for Autonomy, which HP spent $10.3 billion to buy last year, declined compared with when it was a standalone company. Whoops.
In any event, if I were a technology solution provider, I would be seriously evaluating just how much exposure I have to both HP and Dell.
There are major changes afoot in mobile form factor and software spending habits that don't favor either of these companies right now. Sure, they may be great legacy businesses for technology solution providers for years to come, but is your company cultivating new relationships that will help your own company stay abreast of technology consumption habits?
Check out more IT channel news on SearchITChannel.com and follow us on Twitter! Here's how to follow Heather Clancy directly.
---