---
February 13, 2012 8:57 PM
General Electric and Microsoft have disclosed some details around a new 50-50 venture, called Caradigm, that the two companies are creating to target the healthcare IT segment. (Try saying the name of the company out loud, and you'll get it.)
The company, which will get its formal launch during the first half of 2012 provided it surmounts some government regulatory hurdles, are specifically focused on addressing the need for health care organizations to develop more efficient ways to collaborate through technology. Both Microsoft and GE will contribute technologies to the venture, including:
Microsoft Amalga, described as a "health intelligence" platform
Microsoft Vergence, which addresses single sign-on and "context management" challenges
Microsoft expreSSO, enterprise single sign-on software
GE Healthcare eHealth, which is positioned as a health information exchange
GEO Healthcare Qualibria, a platform for sharing clinical knowledge
Both companies also are contributing executives and board members. For example, Neal Singh, currently the general manager of MIcrosoft Dynamics AX Global Financial Management, will be moving over to Caradigm as the chief technology officer and senior vice president. The chief executive officer for Caradigm will be Michael Simpson, who currently runs the GE knowledge sharing and connectivity business unit over at GE Healthcare.
Check out more IT channel news on SearchITChannel.com and follow us onTwitter! Here's how to follow Heather Clancy directly.
February 3, 2012 3:15 PM
As awareness about software and content piracy increases along with the need for proper licensing management, distributor Tech Data has created a site that creates a way for technology solution providers to streamline software licensing management and to offer cloud-delivered applications and services to small and midsize businesses (SMBs).
The StreamOne Solutions Store represents dozens of different software applications and cloud service offerings. Technology solution providers can use the store's StreamOne Software License Selector to figure out which licensing policies make most sense for their individual customer, provision the software or service, and then offer a simple invoice. The latter is especially important if a business is selecting more than one application or cloud service, because it helps simplify license management.
Said Gertrud Pillay, vice president of category marketing and licensing operations at PCMall:
"The Tech Data StreamOne platform is unlike anything currently offered within the channel. With the intuitive interface, we're able to quickly and easily bring greater value and efficiency to our customers by identifying which software solutions and cloud services will help our customers reach their goals."
From the solution provider's standpoint, Tech Data's store not only helps simplify software management tasks, it provides a single location for helping their customers consider different applications or subscription options that they might not previously have considered.
StreamOne also obviously provides a way for independent software vendors or developers to get their applications in front of potential sales and business partners.
Check out more IT channel news on SearchITChannel.com and follow us onTwitter! Here's how to follow Heather Clancy directly.
---
February 1, 2012 7:22 PM

Profile: Leah Rosin
Citrix Systems just announced its 2012 partner training calendar, including a six-week virtual desktop training course, Citrix Academy. The course is offered in Ft. Lauderdale, Fla., and Santa Clara, Calif., and promises to guide students through basic design and troubleshooting of Citrix products such as XenServer, XenDesktop, XenApp and NetScaler. It also covers complex integrations, optimization and scalability using the same tools and methods the company uses to train its internal staff. Course graduates receive the Citrix Certified Integration Architect (CCIA), the company's highest certification available.
As a VAR, you may be weighing whether or not this is a good time to take six weeks off of work and go to this intensive training. To help you decide, here some numbers that might help. According to the Virtualization Decisions 2011 Purchasing Intentions survey conducted by SearchServerVirtualization.com at TechTarget Inc., interest in desktop virtualization is growing, with 36% of respondents evaluating the technology, up from 27% in 2010. But actual deployments are lagging, with only 19% of respondents reporting that they had implemented desktop virtualization in 2010 or before, and only 14% planned to deploy the technology in 2011.
Further, only 3.64% of those surveyed said XenServer is their primary server virtualization platform, and 15.43% said XenDesktop is their primary desktop virtualization platform, behind VMware View (26.05%) and VMware ThinApp (16.4%).
These numbers may not reveal the true use of Citrix products for desktop virtualization as some discussions about using the XenClient hypervisor rather than XenDesktop for desktop virtualization have been happening, with security and flexibility cited as the leading reasons. For more information on using the bare metal hypervisor, BrianMadden.com covered XenClient features and functionality recently in an interview with Citrix's Peter Blum.
Other desktop virtualization options include Citrix VDI-in-a-Box, which may actually be the best fit for small and medium-sized business customers.
Of all the courses offered, evaluating which training session to attend is a business decision I'm sure you don't take lightly. But let me know. If you're a Citrix partner, are you considering attending the Citrix Academy? What are the business factors that are driving that consideration? Is desktop virtualization something you are currently offering your customers? Why or why not? Leave your comments below or share your thoughts with me at lrosin@techtarget.com.
---
January 27, 2012 4:22 PM
Even if you refrain from labeling it as a "green" business habit, the fact is that more businesses are getting wise to the fact that a) they need to be more disciplined about how to dispose of old hardware and technology and b) there may be some residual value in same.
That's the mindset that technology distribution giant Ingram Micro is trying to tap with its new IT Asset Disposition (ITAD) Services, which it developed together with U.S. Micro.
The services support technology solution providers that are, in turn, trying to help their customers get rid of hard drives, memory cards, printers, copiers and other electronic devices that might have a "digital history." There are two primary considerations: making sure that any personal or private data is removed thoroughly from these devices and gadgets, and making sure that when they are recycled, refurbished or disassembled, that process is managed with the environment in mind.
The main focus of the services, at least initially, is solution providers that have clients in either the public sector or healthcare, where compliance laws are particularly onerous. The aim is twofold: wipe the information off this technology and provide a certificate saying so, and making sure items go to properly vetted recycling and disposal partners.
In the press release for the new services, Michael Humke, senior director of public sector and healthcare markets for Ingram Micro, said:
"The fallout from data breaches, identity theft and the improper disposal of IT equipment and data is not only costly, but in many cases can be disastrous and undetermined."
Check out more IT channel news on SearchITChannel.com and follow us on Twitter! Here's how to follow Heather Clancy directly.
---
January 20, 2012 6:00 PM
I was lured into a briefing with some of Dell's channel marketing team this week. While there really wasn't any immediate news, I came away from the call with the general sense that the company plans to put way more resources into creating marketing materials for the channel to use this year. It really does need to do so, because this is one area where Hewlett-Packard has the process down cold.
On the call, two of Dell's channel marketing managers held up the company's October 2011 campaign, "Enabling the Evolving Mobile Workforce," as an example of the sorts of demand-generation materials its partners will be able to leverage. They include customizable PowerPoint presentations, co-brandable marketing messaging materials such as print advertisements, e-mail campaign messages and Web banner ads, and some one-page leave-behinds (which can again be cobranded). You can download the assets from the company's Campaign Builder site (but I can't give you the link because I am not a partner and therefore am blocked).
"Our big goal is to make it easier for them to do business with the marketing team," said Nikkia Despertt, channel marketing manager for enduser computing with Dell.
In the next phase, Dell plans to make more digital assets available. An example is the Mobile Workforce Digital Module, which will include code that can be directly embedded into a partner Web site. The company also is planning to introduce marketing videos, Despertt said.
The Dell marketing team wouldn't disclose how much more it plans to spend on marketing enablement in 2012 than in the past.
Check out more IT channel news on SearchITChannel.com and follow us on Twitter! Here's how to follow Heather Clancy directly.
---
January 13, 2012 3:38 AM
Caution seems to be the prevailing attitude of two major technology research firms, Gartner and Forrester Research, which both have released their requisite 2012 crystal-balling IT spending forecasts for the next 12 months.
The Gartner forecast is the more conservative of the two, calling for worldwide IT spending to reach $3.8 trillion in 2012, which would be a 3.7 percent increase over 2011. That was a downward revision from its previous prediction for 4.6 percent growth. The major reasons that Gartner has put a damper on its expectations: the financial crisis in Europe and the lingering impact of floods on Thailand on hard-drive manufacturing. (Although that has to be helping the solid state drive situation.)
The two brightest spots in Gartner's forecast are enterprise software, which should post a 6.4 percent growth rate this year, and telecommunications equipment, which is forecast to grow at 6.9 percent over the next 12 months.
Forrester Research is slightly more optimistic in its forecast, calling for growth (in U.S. dollars) of 5.4 percent to $2.122 trillion. Forrester doesn't account for corporate telecommunications services in its spending calculations, so that is one of the reasons for the disparity in the overall outlook.
Like Gartner, Forrester points to software as the single biggest IT purchase category in its "Global Tech Market Outlook for 2012 and 2013", and it expects the revenue for that category to be around $529 billion (about 25 percent of the overall total). The U.S. outlook is relatively bright, with growth of between 6 percent and 7 percent anticipated.
IT consulting and systems integration is the third biggest category of spending anticipated by Forrester (after software and computer equipment). Services spending should reach about $427 billion for the year, according to the report. But if you are a technology solution provider that still favors systems integration in your services mix, you could miss out on some of that growth. That's because Forrester says the IT consulting and training services segment grew at a rate of about 12 percent in 2011, compared with 11 percent for integration services and 10 percent for IT outsourcing.
Forrester writes:
"That trend will accelerate in 2012 and 2013, when IT consulting services will grow two to three percentage points faster than systems integration services and even faster compared with IT outsourcing."
Forrester believes there are two big reasons for that shift:
Adoption of software as a service, which requires companies to consider their business processes
The rise of so-called "smart computing" applications that correlate with the growing interest in data analytics and predictive forecasting solutions.
What else is in store for 2012. You should read SearchITChannel's two forward-looking trend pieces for the next 12 months: "Four trends that will shape IT services in 2012" and "Four technologies that will shape 2012 solutions."
Check out more IT channel news on SearchITChannel.com and follow us onTwitter! Here's how to follow Heather Clancy directly.
---
January 6, 2012 8:42 AM
This development is bound to irk some technology solution providers that have spent oodles of money over the past several years building out practices to deploy Cisco TelePresence solutions. CDW has announced this week that it is now a TelePresence Video Master Authorized Technology Provider. Which means it can pretty much install any TelePresence solution. Anywhere.
The Master status signifies that CDW has ponied up the training money and personnel to develop skills in the advanced collaboration technologies that come as part of TelePresence solutions. It is qualified to sell everything from the single-screen units up into custom TelePresence suites.
This is great news for Cisco, which gains an incredibly high-profile partner in one of its most important emerging technologies areas.
But I have to wonder about the other leading-edge technology solution providers that have helped Cisco build up word-of-mouth and credibility for TelePresence solutions, pioneering the company's success in this category. Does this move signify that the company will open up the TelePresence technologies into the broader Cisco channel program (instead of "just" the emerging technologies track) sooner rather than later.
The development should stoke the flames of the age-old VAR versus CDW competitive rivalry. Still, it is a sign that video collaboration solutions are becoming more mainstream.
Check out more IT channel news onSearchITChannel.com and follow us onTwitter! Here's how to follow Heather Clancy directly.
---
January 2, 2012 10:17 PM
While many people are still clinging today to one last day off associated with the New Year holiday, I'm plowing through the requisite year-in-review and year-ahead materials that those of us in journalism use to help keep us honest throughout the year. With that in mind, I dug up my report from early in January 2011, "Five IT trends for VARs to watch in 2011" so that I could grade myself.
Before I really dig into the meat of this commentary, I will revisit something that I predicted in my introduction. That is, that I would be writing this year's piece on my tablet computer. Actually, since I'm hunkered down in my home office I am NOT using my tablet to write this commentary, but I DID bring my Apple iPad and a great Bluetooth keyboard from Zagg (Zaggmate) with me to Ireland last September in order to file the three daily submission that shape every morning. Right now, I'm using my solar-powered keyboard from Logitech as a replacement for my MacBook Pro's built-in keyboard.
Back to the topic at hand, revisiting the predictions we made last year. I'll recap them.
Trend #1: Tablets and smartphones will become even more prolific. During 2011, the industry's perception of what it means to be mobile underwent a profound transformation. From ultralight notebook computers to an abundance of tablets, the sheer diversity of mobile technology platforms and the desire of more workers to be mobile at least some of the time is helping fuel a conversation that solution providers will need to address more during the new year: the bring your own device (BYOD) movement. the BYOD trend refers to the desire of employees to use personal gadgets, usually mobile, for work purposes.
How SearchITChannel did: Spot on, considering that NPD Research reports there were more than 1.2 million tablet computers shipped in the first nine months of 2011 alone
Trend #2: Solution providers should embrace social media for their customers and their own internal use. The latest example of the power of social media came during the week between Christmas and New Year's Eve. Some time during that week, Verizon Wireless quietly disclosed that it would start charging a $2 "fee" for processing one-time payments being made on the phone or online. The mobile carrier grossly underestimated the vitriol of the social media world, which reacted negatively to blast Verizon Wireless for the fee. Within a matter of hours, the company was forced to backpedal.
How SearchITChannel did: Ahead of the curve. Although many smaller companies are still suspicious of the "time suck" that social media might entail, the fact is that technology enthusiasts continue to use social networks such as Twitter and Facebook as sounding boards. Managers ignore social media at their own peril.
Trend #3: Video technology will earn a starring role. Definitely a major theme of the past 12 months, as evidenced by number of top-tier videoconferencing vendors that extended their technologies to mobile platforms including smartphones and tablets. While the stagnant economy kept sales from really taking  off, this remains a key theme for emerging collaboration applications.
How SearchITChannel did: In synch with market desires, but not with economic realities of the slow U.S. economic recovery.
Trend #4: The cloud conversation will translate into heightened interest in converged data center solutions. The push to keep it simple continues to inspire businesses to contemplate the benefits of the cloud model, with its simplified approach to provisioning and its promise of helping to better align a company's true computing capacity needs with what it pays for infrastructure. The mainstreaming of server, storage and networking virtualization architectures continues to be central to this idea.
How SearchITChannel did: In synch with this emerging market, but not with realities of evaluating and piloting converged data center solutions. It takes longer than you expect.
Trend #5: Demand for data loss prevention solutions will intensify. It isn't coincidence that cloud-delivered backup and disaster recovery services are one of the fastest growing areas of the cloud services market — even though the "storage as a service" concept met a rather infamous fate over the past 10 years. A string of disastrous weather events have convinced a growing number of businesses of all sizes that data-loss preventions solutions are not an optional infrastructure investment.
How SearchITChannel did: Spot on.
What do we think is in store for 2012? Be sure to read the first of our two-part prediction series for the next 12 months, "Four technologies that will shape 2012 solutions." Stay tuned for the second predictions piece about services trends, coming soon.
Check out more IT channel news onSearchITChannel.com and follow us onTwitter! Here's how to follow Heather Clancy directly.
---
December 27, 2011 11:40 PM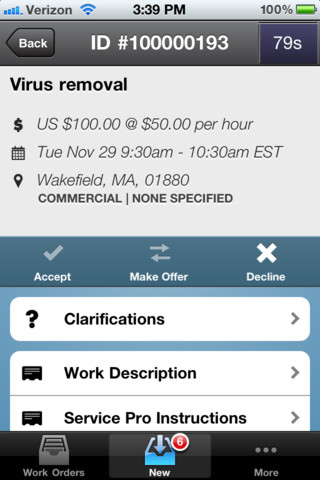 The OnForce IT services collective has created a mobile app for the Apple iPhone that coordinates with its field service automation software.
The app, which can be downloaded from the App Store, helps automate the paperwork that needs to be filed when an OnForce service request is handled. It also provides features such as geotagged check-in and checkout, so that technicians can report when they arrive and leave; the ability to receive new requests in real time; directions that are linked to the Google maps service; and access to business documents associated with the account being visited. The graphic to the right shows you what one of the screens looks like.
"Our customers can continue to deliver best-in-class IT service, while technicians can focus more on customers and less on filing paperwork or searching for service event-related information," said OnForce CEO Peter Cannone.
An Android version of the OnForce mobile field app is due in early 2012, and the company is running a beta test of the software for interested technicians.
Check out more IT channel news on SearchITChannel.com and follow us on Twitter! Here's how to follow Heather Clancy directly.
---
December 23, 2011 8:07 PM
If you are sick of the ridiculously short battery life you get out of your smartphone, you may only have five years to wait until kinetic energy technologies offer a respite.
That is just one of the predictions in IBM's annual list of the five technologies or technology trends that will reshape computing within the next five years. Here are all five predictions:
"Energy: People power will come to life"
IBM is looking at how motion — from the energy that humans create just by walking around to that generated by ocean waves — will transform energy creation by the next half of this decade. Kinetic energy increasingly is being examined as a source for recharging batteries. Devices that use kinetics to charge mobile gadgets are already on the market: check out the nPowerPEG, which is focused at the outdoors set.
"Security: You will never need a password again"
IBM increasingly is getting amped up about biometrics. This is the idea that certain body parts, such as a retina or a fingerprint or maybe even your voice, might replace all those hideous passwords that we have to use for everything and that always seem completely useless when there is a major security breach. I think that this has a real shot at happening, because people are so fed up with password-memorization hell. But the vendors pushing this technology need to get over many people's distrust of these technologies.
"Mind reading: no longer science fiction"
Today, I randomly ran into someone that I thought of just days ago, in a very unlikely place. This sort of serendipitous thing happens to me pretty often. But this particular IBM prediction scares me. The company believes that over the course of time, you will only have to think of a person's phone number in order to dial it, due to technologies that link our brain to our mobile phones. The real breakthrough of this technology would be in its ability to help those with physical disabilities or brain orders. But generally speaking, it just scares me and I kind of doubt I'm the only person who feels that way.
"Mobile: The digital divide will cease to exist"
There are plenty of examples about how mobile phones and other mobile technologies are helping people in emerging nations or disadvantage regions here in the United States. IBM believes mobility has the potential to help level the playing field when it comes to access to services, such as healthcare. Personally, I think this is a very worthy goal but I seriously doubt we will reach this nirvana within five years. Maybe IBM is just trying to get people to think about this more, right ahead of the holidays.
"Analytics: Junk mail will become priority mail"
I had to read this one three or four times before I finally understood with IBM was trying to convey. Maybe this will help: suppose you could somehow prioritize all the special offers you receive in your email? Not the ones that are autogenerated spam, but the ones that truly have some value to you as a person, such as the concert tickets you really want to buy or that new technology you want to reserve? You can already do part of this today, but requesting alerts but what if software could take things one step further and take action on promotions that really appeal? That's what IBM is driving at.
Which of these predictions do you think will hold water over the next few years?
Check out more IT channel news on SearchITChannel.com and follow us on Twitter! Here's how to follow Heather Clancy directly.
---