---
January 30, 2008 1:32 PM
CompTIA (the Computing Technology Industry Association) has released some data that finds that IT departments are spending more money and resources supporting various mobile communications and computing devices, especially the BlackBerry.
To start, close to two-thirds of the 816 people who participated in the survey late last year reported that their IT departments were consumed with mobile issues surrounding the BlackBerry. Believe it or not, pagers were the second most common device they needed to support. But they were a very distant second, mentioned by only 10.9 percent of the survey respondents. Other mobile devices that are perplexing IT staffs and demanding more resources than in the past include digital music players (mentioned by 4.5 percent), handheld computers (4 percent), personal digital assistants (2.9 percent), cell phones (2.6 percent), iPhones (2.3 percent) (already!), laptop computers (2 percent), smart phones (0.5 percent) and tablet PCs (0.5 percent).
I believe these statistics indicative of several trends. First and foremost, mobility is here to stay. Second, consumer electronics devices that are bought personally and that are unsanctioned by IT departments will continue to proliferate.
People are foisting these things onto their corporate tech departments, and IT will need to support them — both to improve productivity and as sort of a corporate morale boosters. If someone's on a plane two weeks out of every three on behalf of their company, why shouldn't they be able to take their music library with them or watch movies and podcasts on their notebook?
In some cases (ala the BlackBerry), the adoption of these things is a huge win-win for both sides. The user wins because they don't have to plow through 50 to 100 "urgent" e-mails if they're out of the office for a few hours. The company wins because when an employee has a BlackBerry, he or she is more likely to think and breathe about work on their "personal" time. Other devices are a bit more troublesome. What value could a digital music player have in a work context, you might ask? Well, when you consider that an iPod or an iPhone is a great digital storage device, it's possible for some of these things to moonlight as alternative file archives. One executive that I spoke with recently from Hollywood, an agent, carries all of his clients' demo videos around on his iPhone. That way, he can represent them, anytime, anywhere.
Regardless of WHY these things are popping up, in almost all cases, these things are appearing ahead of some bonafide corporate IT policy. And that's where the VAR or managed service provider comes in. Helping your customers get a handle on how to set a mobile device policy BEFORE it becomes more of a time suck on the technical support department will make you look good. What's more, it's a way for you to recommend security and application options that weren't previously available in a more tethered world. If you haven't considered how to speak mobile, you're missing out on the next wave of computing.
January 29, 2008 3:17 PM
The Microsoft Partner Program Web site gets skewered today by John Powers, CEO of independent software vendor Digipede.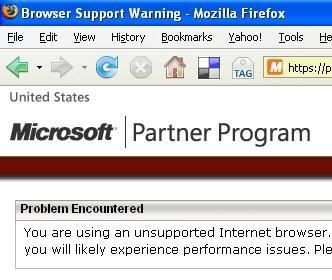 On his blog, Powers Unfiltered, Powers gripes about how hard it is to search for other Microsoft partners, the site's incompatibility with Firefox and wrong information about Digipede's partner status. The portal incorrectly says Digipede has neither renewed its partner program membership nor paid for its Gold Certified membership. Powers writes:
"This is not a trivial point. I'm not the only one at Digipede who can log into the Microsoft Partner site. I've promised my partners that I've taken care of our Gold Certified Partner status, and that we're all set. Yet when they log in, they … are led to believe that I've forgotten to pay and that our status is in jeopardy despite their herculean efforts to get our products tested and certified in time. This makes me look stupid (and I get enough chances to do that without Microsoft's help)."
Powers does go out of his way to point out the "wonderful information" available on the site, and he offers suggestions to fix all the problems he brings up. Still, he concludes that his interactions on the site are "often problematic."
The Microsoft Partner Program Web site isn't the only issue that partners are having lately. Stories coming this week on SearchITChannel.com will focus on partners' troubles getting certified for Windows Server 2008, as well as their cool reception for the Big Easy, a new program that promises $10 million in incentives.
---
January 28, 2008 10:14 PM
The exclusive Demo conference held several times each year is usually replete with great Web concepts and technologies that won't really be relevant for the channel for at least a year down the road. But, behold, this week's conference boasts at least one major exception in the form of SupportSpace, an online community that (in theory) brings together VARs, resellers and managed service providers focused on providing online tech support.
Yair Grindlinger, the Israeli transplant who is Redwood City, Calif.-based SupportSpace's CEO, says his goal with the platform is to support a community of tech-support experts who have been certified and vetted according to a set of criteria defined by the community. Mostly, they'll help you get the word out about your managed services. Providers get ratings within SupportSpace based on prior customers' experience. People with a problem can search by criteria such as availability, or whether or not someone is online to help them NOW. They can also pick someone based on expertise, price, cases solved, and so forth.
When I spoke with Grindlinger on Monday afternoon while he was prepping for his Demo demo, he said about 200 experts are currently registered (not bad for a company that launched basically a few days ago as I write this), although there are dozens more going through the process. The one thing I'll give them a big thumbs-down for is that the site only supports Internet Explorer-based support experiences right now. At least that's the message I got when I tried to engage and play around on the site a bit. Then again, I use a Macintosh, so people like this don't usually care about me. Nothing new there.
Still, this is a concept that is likely to gain more traction, given the sad state of affairs at most corporate help desks. According to Grindlinger, you'll see SupportSpace align itself with product vendors, for which it might wind up being a support tool; or with organizations such as Tech Support Guy. The SupportSpace community also has an open source mindset and will encourage companies with online tech support tools to add their applications to the community for experts to use. And, of course, the company wants you — VARs and resellers — to get involved in providing your own services.
I asked Grindlinger to compare his site to OnForce, the marketplace for IT services that has been the subject of much channel controversy and debate since its launch a few years back . The big difference is that OnForce is used to organize on-site engagements of all types. In fact, Grindlinger sees the two marketplaces as complementary. I agree. Likewise, both will continue to inspire loathing among resellers and VARs who fear the commodization of their high-margin services business. Guess we'll see how both marketplace models play out.
Heather Clancy is an award-winning business journalist and strategic communications consultant with SWOT Management Group. She can be reached at hclancy@swotmg.com.
---
January 28, 2008 8:57 PM
 Monday was  a big day in virtualization.
First, VMware said it  doubled its profits and boosted revenue by 80%  in its fourth quarter.  Wall Street rewarded it by sending the shares into an after-hours freefall.  Well, the fact that VMware president Diane Green said the company would hold steady on pricing in the face of Microsoft's imminent Windows-Server-2008-and-Hyper-V onslaught had something to do with that. Nothing puts a scare into analysts more than Microsoft entering an entrenched player's market. 
And it's not just Microsoft: Oracle, Citrix and others are playing hardball in virtualization.
SWsoft, another of the virtualization gang, made news Monday as well when it  renamed itself Parallels Inc. SWsoft backed the popular Parallels software, you know, the Windows-runs-on-Mac people. One has to wonder what took so long.
The new-name tidbit was embedded in a press release touting availablity of Parallels Virtuozzo Containers Version 4.0
Barbara Darrow can be reached at bdarrow@techtarget.com.
---
January 28, 2008 12:50 PM
VMware is trying to drive a wedge between Microsoft and Citrix Systems, according to virtualization.info.
The site says it has obtained a memo that VMware sent to its sales channel last week, on the same day Microsoft hyped its virtualization push in a press release. The memo gives these instructions to salespeople whose potential customers are considering Citrix: "Tell (them) that MSFT will soon cut Citrix out of the loop … and Citrix is allowing it to happen."
 The memo also downplays Microsoft's news as "a desperate attempt to make it look like (Microsoft) had a new, coherent vision and strategy for virtualization."
Microsoft and Citrix are longtime virtualization partners, but VMware is using Microsoft's own advances in the market to argue that the two companies are also becoming bigger competitors with each other — despite their recently announced plan to develop interoperability between Citrix XenServer and Windows Server 2008. As Microsoft prepares to launch Windows Server 2008 — featuring the Hyper-V hypervisor — next month, the battle for VMware's server virtualization market share lead should grow even more intense.
---
January 25, 2008 2:03 PM
The latest word on SQL Server 2008 is that final shipment is now on for Q3 2008 — basically a slip of a quarter.
 The company had said to expect the database in the first half of the year with a lot of noise to come out at the February triple "launch" of Windows Server 2008, Visual Studio 2008 and yes-SQL Server 2008. It plans to drop another Community Technical Preview (CTP)  of SQL Server 2008 for that Los Angeles event. 
The clarification is noted  — if you read down far enough — in this Microsoft blog. This blog is an excellent example of burying the lead. Kudos.
The company contends that the release, once known as "Katmai"  is still on track to ship within 36 months of SQL Server 2005. If memory serves, that was in the fall of  2005.
As usual, they're cutting it close.
Send your thoughts to bdarrow@techtarget.com.
---
January 22, 2008 1:12 PM
Vendors, like seventh graders,  fall all over themselves to seem cool. And in the process they end up looking more out of it than ever. Witness this week's IBM-Apple PR debacle.
The  AP reported a few days ago that IBM would announce Notes/Domino for the iPhone this week at Lotusphere.  The universe picked up that story.
Well, Lotusphere came and no word re. IPhone. Now IBM spokespeeps are backing s-l-o-o-o-o-o-w-l-y away from the story.
The technology isn't ready, they say. Only problem with that is since when has IBM ever waited for something to be truly ready before announcing it?
It's too bad for Domino partners for whom iPhone connectivity might be a much-needed boost.  The news was probably very welcome; the retraction of said news not so much. Gartner and other analysts have skewered Apple for not making the iPhone a good corporate citizen so a Domino tie-in could help there even if it did cost the handheld some of its cache.
A betting person would wager that this is what happened. IBM, always anxious to seem hip, cool and happening (witness its Second Life fixation) couldn't resist playing up the iPhone link. Apple was probably aboard —  in theory. What Apple most notoriously does not suffer gladly, however, is being pre-empted or short-circuited by stodgier, less cool rivals. If there is noise to be made, it had better be made by — or at least be controlled by — Apple. At minimum it must be done professionally.
But the leak nuked all that.  Within a nanosecond of that AP story , the alarms started ringing at Infinity Loop. And the kibosh was on.
Now IBM has some 'splaining and groveling to do in Cupertino  before the iPhone connectivity hits. A very similar scenario played out last year over a Microsoft Exchange-to-iPhone connection. Microsoft leaked, Apple balked.
What's your take? Send your thoughts to bdarrow@techtarget.com.
---
January 21, 2008 1:56 PM
Microsoft — or at least part of Microsoft — continues its quest to persuade open-source developers that Windows should be on their short-list of platforms. You know, right up there with Linux.
Sam Ramji, the Microsoft guy whose job it is to mend fences and foster collaboration with open-source ISVs and other partners points to progress.  
Exhibit A: Ramji — his formal title is director of platform technology strategy — will keynote at this spring's EclipseCon conference. Not traditionally a big venue for Microsoft execs.
Exhibit B: Nearly a third (30 percent) of SugarCRM's business is now on Windows, he says. SugarCRM is the open-source CRM pioneer. Two years ago Microsoft and SugarCRM inked a technical collaboration pact.
Exhibit C: Of the 140,000-some-odd applications on the Sourceforge repository some 77,000 now run on Windows, Ramji says. Admittedly, a large number of that 140,000 are probably dead apps, but why quibble?
Ramji also points to the fact that IIS now supports PHP development. And the final release of a SQL Server driver that will let PHP talk to SQL Server 2005 and 2008 should be available for download alter this year.
Microsoft has made some good moves to soothe open sourcers' qualms about the company and its occasional legal saber rattling. It hired Tom Hanrahan, former director of engineering at the Linux Foundation to direct Microsoft's Linux Interoperability Labs.
Still there are gaping holes. Microsoft is pushing to get every app possible to run on Windows becuase that's good for Microsoft. What it's not saying is when Office will run on Linux. Ideas? Anyone? Is it really so outrageous to even ask the question?
Ramji and team may have their hearts in the right place about peaceful and fruitful coexistence of open source and Microsoft stacks. But the question is Microsoft overall and whether  its defense of intellectual property rights (aka patents)  is antithetical to open source.
In the real world people run both open-source and Microsoft stacks — and partners supporting them must know how to ensure the dual-stack works. So they have to watch what, Ramji's team — as well as Microsoft writ large — are doing.
For more on open source and channel opportunities see  this story.
What's your take? Send your thoughts to bdarrow@techtarget.com.
---
January 18, 2008 2:09 PM
Too much information!
Warning customers against posting personal data to the Web is one of the most important services VARs can provide.
Many in the business community are enamored of social networking sites and appear to feel that more is more when it comes to "sharing" their lives on LinkedIn, Facebook, Myspace, insert-your-favorite-social-site here.
The problem with that is  cyber miscreants lurk just waiting to pounce on these nuggets. Something as innocuous-seeming as college affiliation, job history, names of family and friends can be used by social engineers to craft e-mail messages that will suck you in. That simple click will then unleash threats on your very own hard drive. Executables embedded in Word or Excel or PDF attachments will search your data to harvest -and secretly send out– passwords, account numbers, and other riches.
This online information trove is like a "playground for hackers," says Yacov Wrocherinsky, CEO of Infinity Info Systems, a New York Sage Software and Microsoft partner specializing in business applications.
And for high-net-worth (ie. rich) executives who are  likely targets, it's important that their wives, kids, friends also be careful about what personal details they divulge.
The beauty of LinkedIn is members can see who their associates know. "It's great for making connections or for finding people if you've lost their business cards," Wrocherinsky says. But that doesn't mean you should bare any more than is absolutely necessary.
And on the less-business oriented of the social networking sites, say Facebook, people tend to put in way too much information-birthdays, anniversaries, travel plans, kids names, etc. All of that is gold for social engineers with evil intent.
George Brown, CEO of  Database Solutions, a Cherry Hill, N.J. solution provider tells his customers to keep their data zipped and not to post anything they are not required to do by law . As it is now with SEC filings for public companies, a lot of information about execs is already out there. No need to supplement that for the bad guys, Brown says.
Barbara Darrow can be reached at bdarrow@techhtarget.com.  
---
January 17, 2008 10:22 PM
I am always highly conflicted when I do what I am about to do: Write about women in the channel in some sort of special way.
For the longest time, I debated whether or not I should make any big deal out of someone's gender as a business attribute. But as I've reached some magic milestone birthdays, I've cared less what people really think. What's more, there very definitely is a difference in the way that women manage. So, this blog is a tout for all you Channel Gals — whether you're vendor executives or solution provider owners/principals.
One of the solution provider executives I most admire, Angela Trillhaase, senior vice president of business development for the big Illinois-based VAR Meridian Group, tarted agitating about the Women in Channels group last summer. She didn't just pay her idea lip service. She actually went out, got about 110 women interested and is now planning the organization's first board meeting for Jan. 28-29.
Trillhaase says Women in Channels is working on creating a set of value propositions for its memberships, ones that enrich their careers and personal lives. Two big things are encouraging diversity throughout the channel and, of course, helping to speed the advancement of women who are pursuing channel careers. It's likely that the group will hold a conference sometime this year, but that's not on the calendar yet. Stay tuned for more information about this and their mission in a couple of weeks.
Aside from Trillhaase, there are four other Women in Channels board members. They are Penny Arvantes, marketing manager for SoftwareOne; Dee Dee Lear, a director of sales with Arrow Enterprise Computing Solutions; Gina Morkel, senior vice president of marketing and corporate communications for MSI System Integrators; and Cathy Cook Pursell, channel services manager with IBM.
---