---
March 6, 2008 2:55 PM
Steve Ballmer must really want to buy something big.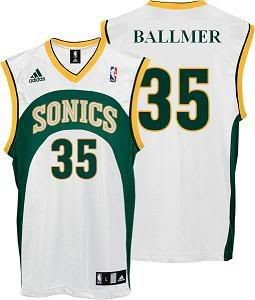 With a potential Yahoo acquisition still up in the air, the Microsoft CEO has turned his attention to the hometown basketball team, the Seattle SuperSonics. The Seattle Times reported today that Ballmer is part of a local investment group trying to buy the Sonics from owner Clay Bennett.
Bennett, who is about as popular in Seattle as Ballmer is at Yahoo headquarters, wants to move the Sonics to Oklahoma City. Ballmer's group would keep the team in Seattle and chip in $150 million to renovate its arena — an act of "heroism" greater than any Microsoft product launch.
The plans of Ballmer's group are far from a slam dunk, as Bennett has said the team is not for sale. But with the help of angry fans, Ballmer's group could make a full-court press on Bennett. And that just might be enough to eek out a last-second buzzer-beater for the city of Seattle.
March 5, 2008 9:38 PM
Big channel changes atop Oracle.
Doug Kennedy is leaving the database-and-biz-apps giant and Judson Althoff will replace him as Oracle's global channel chief, several sources confirmed.
Update: Oracle's Kennedy takes off for Microsoft.
The news went out internally Wednesday in an email from Oracle prez Charles Phillips.
That succession may be settled but it also leaves one key  roll —  North Americas channel chief  — unfilled. Rauline Ochs left that post to join Safeco late last year. Some well-placed Oracle sources expected Althoff to take on Ochs role.
Althoff has been with Oracle for nearly a decade, spearheading its relationship with Dell, HP, CDW, and distributors Ingram Micro and Tech Data. Some partners say that his rapport with Dell and CDW (both viewed as near-demons by VAR partners) may make him an odd backer for value-added partners.
Others say that Althoff's direct line to Phillips could actually help such partners gain leverage in their dealings with the vendor. Ochs had reported to Keith Block, the head of North American sales. Oracle has a history of tense vendor-partner relationships and now that it has bought tens of billions of dollars worth of business apps expertise, partners want to see further improvement in channel relationships.
"If he's been working with Ingram and Tech Data, he gets the VAR partner role now," said one long-time Oracle partner.
One contendor to replace Ochs as senior vice president of North America  alliances and channels, is Tyler Prince, who is now vice president of that same group, said an Oracle source.
One longtime Oracle partner, apprised of Kennedy's departure, was bemused. "I find it curious that within such a short time span both the worldwide and the North American channel execs have left," he noted.
More background on Ochs and Kennedy here.
Barbara Darrow can be reached at bdarrow@techtarget.com.
---
---
March 5, 2008 12:42 PM
Gizmodo's Wilson Rothman has some brief comments on today's news that Yahoo is trying to partner with AOL to thwart Microsoft's takeover. And he's not a fan.
For starters, the picture accompanying Rothman's post features Jim Carrey and Jeff Daniels from the movie "Dumb and Dumber" — with the Microsoft logo on Carrey and the AOL logo on Daniels. Rothman then asks, "hasn't history proven that working with Time Warner on internet stuff is the business equivalent of trying to conquer Russia in the winter?"
Some Gizmodo readers think Yahoo is only talking to AOL to get Microsoft to increase its offer. But most of those who think Yahoo is serious also have their concerns. One describes a potential Yahoo-AOL merger as "two sinking ships in the night," while another calls it a "match made in HELL!" And user "P3nnst8r" says that if Yahoo is actually considering an AOL partnership, the company must be "trying to go down in a blaze of glory."
---
March 5, 2008 8:46 AM
Microsoft Office Live Workspace and Google Docs are going mano a mano over on ReadWriteWeb, where a comparison of the two online services has sparked quite the debate among users.
Microsoft released a public beta of Office Live Workspace yesterday, the same day I covered a Google Enterprise exec's speech in Boston. The exec, Matthew Glotzbach, gave a demo of Google Apps — the enterprise version of Google Docs.
His basic premise: Google is easy to use but still offers the vast majority of features that the vast majority of business users need to do their jobs. He didn't come out and say it, but the implication was that Microsoft can be confusing and overwhelming, much like last week's episode of "Lost."
Anyway, ReadWriteWeb's Sarah Perez evaluated Microsoft Office Live Workspace and Google Docs and came to this conclusion: "Although it's very close when it comes to basic features of the two services, each stands out in its own way." But proponents of each service don't see a close battle at all.
Pro-Google reader "Jrome," for example, commented that "Google Docs is far better than Office Live, especially thanks to its real-time collaboration and mobile access." He also pointed out that Office Live Workspace requires users to have Microsoft Office installed on their computers, which goes against the very premise of "cloud computing."
Meanwhile, a reader named "Brian" defended Microsoft: "In the real-world, Google Docs, Open Office and Ubuntu, etc. are so far behind it's pathetic. Who uses this stuff for actual work? Absolutely no one that I know of, and MS Office works so well there's minimal incentive to change."
That last sentence is key. Before I covered Glotzbach yesterday at the Association for Information and Image Management (AIIM) International Exposition and Conference, I got to see a speech by The New York Times' David Pogue. He also talked about the trend toward simpler technology, but he made it a point to say that simplicity alone will not guarantee a product's success.
Pogue said the iPod sacrificed several features of other portable music players, like a radio tuner, when it debuted. The iPhone similarly gave up on traditional phone features, such as a keypad. Both succeeded. But in a lot of other cases, Pogue said users aren't willing to give up extra features — even features that they rarely if ever use.
Google Docs gets rid of some of those features. It also adds a lot of features that were pretty impressive to see during Glotzbach's demo. We'll just have to wait and see if those features, and Google Docs' easy-to-use interface, can push Google to do for enterprise applications what the iPod did for MP3 players.
---
March 5, 2008 6:47 AM
Forrester Research has some pretty terrific demographic research that tends to get me thinking. Yes, I know, frightening thought. One area it has been covering pretty closely is what it calls "social computing," which is another way of talking about what other might lump under the category of Web 2.0.
Anyway, Forrester has released several predictions about social computing trends in 2008 that are worth your attention from two points of view. First, as a company that probably needs to market yourself more effectively and, second, as a technology solution provider. Here's a synopsis:
Companies are more apt to use YouTube videos, social networking groups and Web site plug-in applications (a.k.a. widgets) as part of their online marketing campaigns. How much time have you invested in understanding how these tactics might affect your own prospecting? Considering that many VARs garner many of their sales leads by word-of-mouth referrals, this seems like a no-brainer to me.
Hiring tactics will need to reflect the addition of social networking and computing skills. Not to sound age-ist, but using YouTube and applications like Facebook comes more naturally to those among us who were exposed at a younger age. Some people aren't necessarily comfortable using Facebook, but they WILL use LinkedIn. Anyway, encouraging experimentation will be important, and age will make a difference.
The concept of privacy will undergo a transformation as companies grapple with how to unlock the potential of social networks without infringing on the sanctity of personal information. That means adopting a new security discipline.
The concept of search will change dramatically because people will care more about knowing what people in their social network are reading or buying. That will have huge implications, over time, with how search engine optimization is handled.
There's plenty more that will happen, of course, but that is just a taste. The question is whether or not you as a solution provider will be able to advise your customers on the technologies and applications that really will matter.
Heather Clancy is an award-winning business journalist and channel communications consultant with SWOT Management Group. You can reach her at hclancy@swotmg.com.
---
March 3, 2008 9:44 PM
Microsoft has changed the default rendering setting of Internet Explorer 8 so the browser will support the latest Web standards.
That is a shift in plan — which was to make the standard "IE 7-reminiscent" rendering engine the default. Microsoft issued a statement about this change late Monday.
The original idea was to offer a rendering mode that was frozen in the IE 7 world circa 2006—as the default. A third mode is geared for even earlier Web standards.
MSDN's IE blog describes the issue and says even non-IE browsers come with various rendering modes so that users can view Web pages from different eras..
Opera Software sued Microsoft in November in part because it said Microsoft was willfully subverting Web standards. Opera also wants to force Microsoft to stop bundling IE with Windows.
Microsoft's decision to go with the IE 7 mode as default caused a ruckus last year. On February 21, the company promised to open up more of its APIs to third parties to foster interoperability.
Today the company said this browser move was yet another step in the company's interoperability push.
Barbara Darrow can be reached at bdarrow@techtarget.com.
---
February 29, 2008 4:38 PM
There are only three entries in this week's PR-mageddon! But what it lacks in quantity, it makes up for in quality. And by "quality," I mean "jargon and run-on sentences." Enjoy.
SAP
SAP to Release Next-Generation Supply Chain Management Solution to Drive Transformation of Global Business Networks, Feb. 26: "Further delivering on its commitment to provide software solutions enabling companies to increase visibility into essential information and simplify collaboration with their global network of business partners and customers, SAP AG (NYSE: SAP) today introduced the upcoming new release of its industry-leading supply chain management solution. In today's global economy with its accelerated speed of change, a company's business network is becoming its primary source of competitive differentiation. By transforming its network of employees, suppliers, customers, partners and distributors into a collaborative, customer-focused, demand-driven community, a company can intelligently adapt to changing market conditions and gain competitive advantage through accelerated innovation."
Dell
Windows Server 2008 – Faster and Greener on Dell, Feb. 27: "Dell offers a comprehensive portfolio of services to best meet the unique needs of customers with diverse IT infrastructures and help simplify the adoption of Windows Server 2008."
Microsoft
Wave of New Microsoft Enterprise Products Bring Big Benefits to IT Professionals and Developers, Feb. 27: "The launch represents a major milestone to help customers on the road to Dynamic IT, Microsoft's initiative to help customers optimize their people, processes and technology, and in turn position IT as a strategic asset for their business. These new enterprise products help customers more efficiently and securely manage their entire infrastructure and move to a virtualized environment while also delivering business intelligence and next-generation Web experiences to boost business results."
---
February 27, 2008 2:06 PM
HP brought in NFL Hall of Famer Steve Young to speak to the partner faithful bright-and-early Wednesday morning. And he did not disappoint. Some 1,000 or more partners were in Las Vegas for the annual partner conference and a pretty good number showed up for Young.
Peering out at the darkened hall, Young noted the obvious: "A 9 a.m. talk at Caesar's Palace and there are people here? Was attendance mandatory?"
Young said his speaking gigs are relatively easy given the prevalent jock stereotypes, and the low expectations they engender.  "If I can string two sentences together, people think, 'Hey! Not bad."
Who knew that aside from his Super Bowl MVP and top quarterback rankings Young is also a lawyer? And a big philanthropist? Not me, but then again, baseball's my game.
Young followed printer kingpin Vyomesh Joshi who issued a call to arms to a pretty fair subset of the 1,100 partners in attendance for his 8 a.m. keynote.
"If you're in hardware, get into supplies. If you're in hardware and supplies, get into services," Joshi said
Joshi, often known as VJ, painted a picture of a whopping $280 billion market for printing and imaging from the home devices to huge commercial printers that use ink by the liter.
The Scitex wide-format machines that print signs for Times Square and similar venues soak up liters of ink. "Not ccs, liters. I love liters," Joshi joked to the early morning crowd.
Conversely , he also touted HP's recycling and green printing efforts.
He estimated the worldwide enterprise printing and image market to be about $53 billion. In that segment, HP reserves 900 named accounts for its direct focus. He cordoned off about 4,000 accounts in "named territory" accounts and the additional 8 million SMB accounts which the company hopes to attack with partners.
"We will be consistent and clear. We will not go after those 4,000 accounts, we'll provide the names and help plan for them but for those 4,000 accounts we need your help."
The vast majority of printing remains analog. Translating all of that to digital "where HP can play" is a huge opportunity. And for that to happen, partners need to help HP persuade IT departments to network all their printers and copiers, he said. That infrastructure work is another opportunity for VARs.
Joshi then gave way to the former San Francisco 49er great .
Ensuring attendees left on a high note, Sheryl Crow played Wednesday night. Some of us couldn't be there — flying out of lovely 70-degree-and-sunshine-Vegas weather back to the frozen Northeast tundra. But according to second-hand accounts, Crow was stellar.
Barbara Darrow can be reached at bdarrow@techtarget.com
---
February 26, 2008 10:29 PM
With most consumers of information technology expected to ratchet up their spending on managed services this year, the Computing Technology Industry Association (CompTIA) has started a Web site intended to aid VARs and resellers figuring out whether the business model is right for their own company. Some long-time managed services advocates, like my friend Oli Thordarson from Alvaka Networks, a 25-year industry veteran who made the switch a number of years back, are even blogging there!
The site, FocusOnMSP, will feature news and research about managed services, online forums, a managed services vendor directory and case studies. But the big draw will probably be the CompTIA Managed Services ROI Tool, which is a calculator that MSPs can use in helping make sales presentations. Check it out.
Heather Clancy is an award-winning business journalist and channel communications consultant with SWOT Management Group. You can reach her at hclancy@swotmg.com.
---