---
April 22, 2008 4:22 PM
This battle just keeps getting hotter.
Marc Benioff brought the traveling Salesforce.com "tour de force" road show to Boston today, complete with live customer and ISV testimonials.
Today was also the day Microsoft went live with CRM Online and is poised to take (at least some of) the wraps off its thus-far-very-vapory Mesh concept. (Does that make this Mesh Eve?)
Microsoft co-opted the mesh concept to connote the underpinnings of Web-connected people and devices. Amit Mital is slated to talk about Microsoft Mesh tomorrow at the Web 2.0 show and Microsoft is supposed to post related video and content tonight at midnight.
What really gets me in all this hoo haw, is speculation that Microsoft may not build its uber-web-computing platform on Windows. Umm, have any of those chatterers ever seen or used Windows? If so, that's a big "duh." Not even the great Ray Ozzie can, to borrow a once-favored Microsoft phrase, can put lipstick on that particular chicken.
No kidding, Microsoft has to come up with something new. And real
Benioff scooted out of the Boston event before he could be asked in person about these things. But he ain't buying that Microsoft's might means victory in SaaS. Asked by email to respond to the impending Meshiness (and also to Microsoft's bundling of 5 GB of storage with basic CRM Online compared to 1 GB for Salesforce.com), here is his response:
"After a decade of using their monopoly to stop saas innovation through false prophecy and rhetoric; Microsoft has relented by delivering a service that is still too little too late without the platform as a service customers are demanding to succeed.

Microsoft's answer to platform as a service is just more .net software in a world where cloud computing negates their monopolistic control of the Windows desktop.

Microsoft has let us all down through their lack of innovation; fortunately, the SaaS and PaaS movements will finally release us all from their old software models and outdated business practices.

We offer customer pricing of our services and storage for our customers through our global sales force and partner organization on a per agreement basis."
Oh, and the inevitable, "aloha."
So, Salesforce.com, which famously pioneered the Software-as-a-Service model is pushing hard to become a power in platforms. So is Google. So is Amazon. So is eBay. That sounds very much like Microsoft's raison d'etre.
Microsoft meanwhile has to build credibility in "the cloud" with this mesh thing.
Can you say collision course?
This is gonna be good.
Barbara Darrow can be reached at bdarrow@techtarget.com.
April 22, 2008 1:42 PM
Dell is coming out with a blog specifically devoted to its fledgling partner program.
Dell's small business community manager, Kelly Curnow, made the announcement on The VAR Guy blog, during a discussion in the comments section about Dell's channel approach. The "dedicated channel blog" is due within the next month, Curnow said.
Blogs are an increasingly common way for vendors to reach out to partners and keep them in the proverbial loop on new training programs, rebates and discounts, channel events and other news. For Dell, the blog will probably take on a PR role as well, as the company tries to win over partners skeptical of its direct sales history. Dell just launched its first formal channel program, PartnerDirect, in December.
---
---
April 17, 2008 11:48 PM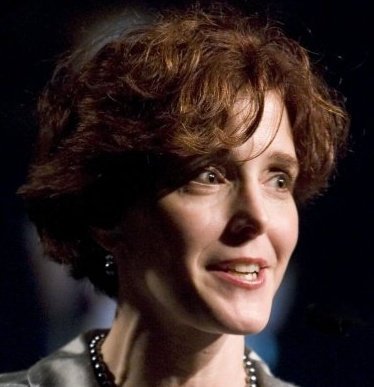 Profile: Heather Clancy
Slowly but surely, some of the big high-tech vendors have started pulling their channel partners into their "green technology" efforts. As Barbara Darrow blogged earlier this week, Sun is the latest to put a formal stake in the ground. Actually, honestly, they're the first high-tech vendor that I can think of that really has made a public effort to include its VARs in this green thing.
So, in case you're wondering just how much opportunity exists for services related to green technology rationalization, I wanted to share some statistics that were recently released by Forrester Research as part of a report called "The Dawn of Green IT Services."
First, the bottom line: Forrester believes that overall services related to helping companies rationalize the energy efficiency and sustainability profile of their technology will peak at $4.8 billion in 2013, with roughly half of that spending coming from European businesses. (The services revenue for this year is expected to be around $500 million.) Much like the Y2K wave, green tech services will begin to taper off after this point as the practices become more a standard part of running an IT infrastructure, Forrester concludes. Another note: North America companies will be slower on the uptake than those in Europe, with spending peaking around $2.1 billion in 2013, the firm reports.
You can compartmentalize the opportunity for green tech services into three different buckets: the assessment phase, the planning and development phase, and the implementation phase.
As you might expect, assessments present the shortest-term opportunity, running between two and 10 weeks and costing $30,000 to $100,000. Only about 50 percent of companies will proceed to the next phase: detailed planning. But, Forrester figures that those that do should be willing to spend between $50,000 and $400,000 on roadmaps for any number of initiatives such as server virtualization and consolidation, an enhanced power infrastructure, and more energy-efficient servers and other gear.
Need more convincing that green tech isn't just a boondoogle?
The big jackpot will go to those VARs and integrators that become involved in making green tech plans become reality. The implementation phases of these projects will take from 30 weeks to more than 100 weeks, according to Forrester. They can cost from $300,000 to $2 million — for the services alone.
By the way, here are some efforts that Forrester considers to crowd under the green IT umbrella:
Green procurement policies
E-waste recycling
Data center optimization
Supply chain optimization
Building automation projects
Collaboration and conferencing initiatives
Managed print services
Heather Clancy is a high-tech journalists and strategic communications consultant with SWOT Management Group. She can be reached at hclancy@swotmg.com.
---
April 17, 2008 1:48 PM
Remote access to GMail and its chat program went down yesterday. It was only for half an hour, but the publicity surrounding the outage could hurt Google's push to attract business customers.
The problem affected IMAP, which lets users access the Web-based GMail from other programs and devices. Google didn't disclose what caused the outage but said it's now resolved.
That may be the case, but the quick resolution won't do anything to win over IT managers who are already skeptical about using Google's Web-based services in their businesses. If Google can't guarantee that email will always be up, how can they guarantee that business customers will be able to access documents or collaboration sites stored in the "cloud?" And how can they ensure the security of that data?
Those are the questions that potential business customers will be asking Google and any channel partners that start selling its enterprise services. That portfolio includes Google Apps — a Microsoft Office competitor that is now integrated with Salesforce.com — as well as the Google App Engine development platform and Postini messaging security software.
A business user on the GMail Help Discussion Google Group identified as "times enemy" said the outage made him consider a new email host: "A huge, if not number one selling point for moving one of our companies over to Google Apps was Google's robust network!"
CNET news blogger Stephen Shankland and Information Week's Eric Zeman both point out that GMail remains in beta, even though it's four years old, and that should be another reason for business customers to remain skeptical.
---
April 17, 2008 7:27 AM
Microsoft pulled one over on the Windows Vista haters yesterday, releasing a supposed Vista Service Pack 1 (SP1) internal sales video.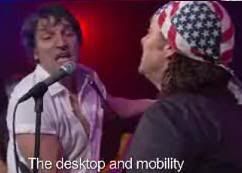 The video, "Rocking Our Sales" by Bruce ServicePack and the Vista Street Band, features a Bruce Springsteen lookalike singing about Vista's improvements in "security, desktop and mobility, and productivity." And there's even a sax solo.
Bloggers jumped all over the video, criticizing it as "the most painful Microsoft video ever made" and "appallingly embarrasing," and even saying it "damages the dignity of not only everyone involved in its production, but everyone who watches it."
All the while, "Rocking Our Sales" sorta seemed almost too ridiculous to be real. And it was. Later in the day, it was revealed that the video was a spoof by Microsoft in an attempt to show its lighter side. And all the critics had egg on their faces.
But "grayforge," a reader on CNET's Coop's Corner blog, did raise a good, serious point about the whole silly incident: "The sad thing is… Microsoft has become the kind of company people think this sort of thing (a crappy marketing commercial) can come from."
UPDATE: It appears that a certain blogger who likes to refer to himself in the third person still hasn't gotten the joke. 
---
April 15, 2008 1:17 PM
Sun Microsystems says it will help partners build eco-friendly IT solutions.
The company's Eco Advantage Program offers partners tools to calculate for themselves or for their customers how to deploy the best, most energy efficient information technology.
"Partners can take customer data at the server and app level, profile [that] and develop the best case analysis/scenario. They can provide the carbon emission savings, space savings, cooling savings, " said Bill Cate, senior director of global channel planning and programs for Palo Alto-based Sun.
The program includes the afore mentioned Eco Assessment Service, which evaluates actual data center energy use, cooling, air flow etc.; training on data center power and cooling needs; and modeling tools to help simulate energy requirements of alternative datacenter setups.
Helping customers save money is one way to go into accounts in a collaborative way, said Dermot Duggan, senior director for Sun's eco drive.
"You can go into your installed base or new accounts and have a rare opportunity where you will get no pushback. You can say, 'I can save you this much money' and back that up with real data tied to the customer's actual servers and storage."
Hardly any customer will say no to paying less, right?
Vince Conroy, CTO of FusionStorm, San Francisco-based Sun partner said the program aligns with what his company is doing.
"We've developed a data center practice and energy conservation is an important component of that," Conroy said.
Technologies like server virtualization, thin clients, virtual desktop computing, all play into that message.
And, since FusionStorm does some of its own hosting as well as managed services, cost savings are important to its bottom line as well.
Customers are starting to ask about energy efficient computing, although it's not yet a groundswell, he said. " It starts with some of the more forward thinking customers and they may be forward thinking because it makes business sense and they're business savvy or this is a cause for them. In either case we're seeing more activity [in energy efficient computing."
Server virtualization, as has been reported endlessly, is one way to get bigger workloads out of fewer boxes and that will be key here. Asked whether it's really in Sun's best interests to sell fewer rather than more boxes and CPUs
As to whether it's really in Sun's best interests to sell fewer servers, Cates and Duggan said the trend is clear. Either Sun will sell more efficient technology or someone else will.
For hosting partners, the attraction of saving on cooling and electricity is obvious, but it's also away for partners to help customers save money and perhaps divert some of those savings to additional services.
And the company's quick to say it's taking its own medicine, that its latest servers, built on the UltraSPARC T2 chips use multithreading technology and cram 5X the compute power into half the space and get 2.5 times better performance per megawatt.
The Sun execs said the company, through its own eco efforts, received $1 million in rebates onfrom PG&E over the last 12 months.
The company is hardly alone many hardware vendors have jumped on the green bandwagon: Hewlett Packard and IBM also have eco initiatives going.
 Barbara Darrow can be reached at bdarrow@techtarget.com.
---
April 14, 2008 11:58 AM
A Microsoft manager has acknowledged what many people have known for more than a year: Windows Vista is annoying.
Product unit manager David Cross made the comment last week at the RSA Conference, in reference to a Vista security feature called User Access Controls (UAC). UAC requires users to run Vista without administrator privileges, and it prompts users when they attempt to install some new applications.
"The reason we put UAC into the [Vista] platform was to annoy users," Cross said, according to published reports.
Cross said his team designed UAC to force independent software vendors (ISVs) to make their software more secure. Apparently, they thought that annoyed users would lash out against the ISVs whose software generated the prompts. Instead, annoyed users had another can of fuel to throw on the Vista fire.
Vista features several other annoyances, but Microsoft hasn't come out and said they purposely created any more of them. They include:
Cross also responded to claims that the UAC prompts don't make Vista more secure, because most users just click "yes" no matter what. Here's what he said, according to CNET:
"It's a myth that users click 'yes,' 'yes,' 'yes,' 'yes.' Seven percent of all prompts are canceled. Users are not just saying 'yes.'"
I know I'm a writer, but my basic math skills tell me that if 7% of all prompts are canceled, 93% are accepted. Doesn't exactly prove his point, does it?
---
April 11, 2008 6:21 AM
Microsoft partners really, really, really want to be recognized by the quality of their work. And not surprisingly, they want to be paid for it.
One recurring theme sounded by Gold Certified partners as reported earlier this week in SearchITChannel.com, is that being Gold is no longer enough. These partners say there are too many VARs sporting the Gold designation and that leads to cut-throat pricing to win deals. And razor thin margins on the deals won.
Several solution providers, Rand Morimoto, president of Converged Computing among them, say the vendor needs to recognize its truly -top tier partners.
"I've always commented to Microsoft that there's a need for a 'platinum' level, kind of like what Novell had during their heyday,"
Partners say Microsoft has been told this over and over and talks about better recognition of partners who put the most "skin in the game" but still resists the notion of another program level.
But least one Gold partner disagrees with the notion of another tier, saying that would just add more confusion into an already confused partner program.
Microsoft Business Solutions (MBS) Dynamics partners, in particular, feel that the company has done too much recruiting in their bailiwick. This is a particular sore point since the ERP and CRM offerings they deal with make for a longer sales cycle, more hand holding and thus so far command higher margins than the volume-oriented Windows-Office-SharePoint-type products that can be sold by anyone. A Dynamics sale, on the other hand, requires an authorized MBS partner.
"There seems to be a continued push to add more and more partners instead of driving the capacity and ability to scale to those partners that continue to constantly grow and invest in Microsoft. The monies spent on recruiting new partners should be directed toward accelerating and adding capacity to the successful partners in the channel," said one partner, who thinks his organization would benefit from this treatment. But he is not alone. Over the past two or three years, there has been a push among larger MBS partners to consolidate talent and geographical coverage all to better sell and support CRM and ERP applications.
Barbara Darrow can be reached at bdarrow@techtarget.com.
---
April 10, 2008 12:19 PM
You may have noticed that we've started producing news podcasts here at SearchITChannel.com. (If you haven't, what are you waiting for?)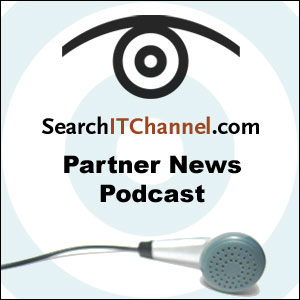 Well now you can find all of the podcasts in one place: SearchITChannel.com/download.
We realize you don't always have time to read our news stories, so the Partner News Podcast is an easy way to follow the weekly channel-specific headlines — whether you're catching up on emails at the end of the day, grabbing a quick bite to eat at your desk or even driving to a customer site (if you download the podcast to your MP3 player).
You'll also get extra commentary from the SearchITChannel.com staff that doesn't appear in our written stories, plus you'll hear from special guests. This week, for example, we'll be chatting with Channel Marker contributor Heather Clancy, who's out in Hawaii for the Cisco Partner Summit. And next week we've lined up an interview with a VMware executive. (After that, our "special guest" schedule is all clear, so if you work in the channel and have something you want to talk about, let me know.)
Soon we'll have an IT channel podcast RSS feed, so you'll know as soon as the latest podcast is available. For now, the podcasts will continue to be on our general Channel News Update RSS feed, and new ones will also appear on the home page and news page of SearchITChannel.com.
But the only place to find all of our podcasts is, again, SearchITChannel.com/download.
---