---
April 30, 2019 9:34 PM
Automation
,
Channel
,
ISVs
,
robotic process auotmation
,
systems integrators
Automation Anywhere in March 2018 launched its online Bot Store in the robotic process automation market. Now, the RPA vendor, based in San Jose, Calif., is encouraging ISVs and systems integrators to develop a new generation of bots that deliver significantly more value for customers. The Bot...
April 26, 2019 10:02 PM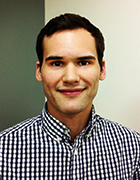 Profile: Spencer Smith
Channel partners
,
Internet of Things
,
Vertical markets
Logicalis' work in the education vertical market is shedding light on emerging IT trends in K-12 and higher education. The New York-based IT solution and managed services provider runs a government and education vertical practice in 20 states. When Logicalis started its fiscal year 2020 in...
---
April 23, 2019 4:02 PM
Channel
,
CMDB
,
ITSM
,
LogicMonitor
,
MSP
,
SaaS applications
,
ServiceNow
Managed service providers pursue a range of approaches when they deploy MSP software to automate their core functions. Many companies follow a multi-vendor path, purchasing what they consider best-in-class systems for
---
April 11, 2019 3:02 PM
Business model
,
Channel
,
MSP
An ancient agricultural method and the modern MSP business model wouldn't appear to have much in common. Yet there are some interesting parallels between "three sisters" farming, which originated thousands of years ago, and how a number of
---
April 4, 2019 12:33 PM
Arduino
,
Channel
,
Consumer IoT
,
distribution
,
electronics
,
Enterprise IoT
,
Raspberry Pi
Electrocomponents plc, an electronics distributor based in London, has launched OKdo, a global business that focuses on single board computing and IoT. That focus includes a reseller initiative, but not one populated with the usual channel suspects. Instead of IT
---