Apr 23 2013 10:31AM GMT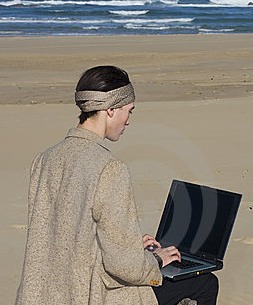 Profile: TheTechster
One of the cool events at CA World 2013 is a series they are calling Luminaries Live! It is a series of 5-minute presentations packed back-to-back in a condensed session, with each presentation delivered by an individual with both a vision and a point of view on a subject that is in some way related to technology and some of the themes of the conference. The first one was yesterday at the CA World 2013 Broadcast Center in the exhibit hall, and the second and final one will be at 12:30 p.m. today also at the Broadcast Center. Try to get there early because yesterday all of the seats were filled.
The presentations yesterday were all thought provoking and, fitting with the format, tightly structured and entertaining. One of the topics that struck closely with The Techster was focused on the culture around social media and why it is critical that IT leaders and decision-makers embrace social media as potentially game-changing aspect of our culture and, consequently, as a potential driver of huge revenue opportunities. This viewpoint fits in very closely with The Techster's own view and, really, with the dynamics that are transforming the computing paradigm. Wherever you look these days, pundits are describing another major generational shift in computing platforms, as we move from a distributed model to a model defined by the combination of social media, cloud computing, mobility and big data.
Jacob Lamm, executive vice president of strategy and corporate development at CA Technologies, made that case that there is a generation/community/nation of what he called "social media natives" who are at least as comfortable in the digital world as they are in the physical world. There is  tendency, he said,  for many people who are not social media natives to dismiss and perhaps diminish the digital interactions of these individuals as something that is inferior to the physical interactions that defined our interactions prior to the advent of social media. This tendency, Lamm argued quite persuasively, is a mistake and a potentially dangerous mistake if it is the attitude taken by our IT leaders.
The reality, Lamm said, is that for social media natives, digital interactions are in many ways more natural and common and, this is important, more trustworthy, than physical interactions. The trustworthy aspect is critical, because trust can be the foundation in building technologies and services to capture these social media natives in their native habitat. As Lamm pointed out, for companies to succeed in the future, they must be able to communicate with social media natives " in their native tongue and set up shop in their digital neighborhood."
What do you think? Do you agree that the role of social media will play a transformative role in the transition to our next major compute platform? Please feel free to comment. And, if you are here live at CA World 2013, as we are, try to stop by at the Broadcast Center in a couple of hours for today's edition of Luminaries Live. You may even get a glimpse of The Techster himself.