Apr 24 2013 7:20AM GMT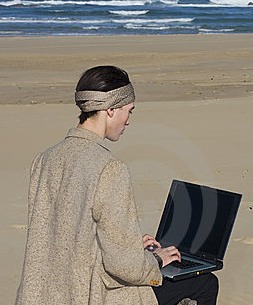 Profile: TheTechster
We've been focused on big themes during our several days here at CA World 2013 in Las Vegas, which, we suppose, is quite appropriate for a conference where the overall theme is Go Big. Today we will focus on the themes of mobility, DeVops and cloud, as addressed by CA Technologies executive vice-president Peter Griffiths in his keynote address on Monday morning. Each of these areas – mobility, DevOps and cloud – raises the bar to unprecedented levels for IT professionals, requiring new ways of thinking, new tools and new partnership models.
"All interactions within organizations today – customers, employees, partners – are essentially IT interactions," said Griffiths, who added that as these and other interactions become more commonplace, they also add to complexity for organizations – and especially for IT teams. Griffiths had an eye-opening statistic for the audience to consider: Nearly 70 percent of all patents being issued today are in some way related to mobility. "It changes everything we do," he said. "BYOD may be the most significant shift in our industry since PCs took over from typewriters."
In the area of DevOps – the unification of development and operations designed to space applications development, testing and production deployment – Griffiths pointed out that CA Technologies was putting more emphasis than ever on tools and partnerships to help customers get their software up and running faster and more efficiently. For instance, not only did he point out that the company was bringing out a new release of its CA LISA application delivery solution, but it was also making two significant acquisitions – Nolio for application service automation, and Layer 7 for enterprise API management.
Finally, Griffiths stressed CA Technologies' work on cloud solutions, using the example of how the company partnered over the past several years with a major customer, Shell Oil, to aid in the development of a long-term technology roadmap for what eventually would become CA CloudMinder.
Using technology to its fullest may require great tools and superior processes, but in the end the single most important ingredient for success, according to Griffiths, may be the willingness of IT leaders to challenge themselves – and partners such as CA Technologies – to not reject out of hand what may seem like unproven ideas and solutions. After all, a lot of CIOs may have freaked out when they started seeing a rash of credit card receipts for public cloud services such as Amazon Cloud Services, and it wouldn't been unusual for IT leaders to try to quash that movement like a bug. But those business end users clearly were on to something, and tomorrow's IT innovation must survive natural, initial reactions of fear over the loss of control.
What do you think? How are the big issues of mobility, DevOps and cloud impacting you? Are you ready to innovate?