Mar 18 2013 2:48PM GMT

Profile: David Scott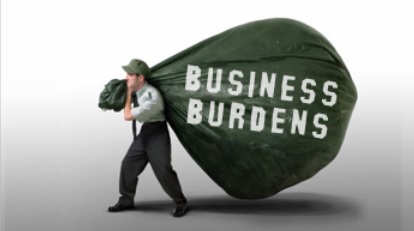 We've talked about the competition for resources with the Business-Technology Weave.  Yesterday's post about IT asset management systems (ITAMS) discusses the benefits of tight management of resources from a systemic point of view; there are even automated components to ITAMS, as you'll see, and well-worth leveraging.  At the same time, regular old thinking and work are also necessary to for the proper balance of work, securing of the present, and planning of the future.
We know there's going to be a steady advance in the burden for maintaining business.  The general, collective, advancing burden in maintaining our Weave requires up-to-date knowledge; best, vetted, practice; and intelligently applied effort for maximum affect and return.
Let's also take this opportunity to mention that we don't mean to imply a negative connotation to "burden" here:  we're talking about the weight, or load, of work – it is work we're discussing, after all – so by all means let's talk about burdens.  In the face of tight resources, possible reduction of resources, and expansion of need – what can we do regarding the non-stop advance of burdens?
We can be bold:  When we can offset a zooming consumption of resources in one area by virtually eliminating the consumption of resources in another, we can achieve an overall parity between the onset and offset burdens.  We can even get ahead of the game.  This is going to be very important in the coming years as you balance your ever-changing Business-Technology environment's consumption of resources.    Consider this:  In most organizations, there is a natural resistance to change, coupled with inefficient change management and action.  There's inertia.  This inertia exhibits itself in individuals, and in the organization at large.  Why does it exist?  Often, a "go-slow" (or even a "no-go") approach is considered safe.  Frequently a go-slow approach is necessitated by ignorance:  no one is qualified to go at a better speed.  In these circumstances, the organization has created a self-fulfilling requirement for the go-slow approach.  How can you be bold when you're ignorant?  How can you sustain confidence in a changing Weave?  You can't.
The Divide between That Which You Must Do, and That Which You Can Do:  When you combine this go-slow situation with new requirements that constantly stream into the face of business/technology, you have a divide.  That is, the organization struggles to close the gap between what it is able to do, and the seemingly constant elevation of what it must do.  This is often because the organization finds itself performing relatively obsolete chores, or chores in a manner that deliver appropriate return for "yesterday."  Concurrent with this inherent lag in the fixing or tuning of wasted, inefficient, or outdated efforts, is the forced assumption of new burdens.  In the absence of planning on your part, new burdens don't bother to align with your condition of awareness or preparedness.  These new burdens may be necessary in the advance of business – or they may be necessary just to keep up.
Burden Management:  Burden management can be an umbrella concept for the modern organization:  it entails the review of work, resources, and returns.  The essence of burden management goes on to some degree everywhere, by various names and reviews, in various formal and informal manners.  Those things should continue – but burden management here is an aggressive, but responsible, effort to identify and stamp out foolishness.  Just as there are false solutions to problems, there are "false burdens."
The False Burden:  False burdens present real burden – but they are false in the sense that they are falsely assigned and falsely borne.  They are false in the sense that they have no merit – they don't deliver, or protect, or advance anything.  Many of us have discovered thick reports that are generated on a regularized basis, delivered to some location, and thrown away without any sort of attention.  Many organizations conduct mandated training that is poorly attended, or which delivers little in the way of real knowledge.  Cloaked criticism – that which is delivered as valid or justified criticism, is more of the 'busy-work' variety, and its attendant destruct of efficiency yields a false burden.  And of course we have probably all experienced the wasted effort of projects that go nowhere, and even of implementing the burdens delivered of the False Solution (a "solution" that does not solve or serve).
When we become practiced at making objective, successful, arguments for doing away with wasted work, we find that we can maintain headroom to tackle unforeseen changes with aplomb and efficiency.  Zeroing and reducing burdens provides a yield:  It means that we can fill any new "slack" in resources with support to the emerging demands of the Weave.  It also should grant time for research into those things necessary for a better business-technology future.
Use the zeroing of burdens principle to grant space to your efforts so that you can make more fully informed and therefore more intelligent, more accurate, forecasts and planning.  Seek to size burdens appropriately (new and old), to seize and implement best practices as soon as possible in order to resize (reduce) burdens, and to even eliminate (zero) burdens as we can.  The result will be more accurate implementations and supports to the Business-Technology Weave.
Next:  Zeroing and managing burdens the right way.
NP:  Bix Beiderbecke – streaming audio.