Apr 29 2013 9:26AM GMT

Profile: David Scott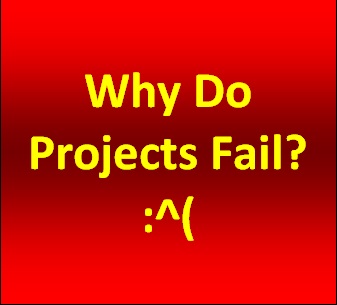 Why do projects fail?  That's a challenging question, especially for me:  None of mine ever do   :^ )
Well, not to sound too smug.   I've had elements of projects fail:  Missed milestones; sub-deliveries that weren't optimal – that had to be re-engineered; angry blow-ups by key personnel in meetings (IT staff, vendor personnel, and… yours truly.  But in my case, it was justified; honest.  No, really…).  But on balance, most of the projects I'm involved with, whether as the lead, or a team member, progress quite satisfactorily and 'go-live' is on-time, and on-target.
Not to say that projects aren't challenging:  Every single one I've been involved with has been very challenging at a minimum, and vary upward – that is the nature of projects, and project management.  But I know colleagues who have had disasters on their hands, and I've seen high-profile projects go awry too – newsworthy items.
What are the main reasons, and what can we do to mitigate risks?
 Scope and function creep:  When the project grows in scope during its actual course (we've "broken ground," the project is defined, and the Project Management Plan [PMP] is supposedly firm and fixed), it indicates poor understanding of what the organization's true requirements are.  IT and business stakeholders did not optimally engage, nor survey and divulge, respectively, all needs.  Now the actual project and its implementation is "teasing out" all of the undiscovereds, and adjustments are painful.  Be certain to do due diligence at the outset.  If you have to delay a project's start a bit, and do more survey, it can be frustrating – and justifying to higher authorities can be uncomfortable.  But it beats a hobbled project once underway – by a long shot.
Unrealistic and unclear objectives:  Related to the above, perhaps business asked for too much, and it's having a deleterious effect on the budget.  Maybe business asked for a lot, with all correct IT warnings and caveats expressed and in place; nonetheless, the plan, timeline and people are stretched.  Worse than scope and function creep (whereby you can at least spec something to fit an area that wasn't exposed as a need), is an unclear objective:  Here, a delivery is made to a "false target" – and you have to start over.  Spec requirements and solutions very carefully.
Lack of commitment:  Whether the Project Manager (PM), stakeholders, the IT team, or the vendor, commitment is essential.  Even if elements on the overall team don't believe in a certain area, they have to contribute as directed, and put best efforts toward the total solution.  Governance and other leaders have sanctioned the project, and it's full speed ahead.
Poor methodology:  Practice good project management.  Regularized survey of progress, accurate reports, early adjustments (to effort, milestone supports, attitudes, etc.), are essential.  Also be sure to keep management apprised of problems when difficulties exceed the PM's authority for rectification.  Same for team members – if there's a problem whose solution involves things above your pay-grade, get help.  If you are "management," foster an open-door and dialog culture, so as to encourage early warnings, for early corrections.  Don't tip this area into inefficiency – reportages must be mature, made through proper channels of escalation(s), and concern stuff that cannot be ironed out at lower levels – don't pass out crying blankets.
Poor communication:  Make meetings count; have enough, but not to the point of diminishing return – have something important to communicate, and track the project's progress.  Reports and evaluations are communication too – survey all areas of the project's efficiencies and potentials for problems.  Get on necessary tune-ups early.
In the meantime, remember to maintain solid support to present systems and statuses, as you drive toward the golden solution.
NP:  John Coltrane; Blue Train.  Original vinyl (of course).