Dec 13 2011 9:53AM GMT

Profile: David Scott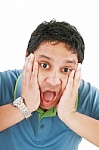 A  British recruitment executive making over $300,000 a year is out of a job after accidentally doing a "Reply All" by mistake to an e-mail.
Gary Chaplin was a top executive at a "headhunting" firm (emphasis on "was") when he received an e-mail from Manos Katsampoukas.  Katsampoukas had e-mailed, rather incredibly, 4,000 people a copy of his curricula vitae (CV) in seeking a finance or marketing position.
Unfortunately, Mr. Chaplin was less than professional in his response, telling Mr. Katsampoukas to "Please f*** off – you are too stupid to get a job, even in banking."  There were a few other choice words, but you get the idea.  That response is enough to get sacked, in my opinion, but the reply went back to all 4,000 people Katsampoukas e-mailed initially.  (Source:  The Sun, UK).  Oops.
Gone is Mr. Chaplin's job of 5 years for Stark Brooks, which would seem to be a top destination for any recruiter.  They handle the needs of the largest firms, such as Heinz, Kellogg's and Bentley, in recruiting and delivering top executive talent.
And that brings us to some sage advice that's been profiled here in the past:  View every activity through a security prism.  Here specifically today, consider carefully what you're saying in an e-mail, and be sure to read it through the recipient's eyes before hitting Send.  Also, review the recipient list:  Are you accidentally invoking Reply All when you really only mean to send as a Reply?  Are there folks you're copying who might be bettered served with a BCC?
Beware of BCC too:  Sometimes people, particularly senior ones, view a BCC as something furtive on the part of the sender.  Be certain you're using discretion for positive communications in service to the betterment of something.  Don't junk up the inboxes of folks with BCCs that are relatively low-level beefs or petty issues.  Where possible, wait a day on some e-mails – if it still seems important next-day – send it then.
When in a professional setting, be professional and remain professional.  It's hard some days (I know), but secure your job.
Security includes appropriate communications:  In securing your organization's reputation, in securing your own personal business reputation, and in securing your very job.
View every activity through security's prism.
NP:  I Hear You Knocking, Smiley Lewis, original Imperial 78rpm (on an Esoteric Sound Restoration turntable).