Oct 31 2011 12:28PM GMT

Profile: David Scott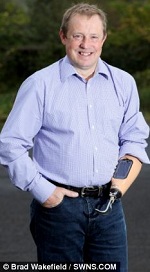 Regular readers may recall this article from February.  It was a bit of whimsy… something a little different.
But now there's an interesting story about a man with a smartphone dock in his arm.  Well, it's a prosthetic arm – but this is an exciting application of imagination for sure.  And, some would say, it's a start to a much more personal integration of technology to human beings.
The man in question is Trevor Prideaux and he was born without a left arm.  With his Nokia C7 comfortably and handily docked in his fiberglass/laminate forearm, he has the ready ability to text and call.  He's had a prosthetic arm since he was three years old.  Trevor believes his phone-in-arm solution is the first time this has been done in the world.
You can see how it might be difficult for him to hold the phone with the prosthetic hand, and text with the other.  But with the phone securely in his forearm, he can text with ease.  Also, when he receives a call, he can put his forearm up to his ear, or undock the phone and hold it.
Technicians at The Exeter Mobility Centre in England built a prototype arm in 5 weeks time – they made a fiber cast of the phone, and then built a cradle into the limb. 
Amazingly, when he contacted Apple to see if he could get a blank iPhone casing to test out his idea, Apple refused his request, according to the Daily Mail.  Folks at his local phone shop agreed to help him, and he was ultimately put in touch with Exeter.
In considering Trevor's forward posture, consider this too:  As processing power is able to be put into smaller and smaller components, and as data densities increase – thus also occupying smaller spaces – there will come a point of diminishing return in the normal application of technology:  The ability to build devices that are too small to hold, too small to type on, and too small to keep track of. 
But that threshold is exactly what is leading to a Human-Technology Weave – the integration of circuits and content repositories that may tether directly to the body and brain.
And that is a whole 'nother Weave.
NP:  Oh, Mother, I'm Wild!  Jack Kaufman, original Victor 78rpm record on a 1912 Red Mahogany Victrola.