Oct 6 2011 11:28AM GMT

Profile: David Scott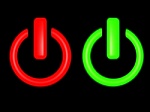 As a consultant, I do most of my calls and writing in my home office.  But occasionally I like to work outside the home, and usually journey to my local Starbucks.
A few weeks ago I was working there when I received a jolt (not from the coffee).  A popup indicated that I had less than 10% (or thereabouts) of power left on the battery of my nice, new, HP laptop.
It suggested that I plug in if I wanted to continue working.  Naturally my eyes tracked along my power cord to the wall outlet…  yep, still plugged in.
I did what anyone would do – I pulled the plug and reseated it – still no power to the laptop… my systray battery icon did change to "Plugged in – not charging."  Hmmm.
So, I tried the other outlet on the double-plate.  Same thing.  I moved to another outlet altogether.  No luck.  I pulled and reseated the cable at the laptop – still no luck.  I tried a reboot – I reseated the battery – everything.  Ultimately, I wrapped things up, did a graceful shutdown, and went back to my home office, where a curious thing happened.
Upon bootup, my icon indicated that I was now charging!  I was greatly relieved, as I had a lot of work for the day.  However, I called HP to report the problem.  After some measure of troubleshooting, the tech recommended sending the laptop in for warranty service.  They'd send me a shipping box, and I'd have the laptop back in about 7 or 8 days from time of shipment.
I didn't really want to do that:  I do have a backup laptop, and a "whole-drive" backup to an outboard drive – but my other laptop is older, slow, and cranky (you know what I mean).  Therefore, I resisted sending in the HP, and decided to monitor the situation.
Next visit to Starbucks, guess what?  I was plugged in, and at 100% of battery:  However, after about 30 minutes of work, I noticed I was at 92% power – wha…?  I again had to wrap up earlier than usual, and come home.
Once again, I began charging immediately upon plug in. 
Now here's where it gets really interesting, and it involves a little nightlight:  Upon my next visit to Starbucks, I verified that I was 100% charged – but after logging in to the laptop, I held off signing in to Starbucks' network (for WiFi access).  I went and got my coffee and chatted a bit.  Upon return to my table, I was still at 100% power, and the systray icon indicated that I was plugged in.  I logged into the network – and guess what?  I immediately lost power –my battery began to click down, and my adapter lost its warmth – it went cold.  My icon no longer indicated that I was plugged in… 
I plugged the nightlight into the same outlet – and it lit.
Now, how is it that my laptop could not get power from an active outlet?  A couple possibilities:  Is Starbucks employing a measure of intelligent power management, and shutting power to laptops?  This would require something like this, and I'm doubtful:
1.       A laptop that occupies a wall outlet for some specified time is surveyed by Starbuck's WiFi system:  a machine code or other device ID is surveyed and captured, and then reported to the intelligent power management system. That system then shuts off the outlet.  (Subsequent disengagement, and plug-in of a non-monitored device, returns active power to the outlet).
– Or –
2.      There is a characteristic in standard power that must be in place for typical laptop adapters to work.  Certain Starbucks locations could filter, alter, or "season" their power with something that creates a confusion, or a protection, in the laptop adapter – and the adapter enters a "protective" mode, and power is not passed to the laptop.
I only know this:  I consistently cannot get power for my laptop at my local Starbucks.  Each and every time – and it's only upon access to WiFi.  Everywhere else, I have no power problems.
Lest you think I'm being paranoid, consider this article.  And here's one specifically about power.
I'd welcome readers' thoughts on this, and reportage of any similar experiences.
Starbucks – are you listening?  I may call Starbucks for comment… but business travelers may want to pack an extra battery… or go to an alternate location like another coffee shop or the public library.
NP:  Jimi Hendrix, Axis:  Bold As Love, vinyl.  Perhaps Hendrix' most cohesive, best, studio effort.