Apr 27 2013 4:10PM GMT

Profile: David Scott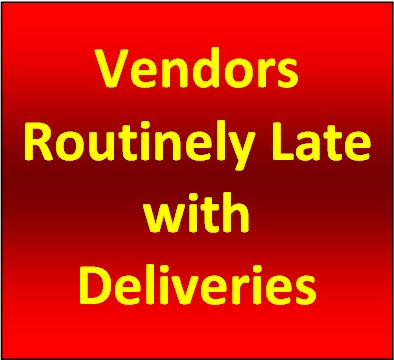 Perhaps some insight:  Does the vendor have a habit of re-scheduling meetings?- or, cancelling and renegotiating regularly-scheduled recurring ones?  This would be a strong clue that they are fighting fires, and missing milestones with other clients – and your project is in a competition for their attention with other lagging projects.
As concerns ANY vendor or solutions partner, be sure to meet at their location from time-to-time – not just during an initial vetting of any particular solutions partner – but go to their site for meetings throughout the project – and judge the general culture and "feel" of the place. Does it look like a harried environment?  Or, hopefully, are people focused, balanced, and seemingly productive?  If the site looks and feels like a stressed environment (beyond the usual healthy tension), then you'd better re-evaluate your preferred vendor list.
In all cases, determine what caused the missed delivery(ies).  Execute the clauses in all relevant contracts that trigger penalties for missed work (such as rebates, discounts, etc.) – hopefully you have those, but if not, be sure to craft future contracts this way.
Is the vendor solely to blame (or perhaps not at all)?  Are there people or departments in your organization that are  not submitting key deliverables to the vendor on time?  You can't penalize the vendor, or negotiate discounts, etc., if that is the case.  Find the point(s) of failure and correct.  As to the core of projects, stick carefully to milestones and statement/scopes-of-work.  If there are change orders, and negotiated additions to the original project, make adjustments in your project management software and in reports, so that changes to the speed and direction of the "river" of the project do not show up as budget overruns and missed deliverables – it is not fair nor accurate to classify adjustments and additional work that way.  (However, if poor project planning on the part of your organization exists, perhaps in the form of a poorly defined project, and related Request for Proposal [RFP], then this unfailingly results in a good-faith vendor Proposal, but one with poor match to your true business/IT requirements.  The org suffers, and is at fault, and missed deadlines and a wobbly project should reflect in reports, so the org can learn and not repeat these mistakes).
If the vendor is truly remiss, then pilot the current project to successful conclusion as best you can, and write this vendor off if possible.  If it's a project that involves a central solution to the enterprise, like a core-business system, and it's a vendor that's virtually interwoven into your enterprise, then you'll have to do the diligence with contracts and accountabilities.  Possibly get some measure of your senior executive class to engage with theirs, in order to set some expectations for future engagements and progressions – and hopefully fulfillment of expectations for true adherence to milestones, project expectations, and deliveries.
When ironing out difficulties, maintain maturity, focus, transparency and communication.  Learn from difficulties, and use them to improve contract documents, project management systems, early warning indicators, management of personnel, and reportage.