Feb 2 2013 3:15PM GMT

Profile: David Scott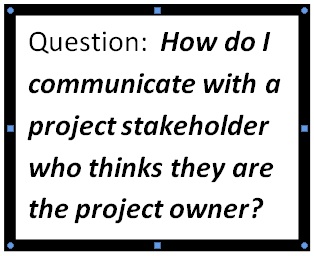 I couldn't resist the alliteration.  A recent discussion on another forum highlighted something that is extremely important regarding projects and the management of people on the associated teams.
A project manager asked a very important question:  "How do I communicate with a project stakeholder who thinks they are the project owner?"
She further explained that her organization is replacing a legacy system for which "Stakeholder A" had been the owner.  The new, replacement, system is going to serve, in her words, "a much broader community than the legacy system" – which I take to mean:  The new system is an enterprise-wide system, serving not only one or a few departments (and an associated limited realm of users/stakeholders), but is now serving a much more comprehensive set of users and stakeholders.
Therefore, the project is owned and now sponsored at a much higher level of the organization – a level higher than Stakeholder A… here's where a rub comes in:
Stakeholder A sees the project as the next iteration of the legacy system; he or she does not recognize nor acknowledge the reality of the project's ownership, and true point of power (at the higher level).   In the PM's words, "Stakeholder A is demanding unreasonable input into project team hires, status, etc.  Our actual project owner (stakeholder A's superior) is not willing to bring clarity to the situation."
Lastly, she asks, "How should I, from a communications perspective, engage with Stakeholder A?  How do I preserve a good customer relationship while drawing clear boundaries and setting appropriate expectations?"
Answers on the forum initially counseled getting Stakeholder A and the project owner/sponsor (her words) in a room together, to "lay out the situation for all."  Other counsel was to get the PO (project owner) to "step up – period."  In that last, there is definite peril – the PO outranks the PM.  If the PO is not reigning in Stakeholder A, there is a reason that trumps whatever meager power the PM has.  Recognize that the PM has some measure of power within and on the project (thought not unlimited), but no real power regarding the PO – other than the power to negotiate (and that negotiation does not include the power to issues fiats, such as "step up – period").
Other counsel was to refer to the project's charter (a good idea, but surely the PM likely knows the charter [sanctions, scope, who does what, when, is there a RACI matrix?, etc.]) – and even guidance to "force the issue."  Hmmm… What to do?  Here's a big clue – let's revisit the original question:
"How do I communicate with a project stakeholder who thinks they are the project owner?"
And let's work toward answering that original question – before getting multiple people in a room, laying down the law, and attempting to be dogmatic in our expression of who owns the project, who manages the project, and who no longer has leverage, as wielded in the past, by virtue of a system's graduation to enterprise-wide standing.
First, it's important to understand where you are (politics, culture, points of power, your sanction, your sponsorship, your power…), in charting a proper course (a travel through milestones, deliverables, and met-expectations), in arriving at the appropriate destination (project's conclusion, solid delivery; a bona-fide Go-Live that is on time and on target).
It's not just important to make full understanding for where you are – it's imperative:  Consider this example:  Someone calls you from the road; their GPS is out, and they are lost; they need directions to your house.  What is your first question?  "Where are you right now?"
Where are you indeed:  The PM must determine all "Where am I?" type factors before proceeding.  This will help the PM determine where he/she is for proper progression, to include how to handle Stakeholder A.
Here, then, is part of where the PM is:  Why has the PO not reigned in Stakeholder A?  There can be one or more of a couple reasons:
1)      The PO has a special relationship with Stakeholder A, and is relying on that person to provide "inside reporting" and opinions on the project's "true" progress (feeling that this is superior to the project's formal reporting).
2)      Similarly, the PO wants Stakeholder A to exert strong influence on the project.  He/She believes that A's legacy knowledge is beneficial to, perhaps even a requirement for, the enterprise project's success.
3)      The PO fears Stakeholder A for some reason.  A formal org chart shows the PO to be a superior, but there is always the "informal" hierarchy of any organization.  Further, Stakeholder A may enjoy political favor from a power-person that is superior to the PO.
4)      The PO simply doesn't understand the inefficiency and discomfort that Stakeholder
A can bring/is bringing to the project, by virtue of A's attempt at wide-ranging influence and power within the larger enterprise-project.
5)      Others…
The PM needs to find the circumstances' fit to any of the above, and perhaps even another possibility, so that the PM knows exactly where he/she is.  Then the PM can ascertain that he/she is on the right path for addressing Stakeholder A, before making a mistake that could negatively influence the PM's career – a mistake that would be completely external to the project at hand, when you think about it.
Ok, the answer to the question?  First, meet one-on-one with Stakeholder A.  Ascertain what is incentivizing this person.  Reincentivize them (see the last few articles in this blog) for a focus that is more "local" in scope – in other words, direct A's focus to the appropriate piece or pieces of the enterprise puzzle, and away from the whole top-down, wall-to-wall view.  Incentivization can involve flattery (but be sincere):  "Bob, your input has been great – your knowledge of the system and its history is invaluable.  But I need kind of a favor.  Can you focus on…?  I'm in a bind, and you're the only person I can really count on for the right quality and efficiency to this part of the project."
At the same time, remove any feelings of discount that Stakeholder A may be feeling.  He/she wants to make project hires?  "Bob, I wish I could put your choice for business analyst on the team, but frankly, that choice has been made by the PO."  (Or whomever – the PM can take ownership for the choice if that's the case; just present the reason for choices).  "But, this opens your time up for something I really need help with…"  Boost this person's feeling of contribution, and find appropriate areas and levels for contribution.
So – to sum:  Understand Where You Are before trying to craft a route to destination.  Incentivize and reincentivize people when necessary.  Remove their feelings of discount.
It is possible to become very good at these things.  Once you are good at these things, you'll be amazed at how smooth the most challenging endeavors can be – at least as compared to how things fared prior.