May 21 2013 12:52PM GMT

Profile: David Scott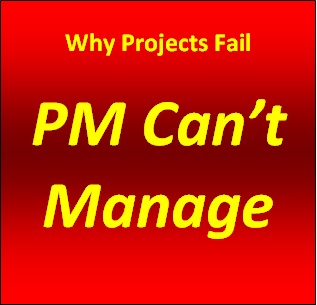 This situation came up recently and it happens more often than you might think – a Project Manager (PM) who can't manage very well.
If you're lucky the project staggers forward and meanders to a conclusion somewhere in the neighborhood of expectations.  This is kinda one of those "bad boss" scenarios – after all, on the project team, this guy or gal is… in charge.
This person is going to make and adjust assignments.  This person likely has input to your next rating if you're a member of his/her project team (either as a temporary project assignment, or if you're a permanent member of this person's staff).  Also, you have to negotiate with this person regarding resources, timelines, and deliveries.  It's nice if the PM is in your corner during the crunches (and vice versa), because you also have to negotiate regarding stakeholders and their expectations; both business people and other IT folks.
Oftentimes, you may find yourself exasperated – 'How did he (she) get assigned this project?!  He (she) has absolutely no talent for it!'  I've been involved with teams like that.  I've had to rescue a few after the PM dropped the ball too.  But assuming things aren't falling off the edge of the earth, keep a few things in mind:
 If the PM has clear sanction, and things aren't so fouled up that they're likely to stick on the project, be certain to get along – whatever it takes.  (Well, short of illegalities, HR violations, or putting your own esteem in a completely unrecoverable position, that is).  But try to keep the destination in sight:  The project won't last forever.
Flatter the PM – just don't be too obvious about it.  'I need your advice…', 'I heard about the time you…', 'I thought some similar latitude might work here…' – be imaginative.  Get on the PM's good side.  To do that, find something, anything, that you can play up.  Too often, the crunch of projects leads everyone into an unremitting, gallows-humor, negative zone.  Be different and see what it gets ya.
Buck up your teammates on the project.  Not to be a Pollyanna, but be positive.  Also, develop a reputation out in the business sphere, and do what you can to allow that to leach into the tech side of the project.  Once you have a reputation for positivity, a "can do" attitude, and you're seen as a winning personality out in the business sphere, it will be awfully tough for anyone in IT to give you a hard time.  Bet.
If you're 100% something needs to be done, is going to work, and I mean work like gangbusters, and you can get it done – do it.  There's an old expression:  It's easier to ask forgiveness than to ask permission.  Nothing succeeds like success, and everyone once in awhile just needs to do it.  Know what you're doing though.  If someone takes you to task for exceeding the limit of your lead, play dumb – be sure you're good at playing dumb – look sincere.
The PM may suspect him-or-herself of not performing well:  This is a really bad situation.  PMs (and any leader in these situations) become overbearing, trying to prove their "competence" and "confidence."  Don't do anything to make the PM feel insecure or small, or things will really become difficult, with a short-tempered micromanaging PM the result.
Bump the project along.  If you have a strong project team, and there is trust among the members, then get a little aggressive – everyone can start to push – there's strength in numbers.  I'm not saying to go behind the PM's back, but push the envelope.
Hey – ya gotta do something, right?  Stay within the law, don't step on any feelings if you can help it, and it helps to remember the alternative:  Watching a lousy PM maneuver the project out into left field.  Don't let that happen.
Of course, the PM's boss is likely to notice something awry.  If you ever get called in by a level of oversight that is above your boss (project or otherwise), be factual.  Don't sugar-coat anything, but also be very serious and empirical.  Give examples.  Don't come across as a back-stabber (even though your opinion has been solicited).
Once a specific level of management is soliciting opinions regarding a middle-manager, a change has pretty much been decided upon, so the gentle push of truth will serve here.
NP:  The Doors:  Essential Rarities.  Rest in peace, Ray.