Dec 5 2011 8:26AM GMT

Profile: David Scott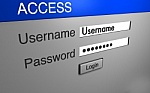 We've discussed password liabilities before:  Consider that many people use the same password (and often User ID) for multiple accounts.  This can include online bank credentials, work accounts, social networking sites, other critical sites such as ebay and PayPal…
A breaching entity can hack one account, gain credentials, and then spin them through all other associated user accounts they identify.
Of course, password liabilities also include easy-to-guess things, which are subsequently hacked – either by manual human activity, or password-breaking softwares that simply tumble random words/characters, through authentication mechanisms.  This morning, while having my auto serviced, I tried "password" in trying to gain access to a couple wireless networks in the vicinity – alas, no luck – but worth a try.  Consider:  About 5 years ago, Slovak hackers gained access to Slovakia's National Security Bureau (NBU).  The NBU maintains a huge body of classified information, which is supposed to enjoy strong security.  However, the hack and breach wasn't particularly sophisticated:  The respective login ID and password was nbu/nbu123.  
Might want to put a little thought into your organization's passwords and their associated strength:  Set a minimum amount of characters, and consider making some measure of required special characters (!@%, etc.).  Also, see the four basic requirements at the bottom of this article for maintaining a solid password security posture.
Here are PC Magazine's worst passwords of 2011:
  1.  password
  2.  123456
  3.  12345678
  4.  qwerty
  5.  abc123
  6.  monkey
  7.  1234567
  8.  letmein
  9.  trustno1
10.  dragon
11.  baseball
12.  111111
13.  iloveyou
14.  master
15.  sunshine
16.  ashley
17.  bailey
18.  passw0rd
19.  shadow
20.  123123
21.  654321
22.  superman
23.  qazwsx
24.  michael
25.  football
Finally, remember to employ four basic, yet critical, practices for maintaining secure passwords:
1)      Use unique passwords for each account.
2)      Change your passwords on a schedule.  How frequently is up to you, but anything from monthly to semi-annually.
3)      Don't share your passwords.
4)      Avoid common passwords.
NP:  Hi Lili, Hi Lo, Bill Evans, jazz24.org