---
May 30, 2013 10:55 AM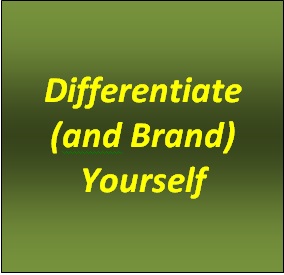 Continuing from yesterday:  Once you feel you've differentiated yourself, perhaps perfecting and advertising your brand, you really have no laurels on which to rest.  You must continually look for new opportunities to shine.  Here, I mean not only to shine in delivering excellence in terms of solutions, service, and engagements (with people, subordinates, superiors, departments, and other orgs), but you must shine in the forums and venues we spoke of yesterday.
Continue the march with the whitepapers, the blogging, and your quality content to Comments in forums.  Get known at tradeshows and seminars.  I was in NYC back in December for a CrowdFunding event.  I was rather surprised that the overwhelming number of people in the room sat silent, even when solicited for comments and questions.  You can bet I stood and spoke, and that folks knew I was an author and blogger.  This, in-turn, had people speaking to me during breaks – and naturally I knew who I wanted to seek out based on what certain other folks had said.
Google your name:  Hopefully something comes up.  A neat trick is to put something unique on your business card – besides your name.  "John Smith" won't get a John Smith very far.  Nor is "David Scott" all that unique.  However, a bunch of my business cards floating around with that name, paired with "The Business-Technology Weave" provides for a nice handle when Googling.  You can do similar – and should.  Don't rely on your organization's business card:  You're a free citizen, and can get your own cards to indicate your general standing in the business/IT world.
"Brand" your capabilities – on your resume, and in your online bio.  Reference that bio everywhere you participate online.  How do you brand your capabilities?  If you're a software developer, mention how your brand of developing is particularly mindful of ROI, TCO, and TtV, for starters.  Weave in the unique treatments you bring to the efficiency of your development projects.
If you're an IT Director, espouse your oversight of projects, and the unique oversights you bring to them; the specific methods you use to balance the project team in terms of members and other resources.  If you're not doing something unique, then what and who are you?  Some cookie-cutter cut-out of a back-of-the-envelope IT Director?  NO!!!  Get imaginative here – you know yourself best, and hopefully – hopefully – you're doing something well that is different and that you are proud of.  Otherwise, get your imagination in gear and here at least is awareness for necessary activity – everything starts with awareness.
Any jobholder, at any strata of the organization, can craft and exercise differentiators in service to three things:  Your brand; your org; and… yourself.
Next:  Living up to your brand – exercising and progressing your differentiators.
NP:  Nazareth:  Please Don't Judas Me (from "Hair of the Dog"; original LP)
May 29, 2013 12:57 PM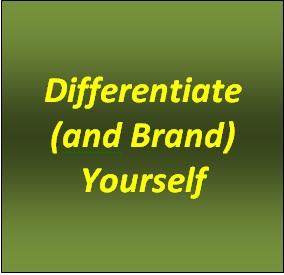 I saw a segment on television that provided recent college graduates with advice on what NOT to do in an interview.
Some of the advice included not asking about vacation time; avoiding "blanking" when asked to provide key differentiators regarding yourself; failing to research any specific organization at which you're interviewing, and some of their specific goals, customers, etc.
But for anyone, recent graduate or old saw, what SHOULD you do?
Consider developing a "professional brand" as part of an overall career strategy.  For example, I branded myself as the primary purveyor of "The Business-Technology Weave" – a business-IT methodology and culture with an accrual of reinforcing efficiencies in service to best ROI, lowered TCO, and efficient TtV – all of that in service to superior business outcomes.  [More on all that if you care to rattle my cage, or read my book].  I can look a client in the eye and say, "I close divides, direct purpose, and achieve results."
I realize I'm blowing my own horn here, but doing these things has brought me a set of clients, and upon engagement with new clients, we're half-way down the road by virtue of their understanding of me, and how I'm already primed to understand their general business concerns.
So… back to you:  What are you doing to differentiate yourself?  Get published.  Write a blog.  Write a book.  Can't write a book?  Write a pamphlet.  Put it online.
Write a whitepaper.  Then another, and another.  Join, or better yet, create a group in a social network, publish these things and  lead some discussions.  Create content and get it out there in service to your brand.
Get something more going than a LinkedIn profile; connect with others in LinkedIn groups and forums – become known by contributing and helping people.  Create a blog, provide comment to others, explore Twitter chats and discussions (although I'm ignorant regarding Twitter – dunno why I've resisted).
We'll continue with some other ideas tomorrow…
NP:  "Blue Monk," Thelonious Monk, jazz24.org
---
May 28, 2013 6:14 PM
Are you there yet?  Either as an individual, or an organization?
As an individual:  Are you happy with your emotional balance?  Are you able to handle difficult situations and people with aplomb?  Can you negotiate the minefield(s) of blame, innuendo, power, ambiguity, mistakes, miscommunications, etc?
How does the organization handle emotion?  Can it deal with irascible clients effectively?  Does the org accept blame too readily in appeasing clients?  Anyone ever get "thrown under the bus"?  What about internal meetings?  Project crunches?  And so on and so forth…
Most people feel that special business expertise and technical skill is not enough for ensuring success at work.  A driving factor in success is an ability to handle stress, and handling stress requires emotional maturity and emotional intelligence.  Emotional intelligence allows you to understand yourself, and hence others; hopefully your organization is at a tipping point whereby most people have this knowledge, and the org has a collective body of emotional intelligence.
When that happens, people operate in good faith, and take it on faith that others are operating on good faith.  I recently had a client tell me that they had sent me an e-mail the prior morning – had I seen it?  I had to tell them that I did not receive it – it simply was not in my inbox.  Were they certain they had sent it?  "Yes."
Well, I was never in receipt of it:  They took my word that it had not arrived, and I took their word that it was sent.  We were able to do that based on a shared history of maturity, cooperation, and best-practice engagement.  We knuckled down and played catch-up in getting some critical work done.  Finger-pointing, so often engaged, simply would not get us to where we needed to be.  A rather simple example, but those serve best.
Assess yourself according to the following criteria:
Self-awareness:  Be self-confident, but not arrogant.  Recognize your emotions, and what triggers them (in both good ways and bad).  Understand your own strengths, as well as weaknesses.
Self-management:  You're able to manage your emotions in healthy ways; you can deal effectively with stress; you're in control.  You can control impulsive feelings and behaviors – a great example is the ability to hold off on rash e-mails, or verbal communications.  Take time to think – draft something, sleep on it when possible, then revisit the subject.
Social awareness:  You care about other people, and understand their concerns and needs.  You can sense their emotions and respond appropriately and helpfully.  You're comfortable with others, and comfortable with power:  Within it, wielding yours, and understanding its place in groups and the organization.
Relationship management:  You're able to lead, inspire and influence others without being overbearing, or leaning too far into raw power.  You know how to manage and resolve conflict – between yourself and another/others, and between team members.  Clear communications is one of your strengths, and you utilize it in maintaining good relationships.
Emotional intelligence, or lack of, will affect your performance at work.  You simply must get along with others – and more – you must lead, get along with, and help to motivate others.  Many companies now test your Emotional Quotient (EQ), so be aware.
You also want to manage your physical health, and emotional health helps to reduce blood pressure and boost your immune system.  You'll look younger longer too with the reduction and effective management of stress.
Stress can negatively affect your mental health.  Anxiety and depression can result, and they can begin a self-reinforcing downward spiral into all sorts of negative behaviors and consequences.  Maintaining your day-to-day mood, and mental health, is an obvious imperative.
In matters of relationships, the understanding and control of emotions helps you to build stronger relationships, and to better manage them.  Understanding of emotions allows for better communications, and grants strength for both work and personal relationships.
In the realm of business and IT, there are a myriad of time-crunches, stressors, difficult people, and difficult situations.  It is in these sorts of crucibles that emotional intelligence is essential.  There will be those persons who lose their cool, lose focus, become angry or bitter – and that is precisely why an overwhelming balance of people must be emotionally intelligent.
Balance must be strengthened continuously, too.  This way, over time, people (and thus the org) can withstand larger and stronger forces.
---
May 27, 2013 6:03 PM
First:  Have a quick look at Google Glass.  Wearable computing is going to transform the personal and business realms.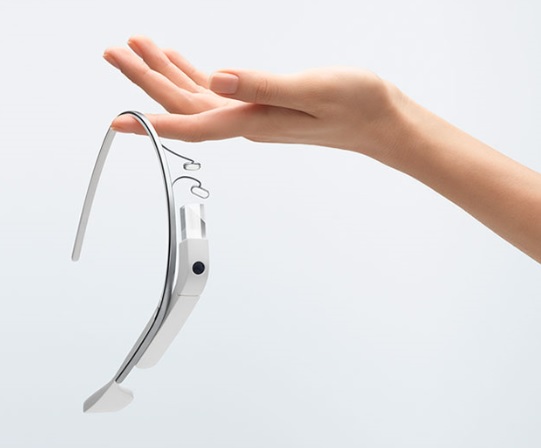 Next:  I actually remember a time when I told the senior executive class (CEO, CFO, COO, CIO, CTO, as well as collateral board members, etc.) "Every desk you see in this office with a typewriter will have a computer on it in a few years."
There were some of those C-class execs who actually scoffed at me… I was then a relatively junior IT manager.  Many of them simply couldn't see the need for "computing" at a desk, when a centralized IT department could run any necessary reports, providing all necessary inputs/outputs/processing, etc.
Also, many of them harbored a natural bias against computing, and had an adversarial relationship with it (come to think of it, many people still do).  It was a cost-overhead to begin with, and a necessary evil – only somewhat mitigated by their acknowledgement that this was an investment, with a return.  But theirs was also a failure of imagination, in being too weak to understand the leverage of distributed enablements, granting individual employee empowerment, aided by falling prices and ever more powerful business-returns.
Ultimately, they failed the vision of an expanding Business-Technology Weave.  Here in this forum, we don't fail in our vision, and we can take provocative looks to the near and coming future… so…
What of the Personal-Technology Weave?  It's already here – but it's about to explode.  And in fact it will [further] overlay and blend with the B-TW, becoming a Personal-Business-Technology Weave.  Back to Google Glass.  As you look at Google's own hype, consider some privacy issues:  Imagine walking down the street and capturing faces… and each face in-turn displaying a record, with as much personal data as is already in the Cloud – the public internet.  Seem too far fetched?
Well, stay with me here:  As we saw in an earlier article, a neat little app called City Lens grants an augmented view to what's around you:  1) Your mobile phone's camera captures an image of the street view around you.  2) Each building in that image then becomes an icon on your phone's screen that you can tap for important information regarding restaurants, shops, museums, services, etc. – see the image at left.
Imagine doing that with a street view, and tapping the faces of people you've captured.  Facial recognition can turn them into icons that yield name, address, phone number, profession, and anything else you can now Google about anyone.  Consider what the police will do with technology like that…
And consider the Memoto "life logging" camera.  Imagine wearing this on your lapel, and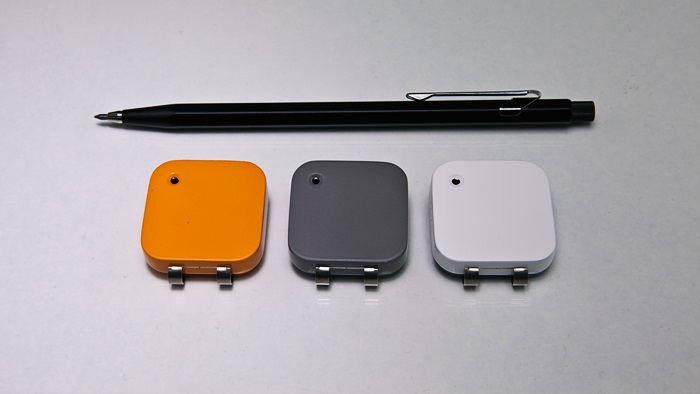 doing an "intelligence" capture of everything around you as you stream through your day.  It's a bit like a car's dash cam, but this one is for your body, recording everything around you.  At present, it just does a couple pics a minute – but a steady stream that records your entire life to the Cloud can't be far away.  Perhaps a (small) video capture device such as that already exists and someone can Comment below.
But let's serve a quick business example for where this can all go:  I was recently at a reunion and discussing some business with folks involved with medical sales.  It reminded me of a time when I directed IT for a company that surveyed physician office laboratories:  Some doctors have their own labs at their offices, necessitating periodic survey of their equipments' calibrations, their personnel's certifications, and things such as cleanliness and other standards that must meet State, Federal, and other requirements.
Imagine a survey or wearing a pair of computing-glasses, and simply looking at a machine that analyzes blood samples.  The glasses capture the image live, recognize the equipment and call a record to the surveyor's field of vision with the machine's required specifications.  The surveyor enters a sample into the machine for analysis, and compares the test figures with the "on-screen" comparison data in their field of vision.  The survey or then simply speaks which areas of calibration are met, those which may not be met, and speaks to the necessary actions that have to transpire in order to bring the device up-to-spec… and so on around the lab.  Fields of data are thus entered into records of a database, and an enterprise application completes a survey of the lab, with all necessary reporting to all relevant entities and agencies.
I know that there's a big transition/adjustment coming to society with the advent of "wearable computing."  I think we're all starting to suspect it.
NP:  Continuing with The Doors:  The Soft Parade –  original Elektra open-reel tape; playing on a mint 1967 Revox A-77 open-reel deck, through the Carver C-1 pre-amp, Carver M-500t amp, a couple other goodies in the signal chain, and out through the Jensen cabs with Peerless drivers.  Glorious.
---
May 23, 2013 11:14 AM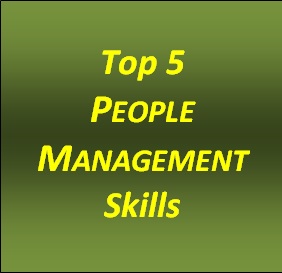 Everyone can benefit from a periodic self-assessment of their ability to manage and motivate people.  For those junior readers, you can use this to assess the effectiveness of your superiors.
Let's keep in mind throughout that people like to be led, as opposed to managed.   (Recognize, though, that there are elements of work, particularly IT, that are rote checklists and rather rigid strictures – and sometimes there's not a whole lot of room for imagination.  That aside…).  People want someone to admire; they want to observe someone and work for someone whose skills and leadership they can emulate.  I know I do.  It's pretty basic:  The more collaborative a team, including the boss, the better.
So… lead.  And utilize these effectively:
1.  Communication Skills:  Communicate as often as necessary.  Don't leave people to guess; provide enough detail and oversight – but don't smother people.  No one wants to be micromanaged.
–  Writing:  Ensure your department, job, etc., has enough formal documentation to cover the bases from routine absences through emergencies.  When preparing documentation, as well as ad hoc memos, e-mails, instruction-sets, checklists, project management plans/frameworks – anything – always perform a final edit as if you are reading through the recipient's eyes, with all of their biases, knowledge gaps, points of ambiguity… and write to inform to that class.
–  Speaking:  When addressing groups, speak up – project to the back of the room.  If you're leading a room, lead it.  If you're participating in a conversation, try not to interrupt – unless you are absolutely certain someone is in possession of old information, and you have updates.  Solicit team members' opinions and input.  Be collaborative.  Be inclusive; try to draw shy team members out a bit – good ideas can hide in quiet people.
–  Listening:  Shut up once in awhile; try not to be too dogmatic; value each member's contribution to the degree that is practical.
2.  Interpersonal Skills:
– Cooperation:  Try to get along; be pleasant.  Leave room for compromise when possible.  If you must disagree, go on record as to your reasons for disagreement; if something goes south, you needn't trumpet your prior warnings – rather, you're protected by virtue of having been prescient and wise, and that's good enough.
– Motivation:  Provide incentives if you're a leader.  Incentives can be as simple as praise when work is performed well.  Don't overpraise.  Sincerity means that praise is occasioned, targeted to something worthy, and achieves a measure of recognition (beyond the person/persons praised; a mention in a team meeting, an org-wide meeting, to a member of the senior executive staff, board, etc.).  People will aspire to further praise in the future, and quality is engendered and maintained.  Of course, if you have bonusing at your disposal, you can employ that – but the simple things work in the course of the day-to-day.
–  Supporting:  Be supportive.  Give your people the resources they need – to include budget, time, and other staff.  Be positive for them, so as to inculcate their positivity.  Be available to listen.  Support also means being firm when necessary.  Don't give space to empty whining and ruminations.  Kick people back out into the arena:  "We all come to work in our big boy/big girl pants – and that includes me."  That statement works wonders.  Man-up.  Woman-up.
3.  Planning Skills:  Know how to plan, and thus know how to deliver.  Be able to solve problems; know what needs to be done, who to go to, and how to achieve consensus.  Be able to analyze issues, make accurate diagnosis, and get things moving; keep them moving.  Strategize effectively, and work with others in this regard.
4.  Organizational Skills:  Closely related to planning, know how to coordinate tasks, gain cooperation from allied people and interwoven tasks; know how to set goals (be realistic; know how to measure progress; know when and how to boot people in the butt when necessary); handle details.  Know your optimal level of detail:  Utilize your staff for the proper administration of details.
5.  Management Skills:  Mentor; teach; lead.  Know how to solicit input; know where to go for best information.  Make firm decisions.  Set an example in all regards:  Be on time; be on balance.  Impart knowledge.  Acknowledge knowledge.  Give people their due.
When managing people, ask yourself some questions:
What are they thinking?  What are their perspectives…?
– Why are they doing this?  Examine behaviours – maybe staff needs additional information; maybe they feel their ideas aren't getting across; look for motivators.
2.  What do they need?  Don't overlook the general or the obvious:
– Detail-oriented people need details
– Tech people need tech info
– Business people need answers that address the bottom-line
– Satisfy needs that hinge on "outside" factors; for example, a person might need a deliverable from another team in making their committed delivery, etc.
3.  What are people's strengths/weaknesses?  Position people on your team to perform according to their strengths.  Examine weaknesses, and handle through training, re-assignment, mentorship.
NP:  Fairport Convention:  Traditions.
---
May 21, 2013 12:52 PM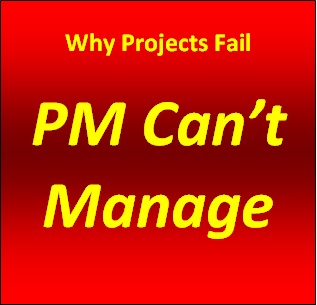 This situation came up recently and it happens more often than you might think – a Project Manager (PM) who can't manage very well.
If you're lucky the project staggers forward and meanders to a conclusion somewhere in the neighborhood of expectations.  This is kinda one of those "bad boss" scenarios – after all, on the project team, this guy or gal is… in charge.
This person is going to make and adjust assignments.  This person likely has input to your next rating if you're a member of his/her project team (either as a temporary project assignment, or if you're a permanent member of this person's staff).  Also, you have to negotiate with this person regarding resources, timelines, and deliveries.  It's nice if the PM is in your corner during the crunches (and vice versa), because you also have to negotiate regarding stakeholders and their expectations; both business people and other IT folks.
Oftentimes, you may find yourself exasperated – 'How did he (she) get assigned this project?!  He (she) has absolutely no talent for it!'  I've been involved with teams like that.  I've had to rescue a few after the PM dropped the ball too.  But assuming things aren't falling off the edge of the earth, keep a few things in mind:
 If the PM has clear sanction, and things aren't so fouled up that they're likely to stick on the project, be certain to get along – whatever it takes.  (Well, short of illegalities, HR violations, or putting your own esteem in a completely unrecoverable position, that is).  But try to keep the destination in sight:  The project won't last forever.
Flatter the PM – just don't be too obvious about it.  'I need your advice…', 'I heard about the time you…', 'I thought some similar latitude might work here…' – be imaginative.  Get on the PM's good side.  To do that, find something, anything, that you can play up.  Too often, the crunch of projects leads everyone into an unremitting, gallows-humor, negative zone.  Be different and see what it gets ya.
Buck up your teammates on the project.  Not to be a Pollyanna, but be positive.  Also, develop a reputation out in the business sphere, and do what you can to allow that to leach into the tech side of the project.  Once you have a reputation for positivity, a "can do" attitude, and you're seen as a winning personality out in the business sphere, it will be awfully tough for anyone in IT to give you a hard time.  Bet.
If you're 100% something needs to be done, is going to work, and I mean work like gangbusters, and you can get it done – do it.  There's an old expression:  It's easier to ask forgiveness than to ask permission.  Nothing succeeds like success, and everyone once in awhile just needs to do it.  Know what you're doing though.  If someone takes you to task for exceeding the limit of your lead, play dumb – be sure you're good at playing dumb – look sincere.
The PM may suspect him-or-herself of not performing well:  This is a really bad situation.  PMs (and any leader in these situations) become overbearing, trying to prove their "competence" and "confidence."  Don't do anything to make the PM feel insecure or small, or things will really become difficult, with a short-tempered micromanaging PM the result.
Bump the project along.  If you have a strong project team, and there is trust among the members, then get a little aggressive – everyone can start to push – there's strength in numbers.  I'm not saying to go behind the PM's back, but push the envelope.
Hey – ya gotta do something, right?  Stay within the law, don't step on any feelings if you can help it, and it helps to remember the alternative:  Watching a lousy PM maneuver the project out into left field.  Don't let that happen.
Of course, the PM's boss is likely to notice something awry.  If you ever get called in by a level of oversight that is above your boss (project or otherwise), be factual.  Don't sugar-coat anything, but also be very serious and empirical.  Give examples.  Don't come across as a back-stabber (even though your opinion has been solicited).
Once a specific level of management is soliciting opinions regarding a middle-manager, a change has pretty much been decided upon, so the gentle push of truth will serve here.
NP:  The Doors:  Essential Rarities.  Rest in peace, Ray.
---
May 20, 2013 2:44 PM
Saw a question in a forum that went a bit like this:
'What entry-level certifications does one need to help launch an IT career?'
There was no shortage of advice:  CompTIA, A+, Network+, CCNA, Windows Operating System Fundamentals, Windows Server Administration Fundamentals, Networking Fundamentals, Security Fundamentals, Software Development Fundamentals, Windows Development Fundamentals, Web Development Fundamentals,.NET Fundamentals, HTML5 App Development Fundamentals…
It was a good while before someone (not me) suggested saving some money and doing some self-training and subsequent testing.  Going after certs can be expensive, and I often wonder if it's not better to just jump into some college courses at night – do you have a branch of a major university near you?  Or perhaps a good junior or two-year college?
If no one is springing for a four-year degree for you, and you can't afford full-time college, and you have a logical mind, enjoy problem solving, and interview well, then get on a HelpDesk in a robust enterprise environment.  That's your foot in the door, and you can go anywhere from there if you know how to "sell" yourself.
Once you're working full-time in an IT department, you can send yourself to school at night, and go any direction you want:  software programming, network engineering, Cloud development, applications development, mobile…
One good piece of advice offered in the forum:  Don't specialize too early.  You really need a robust grounding – everything fits together into the same overall puzzle, and it helps to understand all the other pieces, if only tacitly.  An awful lot of people in IT (and business) are myopic thus lousy overall fits to the true business at-hand.
Get on a Help Desk, sit in IT meetings, look around, see what turns you on and go for it.
Worried you might be too good a HelpDesk staffmember?  What happens if you get stuck on the Help Desk?  It happens.  Remember this:  The best IT people move around.  You have to.  The market is going to take care of you.  Get out there.  Why work in a critical and robust field like IT if you're afraid to move on… and up?
In fact, I'd say during the early part of your career – the first decade, certainly, you only need stay in a job 2 to 3 years – unless you really, really, really, really like it – and are willing to risk stagnation.
---
May 15, 2013 4:20 PM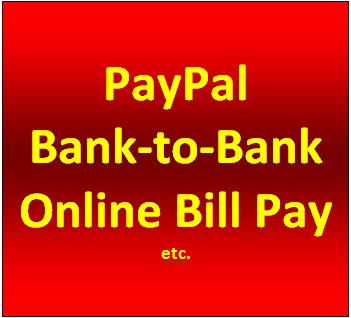 What's an 'asset bubble'?  We'll see in a minute, but first, some background…
Ever made a payment online?  Of course you have.
I now pay my credit card bill online.  I don't do an automatic payment – I like some measure of "hands on" control.  But I know this:  Once I execute a payment to my card company, by clicking 'Submit,' I receive a confirming text message to my phone nearly instantaneously.  I'm talking about a couple seconds.
I pay my car insurance online.  When I execute payment, I get an e-mail confirmation almost immediately.  Within a minute, easily.
Same for cable.  Same for power.  These transfers (both in terms of money, and communications) happen with a speed of execution that is extremely efficient.
Not so for certain other transactions.  When I initiate a transfer to my bank from PayPal, I'm advised that the funds will be in my bank account between 3 and 5 days' time.  Meantime, my PayPal balance is 0 (or down by whatever amount I'm transferring).  So, where's the money in the meantime?  And why can the transfer not be immediate, as in the former cases above?
When I do a bank-to-bank transfer, I receive a similar counsel:  The money will be in my other account in approximately 3 days.  Meanwhile, the originating account is debited – but there is no credit (yet) on the other end of the pipe.  Where's the money?
Well… it's obviously in some kind of limbo.  That money does exist:  It's not vaporized while "in transit."  However, wherever it resides, you can bet it is making money in the form of interest, or lending itself to investment.  How?
Just consider the one case – that of PayPal:  They are transacting money all over the world.  PayPal is handling money in the millions, likely billions, of dollars.  At any given moment in time, PayPal has a tremendous amount of money in limbo, suspended between various accounts during those 3-to-5 day delays.  This represents an 'asset bubble' and that pool of money on a balance sheet is a resource:  That resource of money is earning interest, or funding investments – at least, it seems to me.  Meantime, you wait for your money to transfer at the speed of… well, something other than electrons.
This would seem to be a newsworthy story, and a ripe area for a little legislation.  A 3-to-5 day delay is not necessary in vetting the transfer of money.
What do you think?
---
May 9, 2013 11:55 AM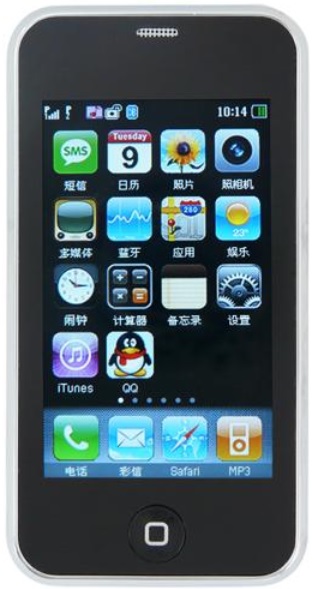 More and more businesses are implementing and leveraging mobile computing for optimal competitiveness.  No longer are mobile solutions the sole province of large companies; small-to-medium businesses (SMB) are jumping in and reaping strong reward.  If you're an SMB that has not yet made the leap, should you – and when?
First, recognize that mobile computing is necessitated by many things:
  – Frequent travel by staff who need enterprise access "on the go"
  – Requirements for situational access to data, such as in airports, meetings, etc.
  – Companies that survey and dispense services at dispersed client locations
  – Specialized apps for communications with, and services to, customers and prospects
  – Marketing requirements, and associated apps
Then evaluate how you might leverage the following:
Targeting:  You can target your audience; on-the-go clients have mobile, and they want to engage.  That means you'll want them to engage with you.  Once your client population is aware of you, you gain a targeted audience.  Also, your employees, solutions partners, and contractors have come to expect ready-communication and access – to information, to decisions.
Communication and support:  Apps help customers in their communication to you.  Your organization can collect data and feedback from them.  Questions, suggestions, and complaints can be addressed with ease and efficiency.  But further, your staff can communicate with the org too; whether on travel, in the field, or at the customer-site.
Marketing and promotion:  Apps are more essential than ever given the increase in the number of mobile users.  eCommerce requirements, payments, and the administration of shopping (such as layaways, "recently looked at" histories, and other sales boosts), make robust mobile enablements a must.
Customization:  Apps can be fitted to your specific missions, agendas, goals, products, and services.  Also, various features, preferences, and security controls are available for perfect fit.
Increased Earnings:   An obvious benefit of increased reach, targeted audiences, and more sales is increased earnings.
For SMB, exploring mobile is not an expensive proposition – at least as a first step.  Interview some mobile providers in your area:  They'll meet with you for a free assessment of your environment, requirements, and goals.  From there, you can solicit some ballpark figures for forward progression and deliveries.
A mobile app, or suite of apps, is an investment – not just another cost.
---
May 3, 2013 7:49 AM

A rather interesting social network came to my attention – Nextdoor.
It's neighborhood-based:  a private social network for your specific neighborhood.  You must use your real name with this one, and your real address.  It's been around awhile, but is expanding to many more neighborhoods.
If you don't live in a specific neighborhood, you can't join that one, nor see anything in that network.  Also, if you move away, you're no longer able to be a part of that neighborhood network.
In this type of social network, things are much more personal, and private info is more readily divulged and leveraged.  For example, you can post queries regarding neighbors' experiences and recommendations with various tradespeople and professionals:  Mowing services, auto repair, doctors, dentists, etc.  If you pet is missing, you can include this in Neighborhood News.  Was a home burgled?  You'd be interested in knowing that.
Need a babysitter?  Giving away an old desk?  Need a bookcase?  These needs are "local," and local resources exist.  It's more targeted, personal, and perhaps immediate than something like Facebook, for example.  Maybe you're looking to join, or post, a carpool.  How about starting a nanny-share?
Any downsides?  Boundaries are sometimes arbitrary – maybe some folks you'd like included are outside a certain zone that is normally an inclusion to your neighborhood in other contexts.  You can lobby the "Lead" of a neighborhood, if you like, in seeking a change to boundaries.
Also, sometimes condos or apartment houses get chunked as one entity/address, but that's being worked on.  Be aware that if a network like this is ever hacked, your name, address, and any personal info you've posted might be accessed – a home full of valuable antiques doesn't need a high-profile, for example.  iOS and Android apps are coming.
And now, I have to query my neighborhood as to where I left my bike after that block party…
---