Sep 7 2011 1:05PM GMT

Profile: David Scott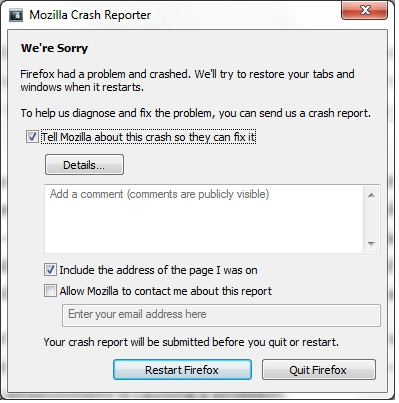 (Note:  By the time you read this, this problem may have been fixed).
Regular readers of this blog will notice that I almost never refer to specific applications or other products.  I make no specific endorsements, nor do I condemn or compare products. 
However, something happened to me today and I think it a service to readers to make you aware of something.  I received an alert, via my preferred browser – Firefox, that an update was ready (6.0.2).  I went ahead with it.
I received a dialog box indicating "Update 1 of 1 being applied" – or words to that effect.  Once the update finished, my browser restarted.  Apparently one of the big features of the new version is the "grouping" of Tabs.  I didn't have an opportunity to explore that (um, no pun intended), because upon update, Firefox began crashing – that is, spontaneously closing shortly after launch.
After the first close, I noticed a small crash report screen – I checked a box to send the report to Mozilla.  After that resolved, I launched Firefox again – I was able to get to a site, was scrolling for a second, and the whole browser closed again – just disappeared.  Again, the crash report option.
Fortunately, I was able to complete my day's work through Explorer.  But I'm surprised at the Firefox problem.  Another annoying thing is that, for the short time I could see it, Firefox launched with two Tabs – one, my normal, preferred, homepage:  Google.  The top Tab was a Firefox announcement about the update, and an explanation of grouped Tabs.  I'll have to clear that when I can.  Soft and hard re-boots haven't overcome the problem as of yet. 
If you get this, and haven't been prompted to update Firefox, you might want to wait a few days to do it if you do get a prompt.  Then again, all may be well by now – or, perhaps something in my specific environment is causing a problem.
Just an FYI.  At any rate, stay safe out there.
On this day (Sep. 7th):  In 1927, Philo Farnsworth demonstrates the first use of television in San Francisco.