Dec 21 2012 12:24PM GMT

Profile: David Scott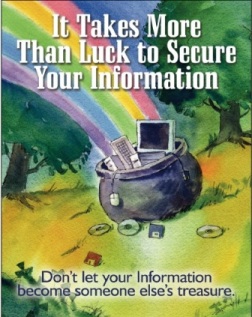 A national newscaster revealed something this past Sunday that is quite extraordinary, given the times we live in. He said, approximately*, the following on a news broadcast: (* details have been disguised)
"I'd just like to say that tomorrow is my brother's birthday. Lieutenant Colonel John Smith, of Oshkosh, Maryland is 50 years old."
It's interesting to note that we have a fair amount of info for piecing together… identity theft:
Name
Rank
Date of Birth
City and State
If you think this is being a little paranoid, remember this saying: Just because you're paranoid, it doesn't mean no one is out to get you. The real trouble here is the efficiency involved. It's one thing to mention this information to a small group of people – perhaps some of whom you don't know well. It's quite another to divulge this information nationally, to millions of people (and that is this particular show's audience numbers).
With a little diligence, an identity thief can cruise past this person's mailbox, and steal even more critical identifying information. As a start, the info above is enough of a foundation to make that cruise a good investment in time. Also, "spoofing" then becomes more easily leveraged; the contact of this person, either via e-mail, USPS mail, or even in person.  One example is a spoof whereby someone poses as the representative of a veteran's organization, and asks to "verify" information:
"Hello Colonel Smith, we have your city and state as Oshkosh, Maryland – is that correct?  Thank you.  We also have your date of birth as 12/16/62 – is that correct?  Would you please provide your Social Security Number for verification?  Thank you Sir."  You get the idea.  It happens quite frequently.
The newscaster could have said, merely, "I'd like to wish my brother a Happy Birthday… tomorrow is his birthday" – and left it at that. However, if it were me, I would say nothing. In the first place, a national news audience doesn't particularly care, and while the mention "on air" might please his brother, it's really not worth it. It's not that big a deal in personal terms – being that it's likely that a phone call will be made (or can be made, in lieu of the on air greeting) later.
It's time to think very carefully about what you do: What you reveal; to whom; where; and when (are others nearby who can overhear? Online – are systems truly secure?).
In divulging personal information, regardless of the reason, always ask yourself:  Is this something that I have to provide? If it is truly necessary, is this the superior way to do it?
What this newscaster did is fine… for the '50s, '60s, '70s… etc. – maybe. But in today's times?
NO. WAY.  Be careful out there.