May 30 2013 10:55AM GMT

Profile: David Scott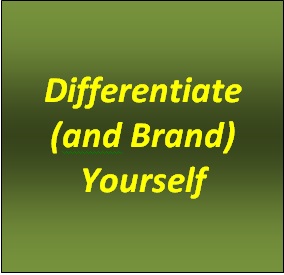 Continuing from yesterday:  Once you feel you've differentiated yourself, perhaps perfecting and advertising your brand, you really have no laurels on which to rest.  You must continually look for new opportunities to shine.  Here, I mean not only to shine in delivering excellence in terms of solutions, service, and engagements (with people, subordinates, superiors, departments, and other orgs), but you must shine in the forums and venues we spoke of yesterday.
Continue the march with the whitepapers, the blogging, and your quality content to Comments in forums.  Get known at tradeshows and seminars.  I was in NYC back in December for a CrowdFunding event.  I was rather surprised that the overwhelming number of people in the room sat silent, even when solicited for comments and questions.  You can bet I stood and spoke, and that folks knew I was an author and blogger.  This, in-turn, had people speaking to me during breaks – and naturally I knew who I wanted to seek out based on what certain other folks had said.
Google your name:  Hopefully something comes up.  A neat trick is to put something unique on your business card – besides your name.  "John Smith" won't get a John Smith very far.  Nor is "David Scott" all that unique.  However, a bunch of my business cards floating around with that name, paired with "The Business-Technology Weave" provides for a nice handle when Googling.  You can do similar – and should.  Don't rely on your organization's business card:  You're a free citizen, and can get your own cards to indicate your general standing in the business/IT world.
"Brand" your capabilities – on your resume, and in your online bio.  Reference that bio everywhere you participate online.  How do you brand your capabilities?  If you're a software developer, mention how your brand of developing is particularly mindful of ROI, TCO, and TtV, for starters.  Weave in the unique treatments you bring to the efficiency of your development projects.
If you're an IT Director, espouse your oversight of projects, and the unique oversights you bring to them; the specific methods you use to balance the project team in terms of members and other resources.  If you're not doing something unique, then what and who are you?  Some cookie-cutter cut-out of a back-of-the-envelope IT Director?  NO!!!  Get imaginative here – you know yourself best, and hopefully – hopefully – you're doing something well that is different and that you are proud of.  Otherwise, get your imagination in gear and here at least is awareness for necessary activity – everything starts with awareness.
Any jobholder, at any strata of the organization, can craft and exercise differentiators in service to three things:  Your brand; your org; and… yourself.
Next:  Living up to your brand – exercising and progressing your differentiators.
NP:  Nazareth:  Please Don't Judas Me (from "Hair of the Dog"; original LP)