Apr 28 2013 11:01AM GMT

Profile: David Scott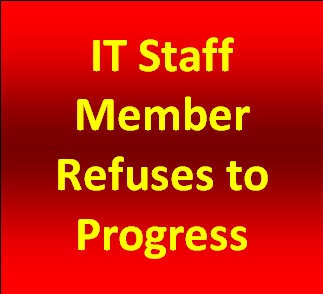 A colleague entered a new position as Director of Information Technology.  A prestigious association in the Washington, DC Metro area – the specific city will remain nameless.
The association had their own building.  He had a corner office on the top floor – wall-to-wall windows on two sides that were nearly floor-to-ceiling, with a great view.  Nice big conference table right in his office.  The kitchen was a couple floors down, but, hey, maybe they could move that.
Anyway, everything's rosy, right?  Lots of challenges, but we always have those in IT:  The association management system (AMS) was on the cusp of a major upgrade (huge – the vendor was even completely re-titling the product), and there were some staff currency/training issues.  Ah, those are routine – always someone who needs this class or that, or a boot to get current.
But over the first weeks and months he discovered something very bad:  The "senior" programmer… um… didn't do anything.  I mean, she didn't do anything… IT related.  Oh, she had her routine.  She floated around the building, making her rounds and chatting.  She attended meetings.  She contributed in the sense that she always had an opinion – generally not worth anything, but she liked to sound officious.
What was happening was that she passed any work that came to her, to a junior programmer – always the same guy.  This man was very milquetoast, and didn't speak up.  He was overloaded, but he suffered on, afraid to speak up.  How long had this been going on?  My colleague couldn't know, but he knew that the senior programmer's skills had completely atrophied to the point where she literally couldn't contribute in the modern environment.
The IT Director did what any responsible supervisor would do:  He counseled the senior programmer.  He directed her to schedule herself for training.  When she didn't, he selected an initial course, and directly told her to enroll in it.  She didn't.  He then talked to his boss about things, and was told to "handle it."  Next step?
The timing yielded an opportunity to document things in a formal review – it was due.  He drafted things very carefully, and overall, the review was quite accurate – but generally negative.  It had to be if it was going to be a true review.  He was directed by the Deputy Executive Director of the organization (the #2 person) to re-write it.  He did so under protest.  It still had a mild version of the need for training, and stepping up, and making a more robust contribution.  But it really wasn't motivating.  She did not change.
Why change?  She had political cover, as it turns out, in the organization.  It also turned out that she had wanted the IT Director position.  She felt it was her due, and that she had been denied.
After enough time had passed to make his resume look good, my colleague left the organization – for a better org, a better position, and a better salary.
Meantime, the organization suffered a situation whereby their in-house programmers could not keep up with the AMS, its mods, and its progressions.  The org also lagged in its infrastructure upgrades.  The Network Manager, a great asset, left and was replaced with a lesser person.  Other quality personnel left, women and men of character and quality,who were difficult to replace…
Their IT shop is now pretty lousy.  It's propped up with expensive outside counsel and support players.
One bad apple can spoil the whole bunch.  To the senior executive class, directors, managers, supervisors:  Rate fairly, accurately, and ferret out those who do not serve.
Lead by example, and hold those you rate accountable.  Praise and promote those who are due.
Maintaining and balancing an IT department and its service to business is not always easy, but it is absolutely necessary.