Oct 29 2011 10:55AM GMT

Profile: David Scott
This past August, HP announced it would discontinue its smartphone and tablet products, in addition to considering discontinuing its PC business.
The move was precipitated by HP's acquisition of the British company Autonomy, and a seeming shift to emphasis on software.  However, HP will now keep its PC arm, formally the Personal Systems Group (PSG).
HP's chief, Meg Whitman, has stated, "HP is committed to PSG, and together we are stronger."
I'm happy with this statement, as I am typing this article on a reasonably new HP laptop.  I also have an HP printer.  In the case of my earlier problems with this laptop, paired with this considered spin-off or sale of the PSG, I continue to wonder if there was some slippage in quality or focus as regards their PC line.
That would be unfortunate, as HP is presently the number one manufacturer of personal computers in the world.  They achieved $40.7 billion in revenues for 2010.
Still, I've been informally surveying people I know, people I do business with, and reading a lot of praise and criticism on the web.  We must recognize that any product has diametric conditions of people who are fans of the product, and those how have nothing but horror stories.  But HP seems to attract unusually strong opinions.
I know that I was disappointed with a 10-month-old laptop that had a hardware failure.  I was also not impressed with HP's customer service:  From technician(s) to Corporate Office.  A tipping point for me might be HP's recent, seeming, indecision regarding their commitment to the PC line, coupled with another consideration.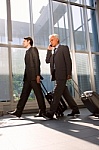 That consideration is Apple, but more specifically, the Unix-core that solidifies their operating system.  That… and the fact that Apple is not likely to consider… and reconsider… jettisoning a big chunk of their product line (and associated customers).
NP:  Thelonius Monk, Epistrophy, at Starbucks (a nice surprise hearing this here)