Oct 27 2011 2:44PM GMT

Profile: David Scott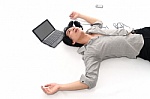 Please see my prior post if you haven't already. 
My situation with my HP laptop had me speaking and listening to a number of people.  Folks of various stripes were happy to weigh in:  Colleagues, clients, vendors, and friends.  In the course of discussion, I heard a number of stories about HP specifically, and about the PC realm generally.
A trusted colleague is also a friend and a client.  More years ago than I care to remember,  I hired him as an intern in the Fortune500 world.  I now serve as a virtual Operations Manager in his startup business.  He made the switch to Apple about a year ago.
It took him about three months to get used to the interface and operation of the Apple world.  This has been my main reason for resisting Apple.  It was foreign to me, and it struck me as being less efficient… or perhaps intuitive.  But in his case, he did get used to it, and he's much happier with it.
Secondly, he told me that Apple has brick-and-mortar stores.  Imagine:  You can take a defective or failing product right to the store, and deal with an actual person.  Wow – what a concept!
Last, he had a "real-world" case to relate, particularly in relation to the second point.  Quite recently, his company had an older laptop that developed a problem with the screen.  They took it to the brick-and-mortar store to see what the repair would cost – for all they knew, it might not even be worth a repair.  To their surprise, Apple replaced the screen because they had the part laying about, at no charge.  They had it back next day.  Realize:  This laptop was long out of warranty. 
That is customer service.  Apple in this case is a bona-fide solutions partner.  They would seem to have an understanding that their products support and enable business.  That when a product or solution fails, the support to business fails – and that is a hardship.  Business enters a zone of risk.
My (crumbling) resistance to Apple was also based on a widespread industry belief from years past:  Apple was for artists and designers; PCs were for empirical business and related operations and management.  That line has probably blurred, or disappeared – but I'd like to know what you think.
I would welcome other's experiences in the realm of Apple and PC.  I'm certainly thinking…
On This Day (Oct.27th):  Fred Waller patents water skis.