Dec 17 2012 5:07PM GMT

Profile: David Scott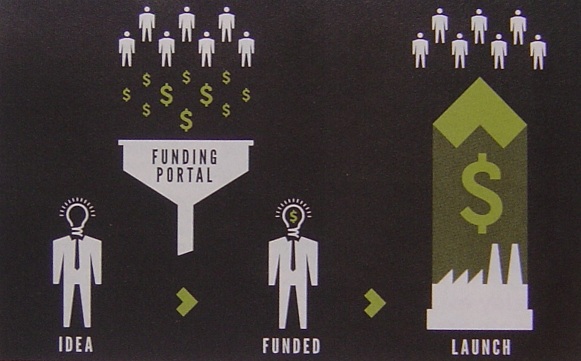 Ever had a great idea, but thought:  Ah, I don't have the capital to get this off the ground… and probably never will…  and who's going to want to invest with an unknown like me, anyway?
Or perhaps you've wanted to be an investor yourself:  Getting in early, when the gettin's good.  A relatively small investment, with big payouts to come once a company or idea really takes off.
But again, perhaps you've lacked what you considered to be the necessary capital.
Well, the opportunities for everyday people, investors large and small, are changing due to the phenomenon of crowdfunding.
Crowdfunding of sorts has been around forever.  Whenever groups of people contribute to a common cause – whether a business startup, political campaign, building fund, or a healthcare endeavor for a sick friend or acquaintance, for example – we're leveraging the strength of numbers (the crowd), in garnering small, but powerful, accumulations of resources.  In many cases, we not only "fund" with money, but also with other resources:  Time; attention; focus; and work.
However, with today's buzzword branding of "crowdfunding," we're speaking of equity-based funding:  contributing to a company's start, with you the funder, subsequently owning a small piece of that company.
"Funding Portals" provide a rich dynamic whereby potential investors can find and begin partnerships with entrepreneurs – websites and related entities already exist, and more are coming.  However, recognize that the Securities and Exchange Commission (SEC) will be regulating these portals, as well as activity within crowdfunding – in protection to both investor and startups.  Much of the legislation is contained in the JOBS Act (Jumpstart Our Business Startups Act), of April 2012.  However, also recognize that the area of crowdfunding is in a relative flux, and due diligence in this area will remain challenging as further legislation and changes manifest themselves.
When considering crowdfunding, whether as pitchman/woman or potential investor, recognize that crowdfunding is undertaken for more than equity.  You may see a startup idea that is poised to deliver something to market that you've been waiting for, or just have a vested interest in, by virtue of the fact that you'll use it to good advantage:  "Why hasn't someone invented a way to _______?"  "Why can't someone invent something that _________?"  Now you can help bring a certain something to market, and capture its best use to your own advantage – whether for personal pursuits or as a business lever.
Crowdfunding is a great way to uncover ideas that, 'till now, may have been hidden.  Consider:  The Wright Brothers invented the airplane by virtue of their knowledge, intelligence, and perseverance – same for Edison and his light bulb and myriad other inventions; but they also had the means, and the time.  How many people, 50 years prior, 100 years prior, had valid ideas, of all sorts, but lacked the resources to develop them?  How many sparks of ideas self-extinguished because the intelligent people behind them spent their days tied to more mundane work – perhaps plowing a field all day in bringing food to their family's table – unable to climb into a position to devote time to development… and delivery?
Given the leverage of today's social media, and funding portals, we can say:
Get ready for a big change…