Aug 15 2011 12:16PM GMT

Profile: David Scott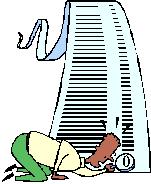 Please see Pt. I and Pt. II if necessary.
Remember our discussion about finance codes, and IT's maintenance of them?  This example served to show IT's "ownership" of the codes creation – as opposed to positing this responsibility in the business arena. 
I once observed a broken process in this very arena; as an issue in the project management context.  A project manager's duty, of many, was to bump along an Expositions Director's (the Expo department's) creation of finance codes – an important task supporting a project:  The implementation of a new association management system (AMS).  The Expositions department was the task's owner: The action of creating the codes was that department's responsibility, with a shared component.  That was creating them in compliance with the Finance department's oversight of all finance codes. 
However, there was a lag in the code creation:  Due to the Expositions Director's insistence that this was IT's responsibility.  However, IT is not the generator of the codes.  Nor does IT maintain them – or use them.  (IT has, and uses, their own department codes – but shouldn't maintain – nor use! – other's). 
The syntax and format of the codes is defined largely by Finance.  Further, the Expo Department is intimately familiar with their (Exposition's) financial tracking needs.  They know how many codes and definitions are needed in the conduct of their business.  They also know the character and number of codes that exist in the old AMS – for various conference booths, hotel rooms, services, etc.  Having IT survey a business situation that Expositions is responsible for is not a correct placement of effort or responsibility.  Nor is it efficient.
IT-effort in this regard would mean:  IT must perform the administrative drill of surveying business methodologies to a granular degree, and subsequent creation of the codes for approval by Expositions.  This would engender a review, any necessary adjustments, and resubmittals with another Expo review.  This would be followed by IT's arrangement for review with Finance. 
This is inefficient:  Expo can drive and complete this process, in its entirety, in less time.  Otherwise, it takes IT people away from doing the things that only IT can do.  It engages them on a largely administrative task that should be assigned within the Expo department.  Expo should not require IT to maintain their finance codes any more than IT can expect Expo to maintain IT's finance codes. 
Once Expositions creates their codes as tasked, they must let a project manager know they're ready.  The PM can schedule a sit down with Finance for review of the codes.  Once Finance approves them, the PM (or a delegate) can train Expo on how to enter the codes into the AMS.  The Expo department should have the authority to maintain their codes in the AMS so as to match their authority in maintaining the codes in the business sense. 
Ask yourself here: who is responsible for knowing Exposition's codes in order to exercise Exposition's business?  It is within that party, or group, where action must transpire.  Today's employment of "systems" or technology is not an excuse to defer ability, authority, activity, and responsibility.  In any circumstance, an oversight authority from Business or Technology can simply ask: who is the relevant party that knows, or should know, the "business" of what is under consideration?  That party must be empowered in every possible sense so as to match activity to the root of knowledge.
In short: IT delivers and maintains the mechanics of the system – Business must utilize the system and maintain their authorized information and content within it.  IT most certainly maintains the backend, and can help, when authorized, on the front end – but make certain that "business content" is generated, maintained, and utilized primarily by business.
On this day (August 15, 1969):  The Woodstock Music & Arts Fair opens in New York state on Max Yasgur's dairy farm.