Oct 26 2011 2:34PM GMT

Profile: David Scott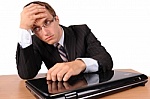 I've been involved with various risks and manifestations of bad outcomes – things such as breaches, malware, human error, exposures, loss – and related protections and solutions for quite some time.  However, I experienced something new to me – after all this time.  I think readers will want to know about a recent incident involving Hewlett-Packard (HP). 
I consider HP a solutions partner:  My primary computer – a laptop – is provided by them, and  my expectations are that the device is sound, will last for a reasonable period of time, and that it will serve my business interests. 
But it seems this solutions partner has at least one policy that:  1)  Describes a bad outcome, and 2)  Provides a subsequent, deliberate, compounding of it.  Specifically, if there is a hardware or other failure, and the troubleshooting and fix require a reformatting of the hard drive, HP will only perform a highly selective backup/restoration.  This is as opposed to what I do for my customers – clients.  You see, I provide a best practice standard. 
Best practice would be, wherever possible, a comprehensive backup and restoration – and return of all assets – hardware, software, data – content –  to the customer.  A set of business assets (hardware and content) should be readily preserved, and returned extant to the customer.
But recently, my primary HP laptop failed me:  It refused to charge the battery.  At first, it was a random condition – I'd be working away, and suddenly I would receive a warning that I had 10% remaining capacity on the battery, and that I should either:  1) Plug in, 2) Replace the battery, or 3) Shut down.
The first time was rather a shock, being that I was plugged in, and in the middle of critical client work.  I rebooted and, interestingly enough, the laptop indicated it was in a charging condition, as shown by the icon in the system tray.  But then I had a day where it wouldn't charge, and no amount of coaxing would change the condition:  Different outlets, wiggling the adapter's plug-in to the laptop, reboots, etc.
I called HP, being that I was within my one-year warranty.  After 40 minutes of troubleshooting, they advised that I send the laptop to them for service.  At that moment, it suddenly started charging.  I held off – although I did solicit the custom box they send to you, for use in returning equipment.
Over the course of a couple weeks, the laptop was always plugged in, and the battery was primarily at 100% – however, there were those days where the battery discharged, and I was stuck.  Ultimately, one morning, the battery drained and I was fed up.  I resigned myself to sending the laptop in for service.  Fortunately, I have weekly comprehensive whole-drive backups, nightly selective backups to thumb for critical client work, and a backup Dell laptop – older but functional.
When my box arrived for packing and return, it contained something inside in addition to the FedEx mailing label:  There was a disclaimer statement requiring my signature – approximately:
Should HP determine that a reinstallation of your computer's operating system (OS) be necessary, a reformat of your hard drive will be performed.  The only data that will be backed up and restored upon completion will be the contents of the following folders:  My Documents, My Pictures, and My Videos.  If you wish to retain information that resides in folders other than these, you should do a complete backup before sending the computer in for service.
I spoke with two technicians who agreed with me that the stated policy of this company was that they would, under conditions of reformatting, willfully destroy data by not backing it up.  I also had great difficulty understanding them:  The calls had poor fidelity, and accents were a bar to efficient communication.  I can also add that a representative in HP's corporate office confirmed the policy regarding the lack of comprehensiveness in preserving customer assets (again, critical content).
I remain surprised that in 2011, a major computer manufacturer would compound an extreme consumer liability and inconvenience:  That of losing the use of hardware for some measure of days to a week-plus – by also putting data at risk.  I say "at risk," because many people either don't do backups, or, find that upon "recovery" they didn't do quite the comprehensive job they needed to do.  HP is already performing a measure of backup in these circumstances (the "My" folders) – why not go the whole route? 
And… would this be considered an area of risk, whereby a "solutions" partner hasn't evolved to where they respect and value customers' content as much as those customers do?  I certainly consider it a risk.  What other corners are being cut?
I can understand potential liability for HP:  They may be in receipt of a computer that has corrupt data.  Upon backup/restoration/return, a consumer may attempt to fault them for corrupting data.  This could easily be handled by a statement, "All reasonable means will be employed to backup and restore data where OS reinstalls are determined necessary, however, no guarantees are made for content's backup and recovery, as HP can make no determination nor guarantee for content's wellness upon receipt."  HP receives hardware failures in "as is" condition, and would only have to attempt to return hardware and content in the same "as is" state. 
That would be completely understandable, given that any particular computer's problem might have had a negative impact to the completeness or wellness of its content.  But, to simply refuse a good-faith attempt at a complete backup – when HP is doing a measure of backup anyway, is quite surprising.
I should also mention that I desired to speak to an elevated circle at HP – something beyond their off-shore areas of tech support.  I only stumbled on a means of contacting the office of their CEO from a site called ComputerHope.com.  I can't vouch for the site's usefulness or utility other than from my extremely narrow use:  They provided the means to send an e-mail to that office of the CEO, and I got a phonecall, whereupon I discussed my laptop's problems, and the schedule of estimated repair.  The laptop did come back to me on the 21st, as opposed to the estimated return of the 26th?  It could have been coincidence.  Perhaps ComputerHope is worth bookmarking.
Next in Pt. II:  Apple's general treatment of customers seems to be better, as relayed by those customers to me.  I'm going to explore Apple's general attitude in this area.  More to follow…
NP:  Rory Gallagher, on CD! (I know; this is heresy).