Mar 20 2009 11:46AM GMT

Profile: WPeterson
=== my friend Judith recommended her masterpiece for everyone who wants his PowerPoint presentation as video show. the article might be published anywhere else, and all rights reserved for Judith. ===
There is a famous PowerPoint called death by PowerPoint spread widely on the website. In this presentation, the author indicates that people do 30 presentations everyday but 50% of them are unbearable. Another data shows that in January 2008 alone, nearly 79 million users had made over 3 billion video views on YouTube, compared with PowerPoint presentation, video is easier for sharing and delivering. When searching news or information, we disposed to accept the videos because it is very concrete. But when we want to show our opinions we usually make a PowerPoint presentation because it is easier than making a video.
There are 5 ways for you to convert your PowerPoint to video.
1. Using Wondershare PPT to Video to convert PowerPoint to video with animations, transitions, sounds, video clips retained in the output.
2. Using windows movie maker to create a PowerPoint video if there are no dynamic elements in your computer.
3. Log in the slideshare.com and create a PowerPoint video online.
4. Using some screen recorder such as Camtasia to record your PowerPoint.
5. Make QuickTime movie on Mac.
Now there are the details of these 5 methods.

Part 1, using Wondershare PPT to Video to convert PowerPoint to video.
Wondershare PPT to Video can convert your PowerPoint presentations to WMV, MPEG, AVI, MP4, MOV and 3GP format. After the conversion, you can upload your PowerPoint to website like YouTube, your blog, Google video. You can also view your PowerPoint on iPhone, iPod, mobile phone and so on.
Follow the steps to convert your PowerPoint to video with Wondershare PPT to Video
Step 1, download PPT to Video and install it on your computer.
Step 2, launch the program, import your presentation to the program, (you can import 12 presentations at a time). Select the right format you need and start the conversion process.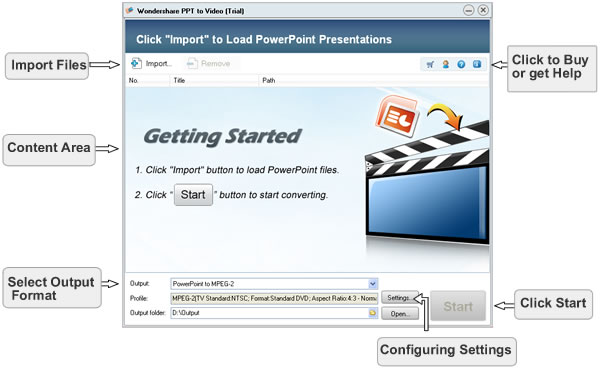 Step 3, upload your presentations to the website or put it to your mobile sets.
Part 2, using Windows Movie Maker to create a PowerPoint video.
If you use Windows XP or vista, it's free and it comes installed on your computer, if you don't have this program, you can download it from Microsoft.com. If your presentation is created with text and pictures, Windows Movie Maker is the best choice for you.
Step 1, save your to PNG or JPG format. Just click the office button, save as, other formats, in the save as type drop-box, select PNG or JPG format.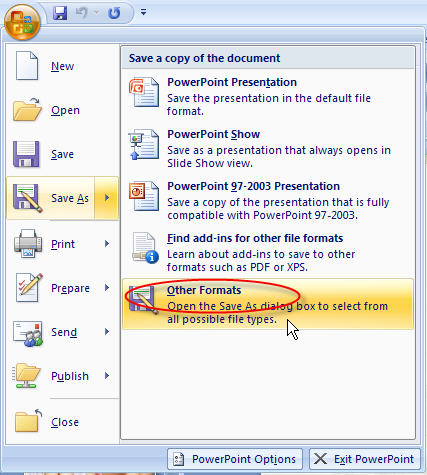 Step 2, import pictures into Windows Movie Maker.
Step 3, select all the imported images and add them to Storyboard.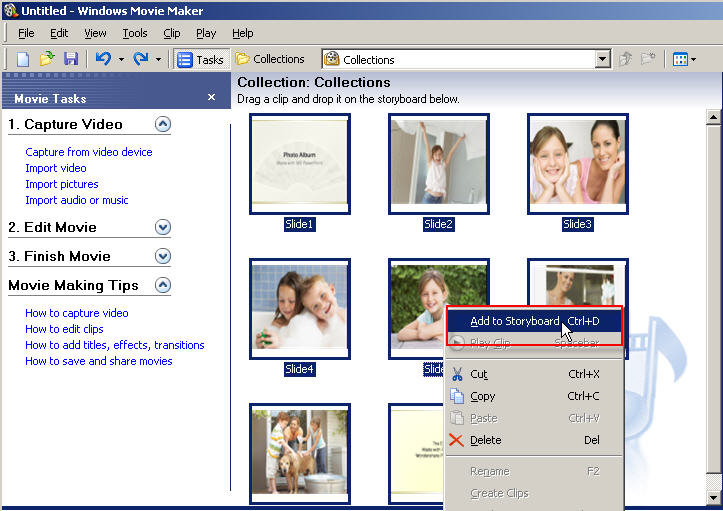 Step 4, add video effects to the slides if you want to make your video more lively.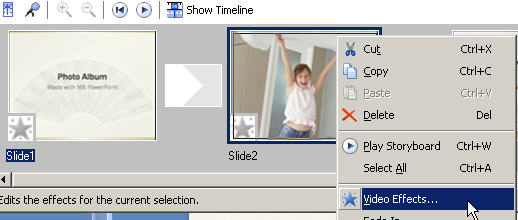 Step 5, save the slide show as movie file.
The sounds, animations and transitions original in the PowerPoint will be lost totally. Maybe you need more information for learning how to use Windows Movie Maker, here is a nice guide for you. http://presentationsoft.about.com/od/moviemaker/a/mov_mak_beg.htm
Part 3, create a PowerPoint video online in sildeshare.net
Slideshare.net is a famous presentation sharing website. You can upload your presentation on this site then start the conversion process, after this, download your video to your computer. This is the easiest way to create a PowerPoint video, but you cannot add animations or sound in your PowerPoint.
Part 4, using Comtasia to record you presentation and create a PowerPoint video
Download Comtasia from http://www.techsmith.com and install it on your computer then follow the steps.
Step 1, save your PPT file as PPS file
Step 2, Set Camtasia studio to record the whole screen
Step 3, Play your PowerPoint PPS file and Press "F9" to start recording the screen
Step 4, when you reach your last blank slide, Press F10 to tell Camtasia Recorder to stop recording. You will be prompted to save the captured slideshow, so choose a directory and enter a filename.
Step 5, save your capture in AVI format
Part 5, Make QuickTime movie on Mac
In PowerPoint, export your presentation as a QuickTime movie "PowerPoint Movie", click File > Make movie. You can save your PowerPoint file to MOV file. The output is similar with Slideshare. It cannot retain the sounds and animations original in your presentations.
If you are using keynote, just export your presentation to QuickTime file directly.
Advantages and disadvantages:
If you want to retain the dynamic elements, without a doubt, PPT to Video is your choice. Windows Movie Maker and Slideshare.com can be conceded for those people who want to convert the presentation only include text and images in. Camtasia can record the screen and sound when your play your PowerPoint, but it is pay software and the price is $299.95. For Mac users, you can use the third and fifth method, I don't know if there are some other programs which can convert PowerPoint to video with animations and sounds.
Internet gives us a convenient platform to share our knowledge world widely, and video has become more and more pop in the internet. I hope you can use these methods for sharing your presentation easily.