Jun 6 2009 9:32PM GMT

Profile: Brien Posey
A few days ago, I wrote a blog post talking about how a recent hardware upgrade had maxed out my machine's Windows Experience Index. Last night I received a very rude E-mail message in regard to that posting. I wish that I had kept the message, because I would have quoted it directly. Since I don't have the message anymore, I will try to give you a sentence from the message, hopefully without misquoting the sender:
"Those who are not familiar with hardware might be impressed by your claims, but I seriously doubt your honesty in this matter"
You can imagine why I was a bit irritated by the message. My first reaction was to simply take a screen capture of my Windows Experience Index, and post it for the world to see. When I thought about it though, I began to realize that a screen capture wouldn't prove anything any way. It's too easy to manipulate the Windows Experience Index.
If you would like to try it for yourself, open Windows Explorer and go to \Windows\Performance\WinSAT\DataStore. Open the most recent assessment file using Word Pad.  The assessment file is in .XML format, and you can change the scores to anything that you want. If you look at the figure below, you can see that I was able to change the scores to 9.9, even though Vista doesn't actually use any scores higher than 5.9. Incidentally, this screen capture did not come from the same machine that I performed my recent upgrade on.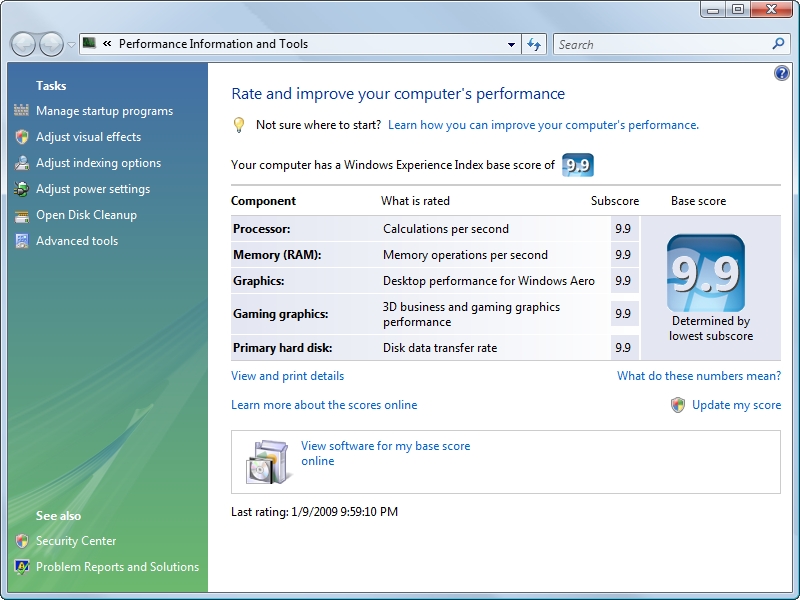 OK, so back to the issue of the score that I got after my upgrade. For those of you who may be wondering, I was using fairly high end hardware, but certainly not top notch. It really isn't that difficult to get a score of 5.9. The hardware that I was using included:
An ASUS M3A78 system board
An AMD Phenom II Black Edition, quad core CPU
4 GB of RAM
A NVIDIA GeForce GTX 285 graphics card (the super clocked edition with 2 GB of RAM).