Sep 23 2010 6:16AM GMT
Member Jennifer Griffiths agreed to review Inder Sidhu's book, Doing Both: How Cisco captures today's profit and drives tomorrow's growth. If you'd like to review a book for the Bookworm Blog, send me an e-mail at Melanie at ITKnowledgeExchange.com to express your interest.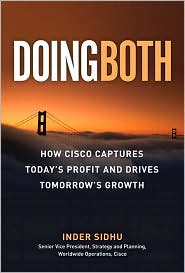 Doing Both is not an in-depth technical explanation of Cisco technologies; it's more of a book about business success, and the importance of marrying tech savvy with business savvy. As IT professionals, we need to be business savvy. Doing Both is ideal if you want to improve in this area because the style and subject matter will keep you engaged. It has ten short chapters, fewer than 200 pages in total, and is a nice and easy read in comparison to more technical books.
The author, Inder Sidhu, is Cisco's Senior Vice President. Bearing that perspective in mind, I did find it informative as well as full of useful insights to the business processes and organizational structures needed for a company to be successful. Doing Both also describes many Cisco products and services in layman's terms.
Stand-Out Sections
Chapter 2 explains how companies can pursue both disruptive innovation (think iTunes, which revolutionized the music industry) as well as sustaining innovation (think Honey Nut Cheerios, which built on the success of the original Cheerios).
Chapter 3 discusses the need for both existing and new business models and provides examples of some. Shows how a great technology can fail if the business model used to sell it is inappropriate.
Chapter 7 discusses the need for both excellence and relevance in technology. For example, the Segway personal transporter was technically excellent but not relevant; very few people saw the need to buy one. Likewise, polystyrene cup recycling has failed to catch on despite being extremely relevant.
Each chapter, after outlining the topic and giving examples, shows in detail how Cisco has managed to do both. Sidhu stresses that doing both is not easy, but that not doing both is "a problem many don't know they have and yet is perhaps one of the biggest ones they will face."
Overall, I found this book inspiring, interesting and thought-provoking. I'd definitely recommend it.