Apr 12 2010 4:30PM GMT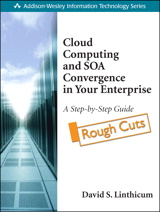 Today's review of Cloud Computing and SOA Convergence in Your Enterprise is by Alexander S., AKA community member Batye. Interested in receiving free books? Keep an eye on our Community Blog and subscribe to our twice-weekly newsletter: New book review opportunities crop up all the time. -Michael Morisy, Community Editor
This was a really good book: David S. Linthicum has a solid grasp of the subject, and it's right on target, comprehensive and packed with valuable information.
The book contains many diagrams that are crude but effective for CEOs and IT developers to get a clear comprehension of Cloud Computing/SOA implementation in medium to large enterprise-wide solutions. I like the way he has structured the book: It's very technology-oriented and many technologies are presented very well with path shown towards the future.
The book encourages IT to make the much-needed shift to cloud computing/SOA, increasing business agility/ability to change/adjust processes accordingly business needs instead having to deal with redeveloping whole systems.
This book is an excellent guide to this minefield of Cloud Computing/SOA implementation. The book covers a wide variety of concepts and techniques, putting them in context.
Mr. Linthicum uses a simple style to deliver his message, which makes the books acceptable to nontechnical people. I would have no problem to suggest this book to a CEO with a non-technical background.
The book guides readers with methodical approach for delivering solutions in the cloud, while also doing a great job explaining everything from the very basics to the more sophisticated topics.
For instance, data level method integration is skillfully explained in both word & picture. In fact, the author demonstrates a terrific abundance of skill & real world experience when explaining an idea via examples & diagrammed models.
The great value of this book is the overview of Cloud Computing/SOA implementation and its use as a mechanism to change/update information, in real-time, within and between businesses.
Mr. Linthicum has done a thorough job of covering the complex issues associated with Cloud Computing – indeed step by step – with clear explanation of SOA convergence and it benefits on the long run.
This book should be on the desk of every business CEO/CIO.
The bottom line is that the strategic information is worth the price of the book.