---
January 29, 2010 4:32 PM
David Scott, a recent contributor on the Enterprise IT Watch Blog, offered us a free chapter download from his book I.T. Wars: Managing the Business-Technology Weave in the New Millennium. If you like it, it's available from Amazon and other fine retailers. You can also check out David's homepage.
So what does this chapter download include?
The difference between project management and project janitoring.
Why project specifications are critical
The difference in leadership styles between pushing and pulling your team, and what method you should use.
-MIchael Morisy, Community Editor
January 14, 2010 1:40 PM
Rahul Pitre, author of the new book Microsoft Office Live Small Business: Beginner's Guide, offered to write up an explanation for how IT professionals, particularly those at small or medium businesses, could tap into the hosted software package's power to make their lives easier and their businesses more effective. Interested in reading more? Pitre's offered a free download of chapter 2 to get a taste for what material his guide covers.

The name Microsoft Office Live Small Business has a familiar ring to it. It sounds like yet another edition of the Microsoft Office of Word, Excel, PowerPoint, and Outlook fame. Or like Office Online, Microsoft Office's online resource site. Or even like one of the several new Windows Live services. It's not.
Let me repeat that.
Office Live Small Business has absolutely nothing to do with Microsoft Office, Office Online, or Windows Live. It's actually a package of hosted technology infrastructure and online business services for small business. It's comprised of
A public web site and online tools to build, promote, and maintain it
An e-commerce storefront and online tools to build and manage it
A business-branded e-mail service with webmail, desktop, mobile, and instant messenger support
A private web site that hosts business applications and document libraries for collaborating with co-workers, clients, vendors, and other associates
Supplementary services and utilities such as hosting, domain name registration, web analytics, search engine advertisement placement service, and a desktop accounting application.
If you maintain IT infrastructures for a small business, you know first-hand how hard it is to keep your infrastructure up and running. Guarding it against security threats is even harder. And managing it efficiently on a day-to-day basis requires nothing short of divine intervention.
When you sign up for Office Live Small Business, you can say goodbye to these headaches. For all practical purposes, the folks at Office Live Small Business set up your servers, install operating systems and applications, monitor software updates, install your applications, ensure that the applications are always available, and protect your data. That leaves you with doing what you do best – running your business.
The infrastructure serves two basic functions. It provides:
An affordable, secure, reliable, and redundant hosted server environment for running Office Live Small Business
A managed software platform, application programming interfaces (APIs), and services such as security and authentication.
Office Live Small Business is built upon Windows SharePoint Services 3.0 (WSS 3.0).  Together with its cousin Microsoft Office SharePoint Server 2007 (MOSS), WSS 3.0 comprises SharePoint technologies. You can build sophisticated business applications with SharePoint technologies because they have a wide range of application services built-in. As a result, these technologies are quite popular with big corporations. However, you won't find too many small businesses using them. Not that small businesses wouldn't benefit from them; the trouble is that adopting them requires an elaborate IT infrastructure and a small army of IT guys to attend to it. That's something many small businesses can't afford. I know; I'm a small-business owner too.
Office Live Small Business's infrastructure layer deals a decisive blow to these woes. You don't have to own, maintain, or support a computing infrastructure for running your business applications. An Office Live Small Business subscription creates a state-of-the-art virtual IT department for you and brings industrial-strength technology infrastructure within your reach. Finally.
An IT infrastructure, no matter how fabulous, won't do you much good unless you have a suitable suite of business applications running on it. Office Live Small Business's services layer fills that void. It consists of an ASP.Net based public web site, a Windows Live Mail driven e-mail service, an e-commerce enabled online storefront, a WSS 3.0-based private web site, and a few knick-knacks.
Although Office Live Small Business is a pretty comprehensive package, most people get started with it by building their own public web site. Office Live Small Business makes it easy for just about anyone to build a professional-looking public web site quickly. The tools for building it are built-in. They consist of:
Site Designer, a site design tool
Page Editor, a page design tool
Image Uploader, an image editing and management tool
Document Uploader, a page document uploading and management tool
Page Manager, a web site and content management tool
Tightly integrated with this set of tools is a web analytics software package called Reports. Along with adManager, a search engine advertising service, it ably helps you publicize your web site and drive traffic to it.
Site Designer and Page Editor are based loosely on the now-defunct Microsoft FrontPage. Like FrontPage, they use templates, themes and styles – design elements that are built into the environment. Templates, themes and styles consist of pre-formatted page layouts, consistent font schemes, easy-to-use navigation schemes, and a set of quality images to go with them. Even if you've never built a web site before, you'll be able to build one on your own in minutes simply by clicking around the design tools.
Obviously, these design tools are for beginners. Although quite robust, they're no match for professional web design tools. If you're an accomplished site designer, you might find them to be somewhat restrictive. But don't despair. Office Live Small Business lets you scrap the built-in design tools in favor of your favorite third-party design tool.
If you don't have a web site, you are making do with a Hotmail address, or if you are unhappy with your current site, take a look at Office Live Small Business. It might pleasantly surprise you.
About the author:
Rahul Pitre has been writing software of one sort or another for twenty-five years, the last dozen or so of which he has spent developing mostly web sites and web applications. He runs Acxede, a software consulting and training firm in New York, where he oversees web application and content development for a variety of clients. He holds masters degrees in Business Administration and Computer Information Systems.
His new book, Microsoft Office Live Small Business: Beginner's Guide, walks a complete novice through building an attractive, well-organized, and findable web site with Office Live Small Business.
You can reach Rahul at http://www.acxede.net.
---
December 8, 2009 8:21 PM
Editor's Note: This is the second in a series of ITKE community reader reviews of IT books. Interested in writing a review? Let me know at Michael@ITKnowledgeExchange.com, or keep an eye on the Community Blog for free books in return for a review. This review, by MShen, is about PM crash course for IT Professionals. -MM

This light textbook is an easy read for anyone interested in project management.  The flow and grammatical style keep the text interesting, and the quick exercises make you think just enough to register what you've read.  As the title states, this is definitely a crash course as it just touches on many important concepts and practices.
Each chapter teaches you a new document or procedure that builds on the previous chapters.  You will find references to previous tasks throughout the text, but you won't necessarily get lost by skipping from one chapter to another.
A more surprising aspect of text is that it does not apply to specifically IT professionals.  This book can be widely applied to all projects including those outside of IT, and beyond the title there is very little indication that this was targeted for IT professionals.
Overall PM Crash Course for IT Professionals is great for anyone new to project management or those who are looking for a refresher.  It is an energizing page turner that points out the most important concepts of managing any project.
---
November 16, 2009 8:45 PM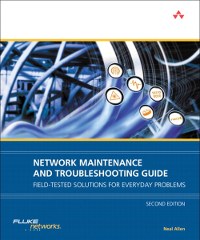 This is a guest post from Andrea Fuller, an active member of the IT Knowledge Exchange community who offered to do a review of Network Maintenance and Troubleshooting Guide: Field-Tested Solutions for Everyday Problems, 2nd Edition. Interested in doing your own review of a book? Keep an eye on the ITKE Community Blog: We'll have more book giveaways soon if you're willing to help review them! –Michael Morisy

The first thing I noticed about this book was the fairly small print. When I realized how very detailed the book was, I began to understand that the print HAD to be small, to fit in the amount of information it contains!
It includes detailed explanations for every aspect of a network set up, giving the reader an in-depth look at every layer of the network along the way. Ports, switches, routers and cabling, with tips throughout (label each end of your cables … twice).
From troubleshooting bad crimping on RJ45 cables, to the pros and cons of various procedures … it's all in there! Seven step strategies for Network Maintenance, Eight key steps to troubleshooting, and even Human Resources required for roles throughout the levels of support – from Help Desk to Network Administrator.
The Network Maintenance and Troubleshooting Guide picks every detail apart, telling you how to troubleshoot, where to look, what tools to use, and how to use them. Very informative!
You can purchase a copy of the Network Maintenance and Troubleshooting Guide from InformIT or at fine IT book retailers everywhere. Disclosure: Andrea received a free review copy of the book.
---
---