---
September 20, 2010 1:43 PM
Member Batye agreed to review Nader Mir's book, Computer and Communications Network. If you'd like to review a book for the Bookworm Blog, send me an e-mail at Melanie at ITKnowledgeExchange.com to express your interest.
This great, up-to-date book could be used as supplementary network engineers training manual in preparation for Cisco/Networking exams.
One word of caution: This book is not for beginners or software developers. Written for Network Technicians and Engineers in mind, this book requires a solid mathematics foundation to comprehend it. Ideal for students who want to get an advanced knowledge in networking, this book provides an excellent educational blend of theoretical and practical approaches, including real life scenarios.
Nader Mir has extensive knowledge of the networking industry and communicates it in an excellent progression from the basics to more complex situations, including complex number-crunching techniques. This book would come in handy as a desk reference; it would help the reader to grasp ideas of IT and networking at an expert level – illustrating all layers of the TCP/IP model or serving as a troubleshooting guide for an enterprise size network.
Whether you love or hate this book, as an IT or networking tech, you need this book on your desk when something fails in your network.
Disclosure: The publisher of this book provided a free copy for review.
June 28, 2010 8:25 PM
Member Batye agreed to review Tom Gillis' book, Securing the Borderless Network: Security for the Web 2.0 World. Interested in free review copies of books? Keep an eye on the forums, or e-mail me at Michael@ITKnowledgeExchange.com and let us know you're interested. We might have something up your alley! -Michael Morisy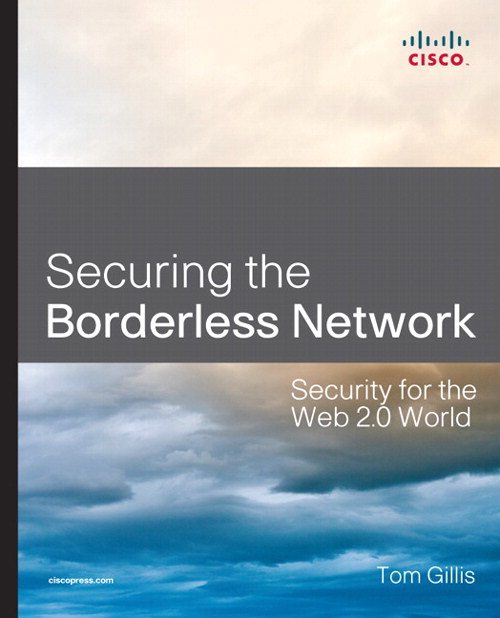 This is a small book, but it makes a big impact. Mr. Tom Gillis is very knowledgeable on networking security and he's put together a great book that what should be on the desk of CIOs and IT managers everywhere, using layman language to explain technical concepts and giving the reader an easier time grasping the important ideas that drive modern network security.
Gillis covered a lot of ground in a concise, clear manner, producing a "Bible" for IT Network/Security pros, and it's a fun read for technology geeks everywhere.
By nature of my work as paranoid network security admin, I never get bored, and the book offers a lot of new threats to watch out for, particularly with all the new ways workers can connect their new toys to my network 24/7, running from iPods and iPhones to the latest malware attacks, but the book offers plenty of tools and ideas to combat these threats.
It's also worth noting that the book explains where traditional approaches to network boundaries are dead and gone, which often makes it almost impossible to protect data whether it is static or dynamic, and the pace of evolution for cloud computing and related processes and services means security hasn't always had time to catch up.
This book clearly identify these problems of the IT Security with excellent examples and interview excerpts from real enterprises.
One of the negatives, however, is that Tom Gillis is an employee of Cisco and it natural for him to promote Cisco technology/future development ideas, and it's important to keep in mind that there are other options out there; as in this life you have a few Bible versions, like translations from Aramaic language (if I was Cisco employee I would do the same way!).
I do like this book and highly recommend it to my friends and co-workers in the field of IT Network Security.
Disclosure: The publisher of the book provided a free copy for this review.
---
April 12, 2010 4:30 PM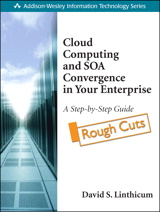 Today's review of Cloud Computing and SOA Convergence in Your Enterprise is by Alexander S., AKA community member Batye. Interested in receiving free books? Keep an eye on our Community Blog and subscribe to our twice-weekly newsletter: New book review opportunities crop up all the time. -Michael Morisy, Community Editor
This was a really good book: David S. Linthicum has a solid grasp of the subject, and it's right on target, comprehensive and packed with valuable information.
The book contains many diagrams that are crude but effective for CEOs and IT developers to get a clear comprehension of Cloud Computing/SOA implementation in medium to large enterprise-wide solutions. I like the way he has structured the book: It's very technology-oriented and many technologies are presented very well with path shown towards the future.
The book encourages IT to make the much-needed shift to cloud computing/SOA, increasing business agility/ability to change/adjust processes accordingly business needs instead having to deal with redeveloping whole systems.
This book is an excellent guide to this minefield of Cloud Computing/SOA implementation. The book covers a wide variety of concepts and techniques, putting them in context.
Mr. Linthicum uses a simple style to deliver his message, which makes the books acceptable to nontechnical people. I would have no problem to suggest this book to a CEO with a non-technical background.
The book guides readers with methodical approach for delivering solutions in the cloud, while also doing a great job explaining everything from the very basics to the more sophisticated topics.
For instance, data level method integration is skillfully explained in both word & picture. In fact, the author demonstrates a terrific abundance of skill & real world experience when explaining an idea via examples & diagrammed models.
The great value of this book is the overview of Cloud Computing/SOA implementation and its use as a mechanism to change/update information, in real-time, within and between businesses.
Mr. Linthicum has done a thorough job of covering the complex issues associated with Cloud Computing – indeed step by step – with clear explanation of SOA convergence and it benefits on the long run.
This book should be on the desk of every business CEO/CIO.
The bottom line is that the strategic information is worth the price of the book.
---
March 2, 2010 1:46 AM
"I tend to judge a book on a number of points," writes Richard Siddaway, our PowerShell blogger. So does the latest tome by Kenneth Hess and Amy Newman stand up? Read Richard's comprehensive review to see if he thinks it is:
Technically accurate
Deliver the material it claims to deliver
Worth the cost of purchase and the time he spent reading it
-Michael Morisy
---
February 16, 2010 3:04 PM
Member XENOPHON22 offered to review Cisco's PM Crash Course for IT Professionals. Interested in free technical books of your own to review, or would like to suggest a book we have our readers review? Send me a note at Michael@ITKnowledgeExchange.com. Looking for a second opinion on this book? Read MShen's review.
PM Crash Course for IT Professionals was an enjoyable read as far as text books go.  I am in a position where upper management is expecting project details from inception through completion and onto review.  While having learned some project management when I was in college, the book not only touched base on things I had forgotten, but also added some viewpoints I had not considered.
From real scenarios to open-ended exercises for review, the author was able to make most chapters applicable to the atmosphere I am currently working in.  In particular were the chapters discussing project development and salvaging a project which has gone awry.
Regarding the former, I (although taught to do so) had let it escape me to include all management personnel which were affected by the projects I was doing.  This does not mean handing over the reins; but rather, obtaining their input and gaining a clear understanding of what they expected out of the project.  How can one meet expectations when one does not know them?  The book provides some nice approaches to this which worked quite well in practice.
I think that most personnel who have worked in IT know what it is like to be handed a dying project, a project without focus, or an unsavory situation.  The chapter on saving these projects was not only entertaining but gave me insight into things I had not considered.  I decided to break up a dying project with a vague goal into several projects which finite goals and deadlines.  Management was a little confused at first but the progress since then has convinced them otherwise.  In doing so I not only helped revive the project but also made it easier to manage.
I enjoyed this book quite a bit.  It is a light read and after reading the first chapter you can quickly pick up the tone of the author.  The chapter breakout and format allow the reader to move around without feeling like they needed to read all previous chapters.  I would recommend this book for anyone looking to gain a little more insight into project management, even if it lies outside the IT field.
---