---
April 12, 2011 3:36 PM
Member KFaganJr agreed to review Drupal's Building Blocks. If you'd like to review a book for the Bookworm Blog, send me an email at Melanie at ITKnowledgeExchange.com to express your interest. Disclosure: The publisher of the book provided a free copy for this review.
Drupal's Building Blocks is one of the few books that I've come across that fit the middle ground Drupal users nicely. They are often geared toward beginners focused on using add-on modules or really advanced programmers/developers. What stood out the most to me was how the author explained what settings meant instead of just telling me what to choose. This really helped me to get a whole new grasp on views and got me started using panels. It's almost embarrassing now to say. The book really covers the crucial building blocks of Drupal and provides information that takes you over common hurdles. It's a must-have for developers experienced in making Drupal work for them, but aren't far enough along to provide a working solution without experimenting.
Interested in getting your hands on this book? You're in luck! This week's free IT book giveaway is another copy of Drupal's Building Blocks. So head over and get started!
February 3, 2011 3:30 PM
Member Batye agreed to review Stealing the Network: The Complete Series Collector's Edition. If you'd like to review a book for the Bookworm Blog, send me an e-mail at Melanie at ITKnowledgeExchange.com to express your interest. Disclosure: The publisher of the book provided a free copy for this review.
I loved this book. After receiving it, I could not put it away. This is a fiction book based on the current reality of network security. I think it should be called the Network Theft Bible. Why? This book consists of the four previously published books in the Stealing the Network series with the added final conclusion chapter. I also enjoyed the bonus DVD that came with the book.
Each fictional story provides true to life examples of how it could be done in real life, breaching the realm of matrix fiction and database reality. At first when I started reading, I didn't realize all of the stories were fiction. Many of the chapters pointed out gaps in my knowledge of network security.
Stealing the Network would be a great addition to any network security or IT training curriculum. It gives readers the grim reality of the future in IT security. In the right hands, this book could help hack-proof your network, or at least give you a fighting chance. As long as you read between the lines and comprehend the Easter eggs hiding in the examples and scenarios. This book is a great resource for ideas and tools to succeed in your position in network security.
---
November 22, 2010 9:22 PM

Member Jennifer Griffiths agreed to review Adrian Cho's book, The Jazz Process: Collaboration, Innovation, and Agility. If you'd like to review a book for the Bookworm Blog, send me an e-mail at Melanie at ITKnowledgeExchange.com to express your interest.
Adrian Cho is a professional musician, and also works for IBM, managing the development of software such as the Jazz team collaboration platform.
This book provides the reader with a "process" for making teams successful. Like most people in the working world, I work as part of several teams and collaborate with others on a daily basis.
From this perspective, I found the book useful because it made me more aware of how to be a good team member. For people who want to improve the performance of a team, this book may be particularly helpful.  The premise is that great jazz groups consist of musicians who are fantastic at collaborating, because through years of experience they have learned and honed techniques that succeed in creating great jazz performances.
The book outlines the jazz process so that the reader can apply it to their own situation. Cho makes no apologies for the fact that the book is "inherently abstract" rather than including detailed case studies to illustrate principles. Most of the time when reading the book I found myself thinking about how the principles applied to my experience, which was useful. On the whole, it is not too abstract – there are plenty of mostly short and interesting examples provided from arenas as diverse as sport, the military and business, not just music.
Cho explains that a jazz performance is a good analogy for business because among other things the performance happens in real time, with a very low margin for error. For example, if 99.999% of notes the musicians play sound good, in a performance of 100,000 notes there will be enough bum notes to make the audience boo the performers offstage. Likewise, if 99.999% of mail is delivered on time, in a postal system that moves a million items, hundreds of thousands of items will be lost daily which is unacceptable.
Cho emphasizes that the Jazz Process is misunderstood if viewed as a linear set of steps to be followed one after the other.  With this in mind, the book is nevertheless split into four sections – Working, Collaborating, Executing, and Innovating containing chapters that build upon each other.
The principles in the Working section are: Use Just Enough Rules, Employ top Talent, Put the Team First, Build Trust and Respect, Commit With Passion. I couldn't find any fault with the principles. For example, Miles Davis' album Kind of Blue was a successful jazz performance because, among other things, Davis employed top talent.
In the Collaborating section, Cho spends a lot of time outlining Essentials of Execution, including explaining positive and negative feedback loops. For example, a positive feedback loop is when a system has the tendency to move out of balance. This can be good, such as if cost cutting increases profitability, which leads to lower costs and further profitability. This happened to Ford in its years of boom. Or it can be bad, for example if global warming causes ice caps to melt, increasing temperature, causing more ice to melt, increasing temperature more. A negative feedback loop by contrast is when a system tends towards balance. This can be good: I may oversteer my car, and then correct this by steering the opposite way. Or it can be bad, such as if I over-correct the steering wheel to the left, and then over-correct it to the right, back and forth, causing the car to veer from side to side out of control and even crash.  Adrian calls a bad negative feedback loop "hunting."
I found this section a little on the academic side in both style and content. I was left with a good understanding of the theory, but it wasn't particularly easy to comprehend, possibly because I struggled to relate my personal experience to the theory.
The rest of the section Collaborating develops on the principles Listen for Change, Lead on Demand, Act Transparently, and Make Contributions Count. These are all principles which, when followed, can help ensure that executing avoids the bad types of positive or negative feedback loops.
The third section, Executing, includes the principles Reduce Friction, Maintain Momentum, and Stay Healthy. As with the first section I did find myself relating the principles to both my personal life and my experience. The final section is all about Innovation. The chapters here are Exchange Ideas and Take Measured Risks.
I found the chapter on exchanging ideas fascinating because I was new to the knowledge Cho presents regarding the relative importance of diversity in technical environments, versus diversity in extended social networks, in relation to both successfully rejecting bad ideas and creating good ideas. Also, Cho's explanation of the difference between convergent and divergent thinking, including having a team with a diversity of technical experience if you want to make the most of convergent type thinking, and the importance of extended social networks for divergent idea creation was very interesting.
The last principle, Take Measured Risks, is refreshing in that it outlines the risks of implementing each of the Jazz Process Principles. I did find my mind wandering as he went through each principle expounding on its risks, however it is refreshing for a book of this type to be humble enough to not argue that following its principles is the answer to everything. Plus go to the extent of finding issues with the principles.
There is a lot to take in in this book, which is a credit to Cho's experience and dedication to the Jazz Process which he has elaborated. Furthermore, as someone who works in both music and IT, it does make sense and fit in with my experience, unlike some business books I have read in the past. Overall it is very good. Personally I would like to see a far shorter, more concise and user-friendly version, because in places I found it tough going in and possibly more suited to those of an academic bent.
---
September 23, 2010 6:16 AM
Member Jennifer Griffiths agreed to review Inder Sidhu's book, Doing Both: How Cisco captures today's profit and drives tomorrow's growth. If you'd like to review a book for the Bookworm Blog, send me an e-mail at Melanie at ITKnowledgeExchange.com to express your interest.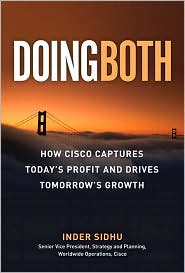 Doing Both is not an in-depth technical explanation of Cisco technologies; it's more of a book about business success, and the importance of marrying tech savvy with business savvy. As IT professionals, we need to be business savvy. Doing Both is ideal if you want to improve in this area because the style and subject matter will keep you engaged. It has ten short chapters, fewer than 200 pages in total, and is a nice and easy read in comparison to more technical books.
The author, Inder Sidhu, is Cisco's Senior Vice President. Bearing that perspective in mind, I did find it informative as well as full of useful insights to the business processes and organizational structures needed for a company to be successful. Doing Both also describes many Cisco products and services in layman's terms.
Stand-Out Sections
Chapter 2 explains how companies can pursue both disruptive innovation (think iTunes, which revolutionized the music industry) as well as sustaining innovation (think Honey Nut Cheerios, which built on the success of the original Cheerios).
Chapter 3 discusses the need for both existing and new business models and provides examples of some. Shows how a great technology can fail if the business model used to sell it is inappropriate.
Chapter 7 discusses the need for both excellence and relevance in technology. For example, the Segway personal transporter was technically excellent but not relevant; very few people saw the need to buy one. Likewise, polystyrene cup recycling has failed to catch on despite being extremely relevant.
Each chapter, after outlining the topic and giving examples, shows in detail how Cisco has managed to do both. Sidhu stresses that doing both is not easy, but that not doing both is "a problem many don't know they have and yet is perhaps one of the biggest ones they will face."
Overall, I found this book inspiring, interesting and thought-provoking. I'd definitely recommend it.
---
September 22, 2010 6:43 AM
Member Batye agreed to review Phil Simon's book, Why New Systems Fail: An insider's guide to successful IT projects. If you'd like to review a book for the Bookworm Blog, send me an e-mail at Melanie at ITKnowledgeExchange.com to express your interest.
The book uses a simple, true-to-life approach to educate the reader while keeping him entertained. Phil Simon provides valuable insight and explanations of practical solutions for Project Managers or CEOs. Simon's language communicates his knowledge with the  reader in a clear and comprehensive manner.
The book is logically organized in five major parts, arranged into chapters that contain real world case studies and practical guides where mistakes leading to failure are clearly outline and explained. Simon has a unique ability to break down complex problems to adapt to the readers' needs.
Adaptability is key for CEOs and program managers, and the information in this book could be valuable if absorbed and implemented in the proper way. Simon maps a practical way to successfully implement your IT systems by providing examples of just that along with those implementations' successes and failures.
I wish I'd had this book ten years ago; I'd probably be better off financially and further along in my career.
Disclosure: The publisher of the book provided a free copy for this review.
---